"Dancing Earth is Embodying Cultural
HEALING &
INDIGENEITY
"
Nina Simons,
Bioneers Co-Founder and President Bioneers/Collective Heritage Institute
"Greetings! You have received an incorrect version of the wonderful quote from
Nina Simons
; I am sorry to say that the forces of spelling auto--correction do not recognize the word
INDIGENEITY
, and instead reverted to the word INDIGNITY, which is how we felt when we saw it in print!

We offer you the correct version here, with so much love, respect and appreciation for
Nina Simons, co-Founder and President of Bioneers.
Please feel free to delete the newsletter that cited INDIGNITY -
and lets delete INDIGNITY from our lives and this planet,
through all of our collected force of
CREATIVITY & INDIGENEITY
!
DANCING EARTH celebrates in the new year with renewed energy to revitalize and center Indigenous lifeways, building strong and compassionate allies across cultures for mutual solidarity and support, and embody role of performing arts in creating empathy, respect and protection of culture, water, seeds and sacred sites.
Upcoming Performances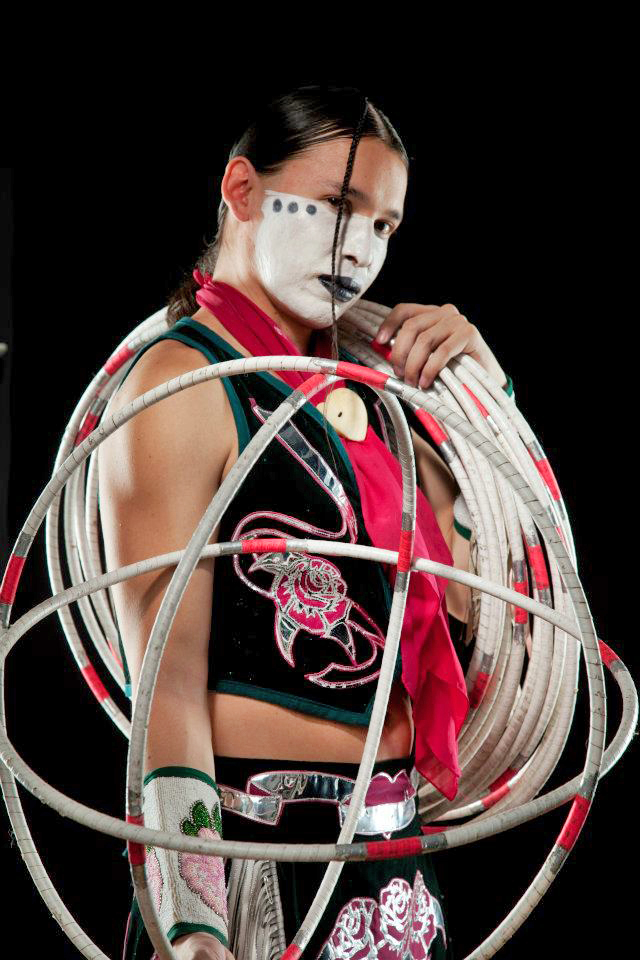 March 4th at the Ordway Theater in Dakota traditional territory - known also as S
t
Paul/
Minneapolis - for the OYATE OKADAKICIYPAI Festival. On
the performance
program, co-curated
by Rosy Simas, will be our
amazing colleagues Santee Smith and Ch
ristopher K. Morgan
in solo
works, followed by exce
rpts from Dancing Earth's SEED
S :
RE GENERATION
featuring
Dancing Earth's
Anne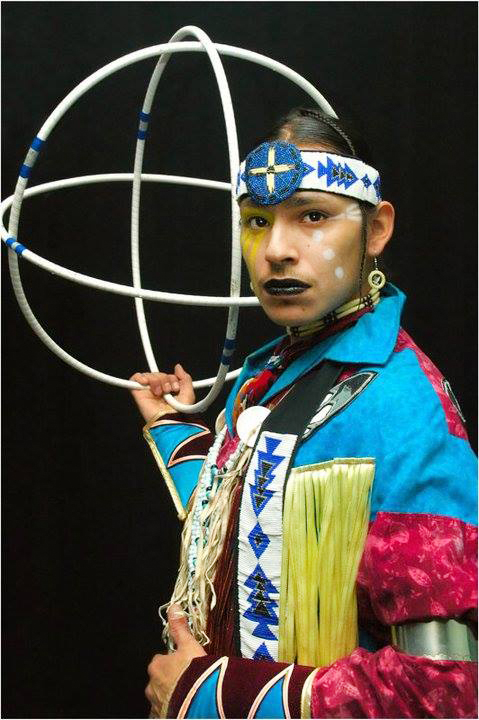 Pesata, Natalie
Benally, Lupita
Salazar, Deollo Johnson, Justin Giehm, Maori guest artist Jade Whaanga, and local community artists Lumhe and Samsoche Sampson, Hollie Dee and Thomasina "Tynielle" Ziegler (who both performed as Children with Rulan's first powwow dance troupe of Maka Chante!), as well as Two Spirit guest artist Janice BadMoccasin.

(L. Sampson photo by © Melissa Meyers)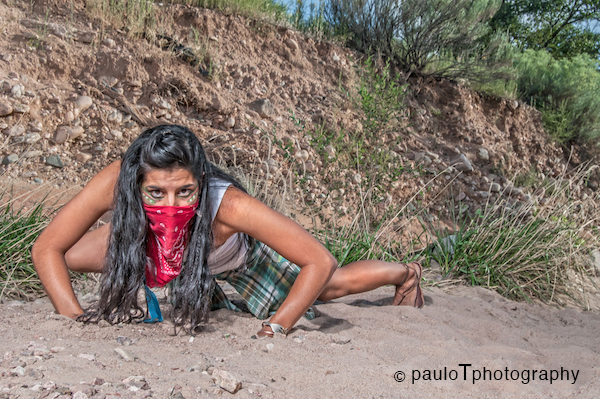 April 1-2, the DIRT FESTIVAL - Dance in Revolt(ing) Times at Dance MIssion in Yelamy - traditional Ohlone territory also known as San Francisco. We are excited to present the next phase of a work in progress: 'We Stand Together: Treaty-Making' with our Bay Area artists Daniel Arizmendi, Javier-Stell Fresquez, Christina Leyva, Natalia Aceves Ghezzi, Sammay Dizon, Lydia Neff, Ashley Leblanc, Andreina Maldonado and Lydia Neff, alongside Pomo First Nation vocalist Ras K Dee and other CA Native community members…
---
In response to the political regime, we have taken on creative leadership to initiative
M.O.M.B: MOVEMENT OF MOVEMENT BUILDING WORKSHOPS
ABOUT M.O.M.B -

M.O.M.B is a workshop series initiated by Dancing Earth's Rulan in respond to the current political climate, led by diverse cultural and creative leaders, envisioning and enacting change through the creation of intersecting of circles to revitalize COMMUNITY through CREATIVITY as the foundation of resistance.

Led by different community creative leaders and hosted at different sites, we center relationships, reciprocity and respect and will culminate in a

Global Water Dance on June 24th

.

These will be held respectfully in the traditional territories of the Tewa, Towa, Keres, and Ohlone peoples in the regions now known as Santa Fe and San Francisco.

Coordinated cooperatively as a volunteer and in-kind effort by Dancing Earth with individual creative cultural leaders, A Blade Of Grass, New Mexico Dance Coalition, Pomegranate Dance Studio, SITE Santa Fe, Retake Our Democracy, Santa Fe Art Institute Water Rights residency, Center for Contemporary Arts, Dance Mission, Dance for Revolt(ing)Times Festival and other emerging partners. Stay tuned for monthly sessions at some of these locations!
In Yelamu/San Francisco
Dance Mission Theater's D.I.R.T. Festival - Dance In Revolt(ing) Times & Dancing Earth presents:
M.O.M.B. Workshops at Dance Mission
11 - 12:30pm
March 21, 24, 28 & 31
(Tuesdays & Fridays)
3316 24th Street, San Francisco 94110
(415) 826-4441
www.dancemission.com

$60 for all four classes or $18/workshop
Contact dancemission.com to sign up in advance!
Walk-ins are always welcome! For maximum impact, attendance to all workshops is strongly advised.

In Oka Pogeh/ Santa Fe
Dancing Earth presents:
WATER IS LIFE
Movement
Workshop
w/ Rulan Tangen at
Santa Fe University of Arts & Design
Jan 29, 10 - 11:30

am
WATER IS LIFE
Story
Circle
w/ Arlene Goldfarb at
Santa Fe Art Institute


Feb
18, 4 - 6

pm
CREATIVE FLOW/SEEDS
Role of Artists in America now
inspired by a lecture from Arlene

Moldboard
Center for Contemporary Arts
March 11,
4 - 6

pm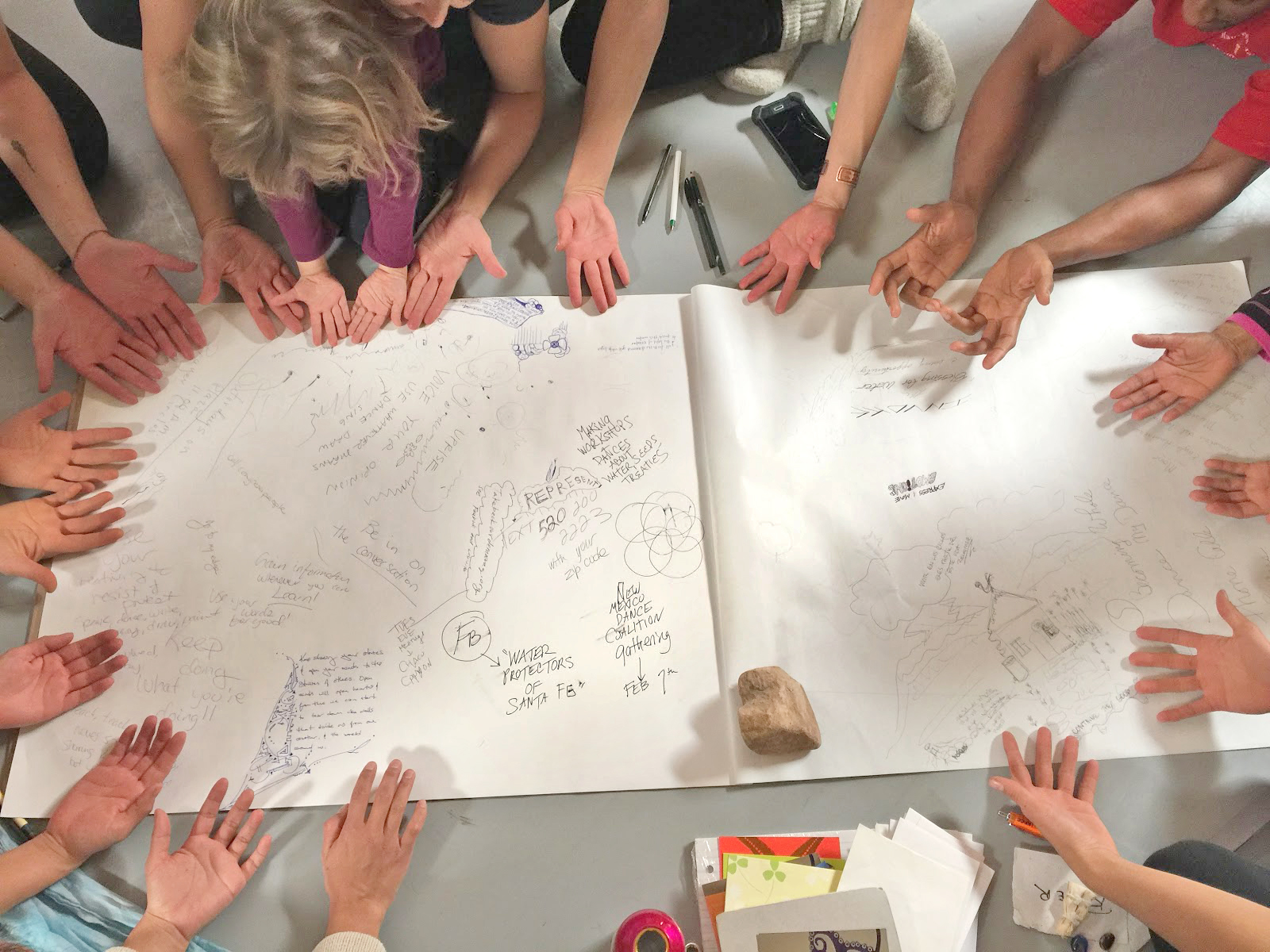 CLICK HERE for more workshops in April & May,
leading up to

Global Water Dance

on June 24th!
---
Cuicacalli youth classes have begun in San Francisco under leadership of Jacoh Cortes, with Natalia Aceves-Ghezzi joining rehearsal.



Natalie Benally, Lupita Sala
zar

and

Rulan Tangen

joined creative leaders from across New Mexico for Creative Facilitation retreat at the Academy for the Love of Learning.
Anne Pesata

presented her acclaimed Basket Weaving
solo, at the 'Migrations' concert by Modas Dance company (director Layla Amis) at Greer Garson Theater - University of Art and Design.
Deollo Johnson

(right photo)

was featured as guest artist
in

ROOTS REVIVAL REVISITED

by Rainbow Studio Theater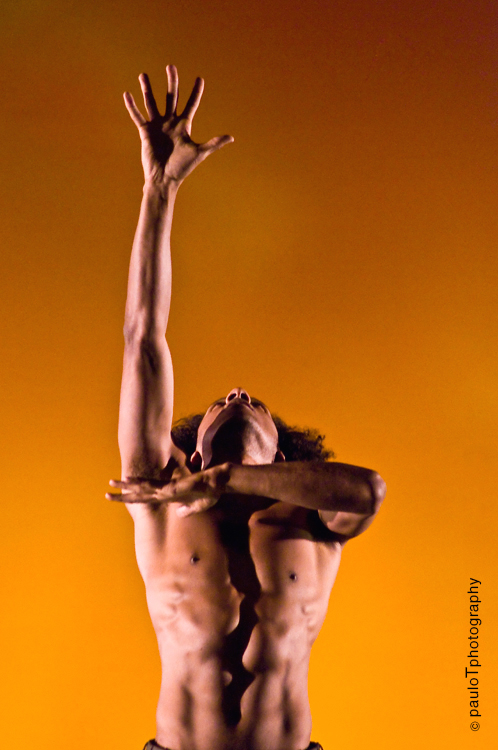 at National Hispanic Cultural Center, a musical journey into the lively beating heart of Black History. Deollo appeared in a riveting aerial solo to the song "Strange Fruit."
Rulan has been invited as guest choreographer for a dance for 65 sixth graders in the National Dance Institute of New Mexico's annual spring show as well as teaching a guest master class for New Mexico School for the Arts. She is overjoyed to create a dance for the graduating senior class's

April 14

performance at NDI Dance Barns!
As
new board member for New Mexico Dance Coalition
,
Rulan
has been coordinating with host site Pomegranate Dance Studios to host free monthly community collaboration sessions.
In January, Ibrahim Loeks shared a Sufi stick dance,
February was Deirdre Morris' somatic exploration to the question
"what is sustainability, what sustains you in your life?".
Coming up
March 14

(4 - 6pm)
will be Jitterbug with Mike Garcia!
New Mexico Dance Coalition's annual Choreographers Showcase will be held
March 24 - 25
.

---
Dancing Earth is proud to be represented by Andre Bouchard of Walrus Arts Management.

We hope you're impressed by our effort to inspire dance as the embodiment of change for our world. As our movement builds, we are able to connect our diverse communities with each other and with non human relatives for a more loving, compassionate, tolerant and sustainable future.
THANK YOU to all who have already supported us in many ways, we reach out with appreciation for more recent support from:

"Thank you to the Zellerbach Family Foundation for their support of "We Stand Together." The Mission of the Zellerbach Family Foundation is to be a catalyst for constructive social change by initiating and investing in efforts that strengthen families and communities."

"Thank you to Honor the Earth for their support of "The Re-Story-Ing." The mission of Honor the Earth is is to create a
wareness and support for Native environmental issues and to develop needed financial and political resources for the survival of sustainable Native communities."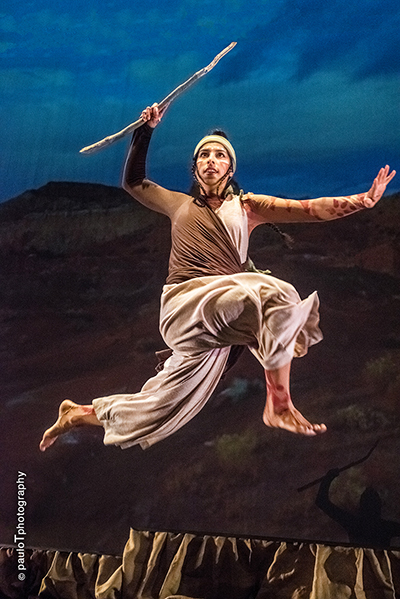 Honor the Earth develops these resources by using music, the arts, the media, and Indigenous wisdom to ask people to recognize our joint dependency on the Earth and be a voice for those not heard.

Rehearsal space support from Myra Krien and Pomegranate Studios, Gent Family and Railyard Performance Center, Wise Fool NM, Layla Amis and Santa Fe University of Art and Design.
Special thanks to Deirdre Morris for aerial choreography & coaching, and to our guest artists: local community dancers: Lumhe & Samsoche Sampson, Thomasina "Tynielle" & Hollie Dee Ziegler, and our Two Spirit Guest Artist Janice BadMocassin. And, to Rosy Simas, Dayna Martinez & the amazing crew at Ordway Theater.
Special thanks for in kind support from

Deborah Fisher, Elizabeth Grady, Joelle Te Paske at A Blade of Grass for Alicia Ledezma for PR and Marketing consult.
Ananya Chattarjea for ongoing encouragement, coaching & hosting in MN.
Winona La Duke for amazing vision of Honor the Earth foundation.
Eric Gent and Seth Friedman for kind support of bodywork for dancers.
Keith at Clear Light Cedar Mountain for his awesome donation of essential oil for our multi-sensory workshops and performances.
New Mexico Dance Coalition and their growing community circle!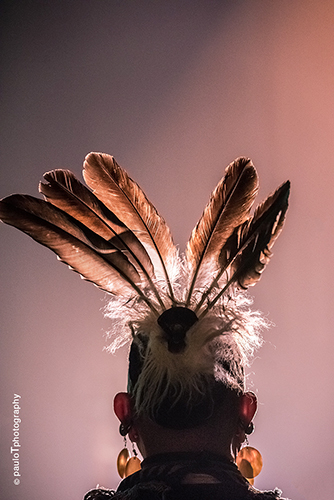 M.O.M.B. Workshop Support

In CA: Stella Adelman and Dance Mission.
In NM: CCA, SITE, Arlene Goldfarb, SFUAD, Santa Fe Art Institute, Re-Take Our Democracy, John Meade and Enchanted Cafe Bulletin.
Thanks to Our Year End 2016 &
New Year 2017 Donors

NINA SIMONS and Bioneers Everywoman's Leadership ReGranting Fund.

Year End Campaign "We Stand Together" 2016 donors: Michael Mao, Lynne Normandia, Daniel Banks, Marion Lindsay and Ron Wasserman, Gordon Cameron, Susannah Carlisle, Susan Foster, Bruce Hamilton, DianeKarp, Bruce McIntosh, Ekalos Reed, Glenn Robinson, Victoria Sunheart, Ellen Tangen, Kehaulani Vaughn and Rebecca Beayni.

Bay Area Campaign donors for FLACC 2016: Marylee Hardenbergh, Alexandra Riggs, Bianca Juganaru, Carolyn Dando, David Karabelnikoff, Deborah Plaza, Deirdre Morris, Dorothy Tucker, Elizabeth Cameron, Ellen Tangen, Eric Solano, Glenn Robinson, Jacqueline Shea Murphy, Jane Kennedy, Karena Acree-Paez, Kathryn Machi, Kathryn Sipowicz, Keryn Taylor, Leny Strobel, Loren Tamkin, Maria Scarfone, Maria Firmino-Castillo, Mitra Lujan, Philip Miller, Ra Kier and Sheridan MacKnight.