Words from Artistic Director
I compose my thoughts and feelings on November 9th. Last night we offered a heartfelt performance that was received with deep acknowledgement of intertribal elders, who recognized the power of dance to interpret their worldviews, to preserve their way of life and share with others to combat climate change. With the election results coming in later that night, I was verbally assaulted in the elevator by a white supremacist, giving evidence that there is no more crucial time to be making meaningful community-engaged art than this moment in history. We are taking responsibility to create theater as new form of ceremony for our times, as purposeful expression of contemporary truths, and embodiment of imagined futurities.

Now is the time to listen with heart, to see beyond surface to speak with all of self not only words, to paint boldly on walls and faces, to cry into courage, to march into love, to shout into justice, to dig into our deepest imaginations and empathy for a true revolution, and to dance into being a new and ancient dream for life…
We stand together,


Rulan
DECEMBER 11 AT DANCE MISSION IN SAN FRANCISCO with the Festival of Latin American Contemporary Choreographers (FLACC), in the Indigenous program.
We recommend booking your ticket now, Festival Director Liz Boubion has created the first Indigenous evening on December 11 with a powerful lineup of cultural artists that will surely draw in a whole new crowd of supporters of dance and culture, filling the house and spilling into the street!

We present : "Treaty Making : We Stand Together". Dancing Earth creates an intercultural dance project embodying the Indigenous Women Defending Mother Earth Treaty, signed in 2015. We're inspired by the treaty's urgent call for ACTION, to protect Mother Earth and remember our responsibilities to the sacred.

We Stand Together by DANCING EARTH
Please stand up in solidarity with this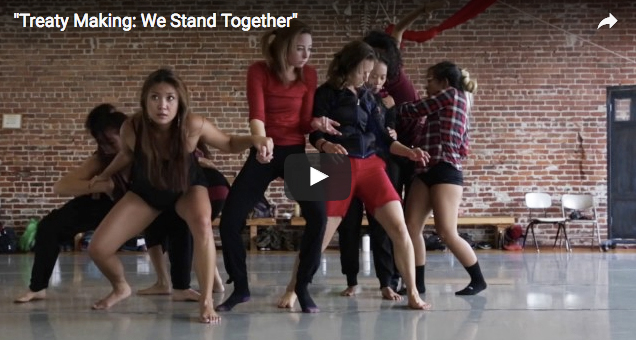 amazing project! Check out this link for the many ways to donate of become involved ...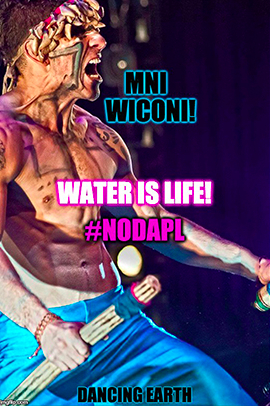 Check out Treaty Making: We Stand Together by Dancing Earth by Dancing Earth Indigenous Contemporary Dance Creations - Fiscal Sponsor: Intersection for the Arts!

This represents another manifestation of our dancework for social justice, which has also involved several donations from workshops, performances, blanket dances and film to support protectors of water at Oceti Sakowin / Standing Rock Donations. For more information about Standing Rock, CLICK HERE.

FALL SEASON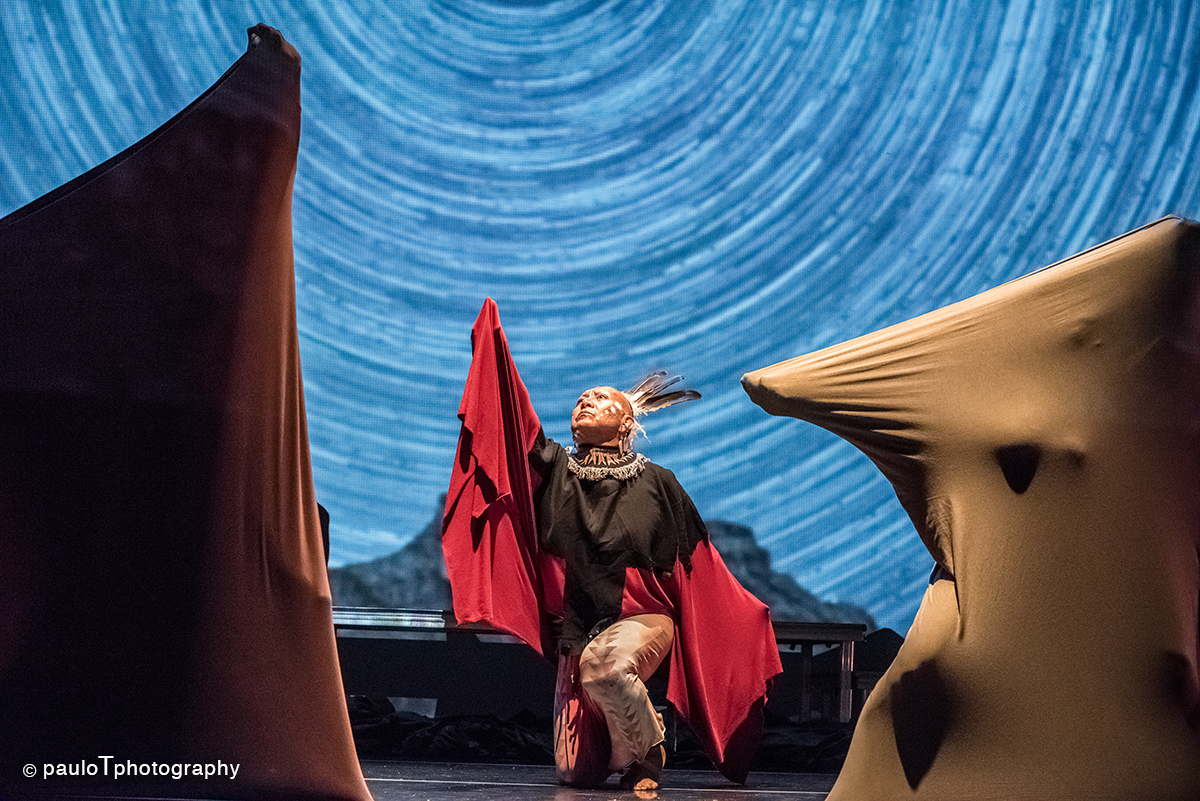 Besides our powerful Bay Area activities, we have been on the road, sharing our important work
Dancing Earth will be in residency at
Crystal Bridges, Arkansas - Nov 11-17.

In conjunction with the temporary exhibition The Art of American Dance, Crystal Bridges brings an exciting selection of dance companies, choreographers, and filmmakers to the Museum, enriching your experience of the artwork and sharing new insights on intersections between visual art and dance. Its our first trip to the state and we appreciate all the coordination by the awesome Sara Segerlin , for an amazing lineup of activities including gallery conversations, lectures, workshops, Art Night Out, sharing of food and culture, culminating in a presentation of "...SEEDS : RE GENERATION…"
---
Lupita Salazar offered a movement session and her solo tribute to farming "Earth My Body" at Gathering for Mother Earth, hosted by beloved grandmothers of Tewa Womens United at Pojoaque Pueblo:

"A blessing to bring my story through movement to a community of earth warriors and protectors that are working against negative issues, but also creating positive solutions."
Deollo Johnson

will begin working with Radical Possibilities, a therapeutic mentorship program based in Durango, CO that requested to work with Dancing Earth. More of this collaboration to come in 2017!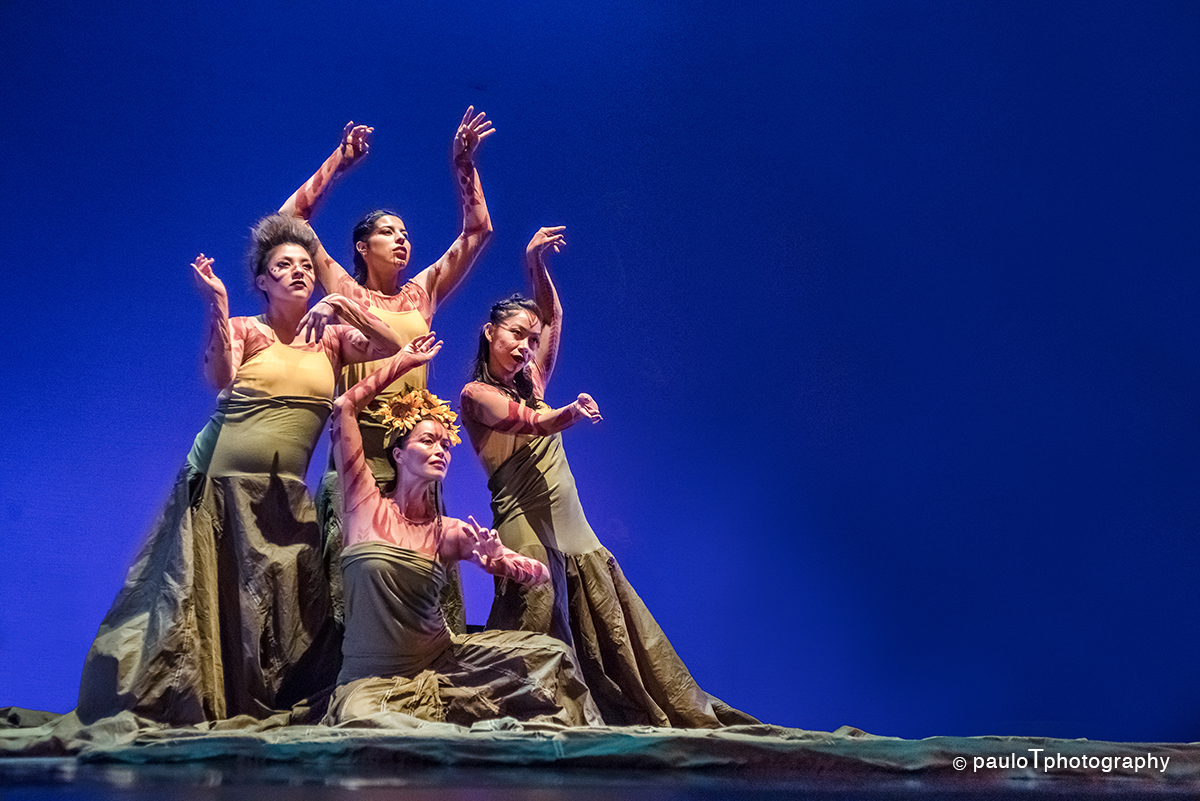 We offered "...Seeds : Re Generation... " at Intertribal Gathering for Healthy Communities, Cultures, and Climate ( http://intertribalgathering.com/background/) at Buffalo Thunder Resort, presented by Grand Canyon Trust's Colorado Plateau Intertribal Conversations in partnership with Bioneers Indigenous Knowledge Forum.
Guest artist Uqualla of Havasupai Nation joined Dancing Earth's Rulan Tangen, Anne Pesata, Lupita Salazar and Natalie Benally shared the performance ritual for tribal elders representing Colorado Plateau Tribes across the Four Corners Area. Unforgettable affirmation emerged from the feedback from these respected intertribal elders:
"I was amazed at what i saw. I never saw this story before in such a powerful way. That is why creator gave it to us. It is important to see and is an example of a beautiful human being."
"I see all beautiful music, stories, movements and visuals entwined. Art has transformed the world and we have healed ourselves."
"Thank you for doing your work. We survive in adaptation and this work is another way to adapt. It is nice to see the new and old incorporated."
"This is a way to think outside the box, to reach our young people. We need the humor and entertainment for the goodness of our people. It is an interpretation of our work and you are opening the door. Culture is meant to grow, improve and this is the future."
Gathering director Tony Skrelunas
Cultural contributor Drake
---
Dancing Earth's Rulan Tangen, Trey Pickett, Anne Pesata, Javier Stell Fresquez, and guest artists Christina Leyva, Jade Whaanga participated along with international Indigenous dance leaders and academics in Indigenous Choreographers Symposium in Riverside and Congress for Research in Dance in Pomona. At CORD in Pomona, 13 dance-activists joined in creating a version of the Treaty Making dance, directed towards solidarity with Standing Rock, including an intro of text sent by Janice Bad Moccasin sent that morning from the front lines, and a poem recorded on site at Oceti Sakowin by collaborators Cannupa Hanska Luger, Dylan Mclaughlin, Ginger Dunnill, Merritt Johnson, Nicholas Galanin.

Dancers included Ananya Chattarjea, Yvonne Montoya Rulan Tangen, Maria Firmino Castino, Zoe Klein, Liz Cameron, Christina Leyva, Javier Stell Fresquez, Jade Whaanga, Eva Lopez, Sam Mitchell, Tria Wahkpa Blu and her 3 month old daughter Hante, for whom the performance unfolded as a recreation story of the world was it was, is now, and the what we are dreaming it into becoming. Photo here of most of cast with Daystar Rosalie Jones and Daniel Fetecua who was dancing her seminal WOLF solo, and Professor Jacqueline Shea Murphy.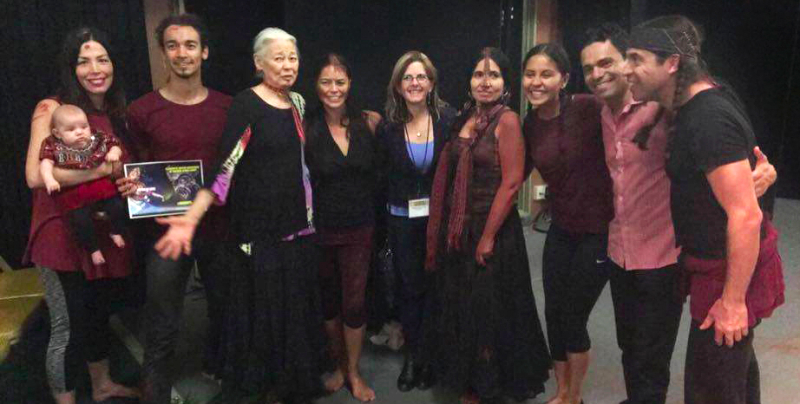 Dancing Earth's Natalie Benally returns from amazing tour of a new Native American Rock Opera to sites in California and Arizona!
"In my experience in
"Something Inside is Broken"
the most powerful and redeeming factor of this painful story is the use of the Nisenan language in songs and dialogue. It allows the story of the native Californian people to be felt so much more and brings this dying language back to the people in the area. I also met and connected with people, whom have never learned the other side of history in terms of genocide and colonization. They were able to learn of Native issues and the repercussions of this nation's traumatic
history."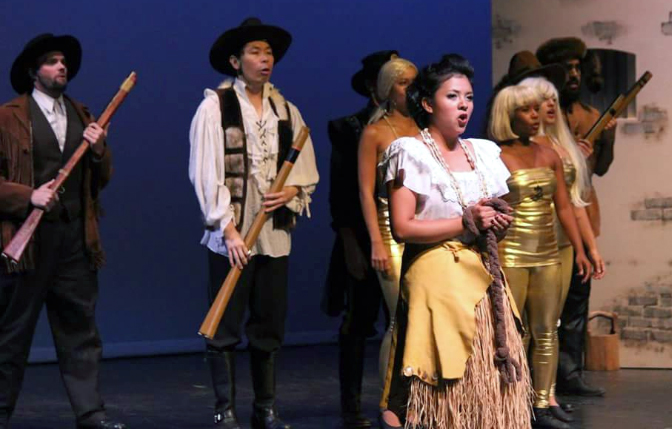 As the month closes with many celebrating a time of gratitude, this is a time to also consider our blessings, and note what are the privileges we enjoy and how we can use those privilege resources to stand as strong, loving and compassionate allies, supporters, neighbors and friends in these time of deepening challenge.
---
DANCING EARTHWe acknowledge our work has been made possible with additional support since 2015 from Catalyst Initiative, Arts for Social Change Award from Arts and Healing Network, McCune Charitable Foundation of New Mexico, US Embassy to Norway, Mid Atlantic Arts Foundation, USArtists International, and all our kind donors and supporters! We deeply appreciate additional volunteer, administrative and/or financial support from Lee Ann and Marshall Hunt, Randolph Duke, Kate Sweetser, Gabriela Perky, Maria Firmino Castillo, Liz Cameron, Michele LaRoe, Almah Rice, Jennifer Kilbourne, Solar Banner, Alma Rosa, Mitra Lujan, Intersection for the Arts, New Mexico Dance Coalition, Indigenous Arts Institute, Seth Fried, Rima Miller, Daniel Banks, Guthrie Miller, Amy Westphal and Michael Lujan, Pearl Potts, Alicia Piller, Angie Rizzo, Ezra and Sonia Leyba and Catalyst Water, Roshi Joan Halifax of Upaya Zen Center, Heryka Miranda, Javier Stell-Fresquez, Tamela Uzzetta, and our wonderful new agent and ally Andre Bouchard at Walrus Arts Management.

We are blessed for a continued relationship with Durango, Fort Lewis College and Concert Hall since 2011, with community calling us to return last year after the Animas River mining spill, to which we initially dedicated this performance, with additional intention as a functional ritual of transformation for other sources of sacred water and lands, including dancing our prayers in solidarity with friends, relatives and allies at Standing Rock in support of No Dakota Access Pipeline.
For more info and to take action please view this link and consider signing this petition at
www.change.org/p/jo-ellen-darcy-stop-the-dakota-access-pipeline