December 2012
EHSD and community welcome new Director

Contra Costa County Administrator David Twa announced the appointment of Kathy Gallagher to serve as the County's new Director of the Employment and Human Services Department. Gallagher has served as the Director of Social Services in Santa Barbara County for the past nine years.
Twa noted that she will bring a wealth of knowledge and experience to Contra Costa County. "Kathy's credentials in the social service field are excellent," he said, "and she will join us at a time when financial challenges from the State plus implementation of Health Care Reform will require strong leadership and vision."
For Gallagher, this represents a bay area homecoming. A native Californian, she received her Bachelor's degree from San Jose State University in Behavioral Science and Political Science, and holds a Master's Degree in Public Administration from the University of San Francisco. Prior to joining Santa Barbara County, Gallagher worked her way up the ranks to Assistant Director of Santa Clara County's Social Service Agency.
"Contra Costa County's Employment and Human Services Department is well-respected across the state for being innovative, providing comprehensive services, and for an ongoing commitment to excellence," she noted. "I look forward to returning to an area I called home for many years."
Gallagher's dedication to the field of human services began as a Peace Corps volunteer in Columbia, leading to a lifelong advocacy for those in poverty, and victims of abuse and neglect. "My commitment to service in support of low-income and vulnerable children and adults has never been more needed than during these trying times," Gallagher stated.
The Employment and Human Services Department (EHSD) provides services that support and protect adults, children, families, and the elderly. It promotes personal responsibility, independence, and self sufficiency. EHSD administers more than 60 programs from 40 locations throughout the county and serves over 100,000 citizens in need of basic protection or support each year.
In Contra Costa, she will also be engaged in legislative activities at the state and federal levels on behalf of social service advocacy programs. Gallagher will join Contra Costa County in January January 2013.

*Photo from left to right: incoming Director Kathy Gallagher, former Contra Costa County Administrator Phil Batchelor, and interim Director Terry Speiker volunteer at Holiday Helpers Warehouse

---
Program protects seniors from financial abuse

Elder Financial Abuse has reached epidemic proportions in the United States and in Contra Costa County. Studies have indicated that only 1 in 44 cases are ever reported. While there may be many reasons for not reporting, the fact remains that many of our seniors are being exploited financially by many, either known or not known persons. The January 2013 issue of Consumer Reports put the spotlight on this issue and how serious it is to our aging population. Contra Costa County is addressing this issue through the Communities Against Senior Exploitation (CASE) program. To educate seniors about ways in which they can protect themselves from financial scams, CASE Director Shirley Krohn works with senior centers, assisted living facilities, faith based organizations and many others to provide prevention tools for seniors to protect their assets from perpetrators of these crimes.

If you are interested in arranging a CASE presentation or would like more information, please email Shirley Krohn at skrohn9520@aol.com.
---
Parenting children: no instruction manual included

Children do not come with instructions, and while we can acknowledge that each child is unique, there is no rule book or manual that details how to raise children. However, with supportive parenting tools and strategies parents can enjoy and appreciate the important role they play in raising their children. Within the Community Services Bureau, this is especially true for those families who have participated in the Triple P Positive Parenting Program.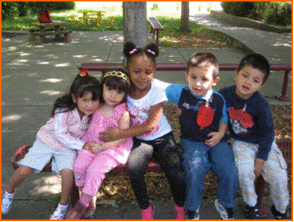 In October, 11 proud parents from our George Miller III center began their journey to fine-tune their parenting skills through weekly parenting classes. This class, currently offered in Spanish, provides an opportunity for parents to learn about new strategies along with hearing and sharing personal experiences with fellow parents. Through the Triple P Program, parents gain a better understanding of the way their families work and identify new ways to nurture their relationships,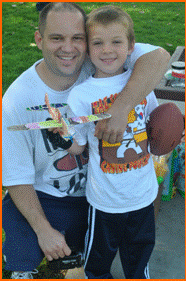 build their confidence as a parent and support their emotional well being. The training doesn't tell them how to parent. Rather, it gives them simple and practical strategies that can be implemented at home using approaches that agree with their family values, beliefs and needs.

With the ongoing engagement and collective needs of our families, the Community Service Bureau will continue educating and promoting the principles of the Triple P Program throughout the program year.

Parenting classes will be offered soon to our Central and East County families in the Winter and Spring of 2013.
Triple P is a highly rated parent education program based on 25 years of research and evidence-based outcomes. As part of Contra Costa's Prevention and Early Intervention Program and with funding from the First 5 Commission and the Mental Health Services Act, the Triple P Program was selected as a model program for the purpose of meeting the parenting education needs of parents countywide.

---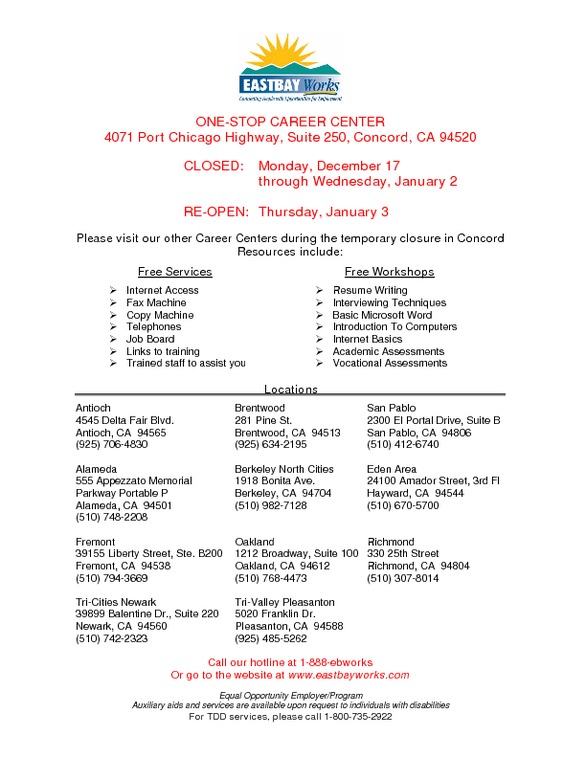 ---
Holiday event provides cheer to foster youth

On Tuesday, December 11, 2012, ILSP hosted its Annual Holiday Network event. Over 100 youth, care providers, Court Appointed Special Advocates (CASA), volunteers and staff attended this year's event that was held at Centre Concord. This event was made possible by the generous donations of gifts provided by Dawn Roth and Operation Secret Elves, Serra Moore, Foster a Dream and the National Charity League. The 77 youth that were in attendance each received a gift, enjoyed delicious food and danced to tunes spun by DJ Willie Loggins.
A break from the weekly ILSP workshops that cover topics such as employment, education, financial literacy and overall well being, this holiday event provides the youth with an opportunity to come together, enjoy each others company, and celebrate.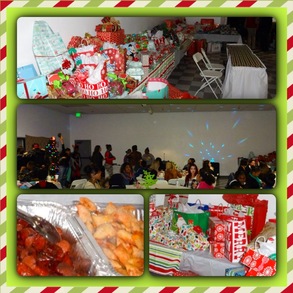 A special thanks goes out to the ILSP Holiday Network Planning Committee consisting of staff and volunteers that tirelessly worked behind the scenes decorating and preparing for the event and staying afterwards to help clean up. The young adults and attendees were appreciative of the effort made to provide a great event.

"This is really cool, thanks for doing this for us," said a participant. "You are never too old to receive a gift, I'm glad I came and got one."
For more information about the Contra Costa County Independent Living Skills Program (ILSP), please visit their website at
www.cocoilsp.org
.
---
Holiday Helpers Warehouse volunteers distribute holiday gifts

Volunteers at the 2012 Holiday Helpers Warehouse distribution helped to provide new toys, warm clothing, food, and gift cards for shoes to over 400 families in the CalWORKs program in Contra Costa County. The program is sponsored by hundreds of donor organizations, individuals, and the Share the Spirit program of the Bay Area News Group which provide all the toys and goodies.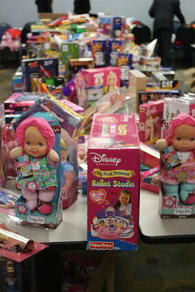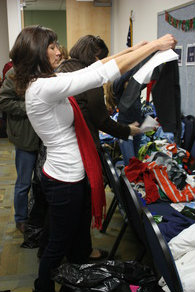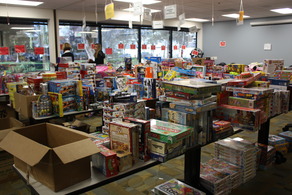 ---
Changes coming to the CalWORKs Welfare-to-Work program
Starting January 1, 2013, there will be new rules that give Welfare-to-Work (WTW) participants more flexible options and require fewer participation hours for single-adult families. See list of changes here.

The Welfare-to-Work Program is a comprehensive Employment and Training Program designed to promote self-sufficiency. CalWORKs recipients are assessed to determine the best course of action, whether it is immediate placement into a job, placement into an education or training program, or both.
The CalWORKs Welfare-to-Work Program is open to anyone receiving CalWORKs cash aid. Anyone receiving CalWORKs cash aid must participate in the Welfare-to-Work program unless that person is exempt. Individuals are exempt when they have a good reason for not participating, such as being ill or incapacitated or are caring for an incapacitated person.

If you would like additional information about the CalWORKs Welfare-to Work program, visit our website.