July 2012
Community Celebrates Educational Achievement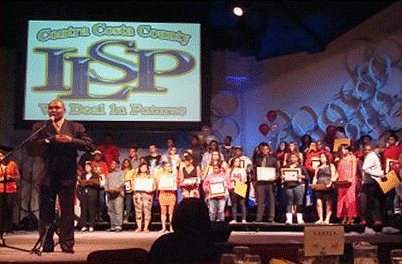 More than 300 community leaders and partners gathered to celebrate the 92 youth graduating from the Independent Living Skills Program (ILSP) at the 24th Annual Recognition Dinner. Part of Contra Costa County's Children and Family Services, ILSP serves youth in the foster care system between the ages of 16 and 21 in the areas of education, employment, housing and resources. Overcoming many obstacles, the 2012 high school graduates were honored for their accomplishments.
Many generous donors and sponsors made the evening possible. The venue was donated by The Calvary Temple Church of Concord, and volunteers from the church helped with the set up, lighting, sound and video. The healthy meal was sponsored by The Wellness City Challenge, Tom's Classic Catering, the National Association of Social Workers, Foster a Dream, and the Orinda Woman's Club, and was prepared by Cindy Gershen of Sunrise Bistro. Dinner was served by volunteers from Calvary Temple and the Golden Hills Churches.
Eighty-six scholarships worth over $60,000 were presented to 55 different young adults pursuing higher education. Of the 92 total graduates, 71 will be attending college, 10 will seek employment, and 2 joined the military. Nine youth are planning on pursuing other dreams either in vocational programs or apprenticeships. Some plan to take some time to find their own path.
The Judge Lois Haight Foundation provided 23 $1,000 scholarships

VESTIA, Inc. provided 10 scholarships

The Orinda Woman's Club provided 9 scholarships

ILSP Wilhelmina Johnson scholarship fund provided 9 scholarships

The Assistance League of Diablo Valley provided 8 scholarships

Foster a Dream provided 7 scholarships

Youth Homes, Inc. provided 7 scholarships

Alamo Women's Club provided 5 scholarships

Fostering Futures provided 4 scholarships

Families First/Amador Institute THPP programs provided 3 scholarships

Don and Roy Splawn provided 1 scholarship
---
Building Dynamic Partnerships through CCWORKS
When the Contra Costa WORKS (CCWORKS) program was launched in November 2011, Employment and Human Services had an opportunity to work closely with the City of Richmond and RichmondWORKs to have CCWORKS participants intern with Veolia Water, an international leader in water services.
The interview and placement process was lengthy, and after months of screening and interviewing, two Richmond residents were selected. They started their 18 month internships at the end of May 2012. With the high level of training and certification, the interns will surely have a plethora of employment opportunities in the field of water purification.
For additional information about the CCWORKS program, please contact:
East County (Antioch)- Jeanette Quintero
925-706-4704 or jquintero@ehsd.cccounty.us
Central County (Pleasant Hill)- Roxanne Cabriales
(925) 521-5054 or rcabriales@ehsd.cccounty.us
West County (Hercules)- Michelle Graham
510-262-8857 or mgraham@ehsd.cccounty.us
West County (Richmond)- KaSandra Knox
510-412-3038 or KKnox@ehsd.cccounty.us
---
Contra Costa's Supporting Father Involvement Program
According to the most recent census statistics, one in three American children grows up without a father. For low-income families, that percentage is even greater. Previous research has found that children with absent fathers are more likely to suffer from poverty, psychological problems, drug addiction or incarceration in their lifetime. Given these realities, implementing the Supporting Father Involvement program (SFI) in Contra Costa County was an easy decision.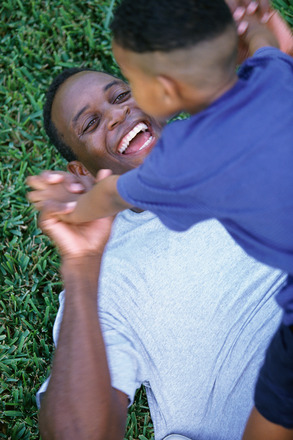 For the past five years the Employment and Human Services Department's Service Integration Program has partnered with Children and Family Services, Community Services, the State of California's Office of Child Abuse Prevention and researchers from UC Berkeley, Yale and Smith College to implement and evaluate SFI. The program brings fathers and mothers together for 32 hours of structured SFI groups, coupled with individualized support and an organizational father friendliness self assessment. The goal is to strengthen the relationship between fathers and mothers with young children so that they all thrive.
SFI is the nation's first fatherhood program to be evaluated using a randomized, control group evaluation methodology, and the results were excellent. Parents were less stressed and anxious with less violence and kids were less aggressive, hyperactive, depressed or socially withdrawn. Longer term data and data related to child welfare outcomes will be released within the year.
Though the program ended on June 30th in Contra Costa County, it has expanded to other California counties, New Haven, CT and Alberta, Canada. If you are interested in more details or in offering the program, please contact Paul Buddenhagen at pbuddenh@ehsd.cccounty.us.
---
Reaching for the Stars
Emma applied to become a participant in EASTBAY Works Senior Employment Program in June of 2009. At that time, she was 66 years old and the primary caregiver for her grandson soon after he was born. Emma had been unemployed for 18 months, had exhausted her unemployment benefits and was living on her limited Social Security income. Emma was close to depleting her savings account and was very concerned about what would happen if she didn't find a job soon when she heard about the EASTBAY Works Senior Employment Program.
What stood out during her initial interview and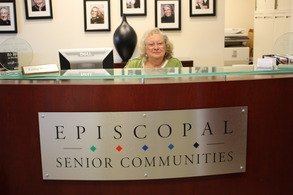 assessment was Emma's resilience and positive attitude. She refused to feel sorry for herself despite all that was on her plate. When asked how she was dealing with the issues she was facing, she stated that if she worried too much about what had happened she couldn't focus on finding a job. She said the hardest thing for her to accept was the fact that she had worked all her adult life and had always been able to provide for herself and her family. The impacts of the recession and her age were barriers she was experiencing for the first time in her life. In spite of all this, Emma was determined to persevere and not stop her from finding a job.
Episcopal Senior Communities (ESC) located in Walnut Creek requested assistance in finding someone with a clerical and administrative assistance background to be a receptionist at their home office. ESC provides market rate and subsidized senior housing as well as home and community based services for seniors living throughout Northern California. The position required someone with a positive helping attitude that would represent the company well.
"Emma is always willing to shift her role from the reception and administrative tasks in her job description to the extra tasks that aren't covered in her every day job. She keeps track of us all and more than that, she is a delight to work with and a real addition to the ESC Support Services family," said Dee Ann Campbell, Episcopal Senior Communities Vice President of Organizational Advancement.
Throughout her assignment with ESC, Emma managed to keep her health bills and mortgage payments current, but just barely. As she neared the one year anniversary of her placement with ESC, Emma was offered a full time position as a clerk-receptionist with health insurance, sick leave and vacation benefits.
For information about the EASTBAY Works Senior Employment Program, please contact Jack Kennedy, jkennedy@ehsd.cccounty.us.
---
Community Volunteers Provide Support to West County Resource Center
Dozens of volunteers and community advocates participated in a June clean-up to transform a vacant and blighted building into a one stop resource center for domestic violence survivors. The West Contra Costa Family Justice Center (WCCFJC) and its partner agencies hosted the clean-up to focus on the exterior of the building, removing green material and debris that has accumulated as well as cleaning up the interior of the building in anticipation of renovations.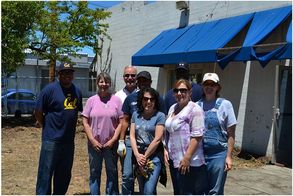 Currently operating from an interim location, the Richmond Police Department's Northern District Substation located at the Hilltop Mall, the WCCFJC is a collaborative multi-agency, multi-service center for victims of domestic violence, sexual assault, elder abuse, child abuse, stalking, and human trafficking. It was launched as a joint project between Contra Costa County's Zero Tolerance for Domestic Violence Initiative, STAND! For Families Free of Violence, Community Violence Solutions, Bay Area Legal Aid, and the Richmond Police Department. In March of 2011, the WCCFJC began offering victims of family violence a one-stop-style center with a variety of services critical for safety all under one roof.
"This is an exciting opportunity for the community to come together and begin reclaiming the building for the neighborhood, for survivors of abuse and for their children. We look forward to the day when the building is completely transformed and stands as a beacon of hope to victims of violence in Contra Costa," said Melissa Caine-Huckabay, WCCFJC Project Director.
Cleaning up the 24th Street property is a key step to preparing the building for renovations and ultimately, repurposing the building to be a safe, centrally-located multi-service center for survivors of domestic violence, sexual assault, stalking, elder abuse, child abuse, and human trafficking and their families. Currently owned by Contra Costa County, 24th Street is ideally located in Richmond's Civic Center area. Identified as a potential permanent home for the Family Justice Center, the building is in need of significant rehabilitation before the Family Justice Center can move in. The FJC team is actively seeking support to raise the estimated $1.8 million needed for renovations and rehabilitation.
For additional information, please contact the West Contra Costa County Family Justice Center at (510) 965-4949.
---
Summer Jobs Bring Youth Experience and Opportunity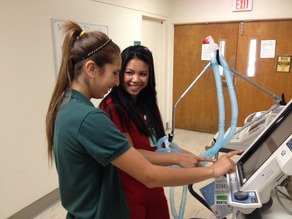 The Workforce Development Board of Contra Costa County's Summer Jobs+ 2012 initiative calls for businesses, nonprofits, and government to work together to provide avenues to employment for low-income and disconnected youth during the summer of 2012. Contra Costa County Office of Education (CCCOE) and Henkels & McCoy Training Services provide case management services, and have developed a four-part plan to surpass last year's efforts and help place as many as 200 youth in summer jobs.
Currently, 107 youth participants are working in subsidized jobs and 56 youth participants are working in unsubsidized jobs, for a total of 163 youth at work in the Contra Costa County community. Perla Ponce is preparing to enter her senior year at Richmond High School by taking a break this summer from AP biology and chemistry classes and club activities to work at Doctors Medical Center in San Pablo as an intern in the Respiratory department. She values the opportunity to gain work experience and learn new skills, and credits her parents with instilling in her the desire go to college. She plans to go into environmental conservation and will be applying this fall to Santa Clara University, UC Davis, and UC Santa Cruz.
Summer Jobs+ worksites include: the Contra Costa Community College District, Kaiser, BioCare Medical, AAA, City of Pinole, Reliable Recycle, UPS, Dental Care of Antioch, and The Jungle.
For more information about Contra Costa County's Summer Jobs+ program, please contact Gina Del Carlo at (925) 602-6807.
---
Volunteer Makes Summer Camp Dreams Come True
Volunteer and Emergency Services Team in Action (VESTIA) Volunteer of the Year, Mary Jensen helped sign up over 100 children to attend Opportunity Camp this summer in record time. Registration this year was to be done between the families and camps directly, but because of confusion, families were not able to successfully sign their children up for camp. Mary stepped in, and in less than a month had over 100 children signed up to attend a week long summer camp in the beautiful woods of Santa Cruz.
To find out more about Volunteer & Emergency Services, please visit www.vestiainc.org.
---