November 2012
Hercules company supports EHSD office and community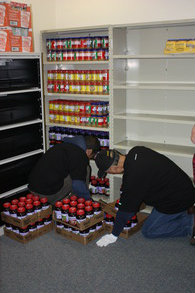 Every year generous employees Bio-Rad Laboratories, Inc., headquartered in Hercules, raise funds to purchase supplies to stock the emergency pantry at the Hercules District Office. This year employees provided more than 14,000 pounds of food and diapers. 2000 pounds of food was collected from Bio-Rad campuses, and over $10,000 in fundraising was used to purchase food and diapers from Food Maxx and Target. Employees volunteer their time to unload pallets and boxes to replenish the supplies.


Approximately 4500 West Contra Costa County residents come through the lobby of the Hercules district office monthly for services. The food pantry items are provided to those who are most in need. Of the 4500 residents, about 2000 families receive CalFresh (formerly known as Food Stamps) and Cash Aid benefits.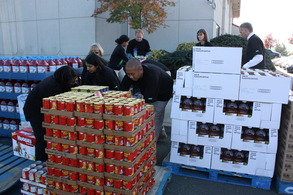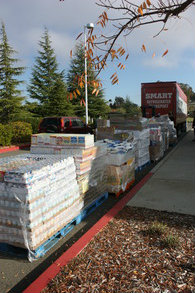 ---
iFoster provides life changing resources for children and youth
iFoster provides life changing resources for at-risk children and youth to put them on the path to becoming independent successful adults. iFoster targets major barriers facing these children by creating scalable solutions and partnering with government and nonprofit agencies serving vulnerable children, youth and their families to aggregate a community of millions of voices and billions of dollars in purchasing power. By working in partnership with corporations, philanthropic sources and non-profits, the organization designs solutions to empower youth to overcome barriers such as a lack of a permanent,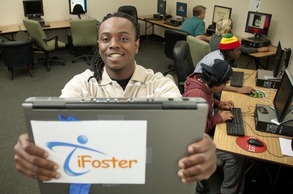 supportive family.
Youth in Contra Costa face numerous barriers impeding their ability to transition into successful adults such as the high cost of living, lack of access to technology (computers, the internet, etc.), sometimes unhealthy lifestyles (physical and mental health), academic difficulties, increased likelihood of becoming a high school drop-out, and unemployment.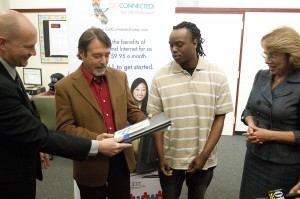 With a focus on technology, iFoster works to improve upon grim statistics for youth in the foster system:
46% drop out of high school or fail to get GED by 19

3% will earn their bachelor's degree
Get connected and join iFoster today at www.ifoster.org.
---
CCWORKS program now available online!
The upgraded Workforce Services Bureau's subsidized employment program Contra Costa WORKS (CCWORKS) website now allows both employers and clients to find information about this valuable program, how to get involved, who to contact, and answers to frequently asked questions with a few simple and quick clicks of the mouse.
CCWORKS is an employment program that is highly successful and provides employment training, subsidized work experience, childcare, and supportive services for CalWORKs jobseekers. CCWORKS provides a substantial wage subsidy to employers who hire eligible jobseekers for full or part time positions throughout Contra Costa County. Participating CCWORKS employers may qualify to receive substantial wage subsidies.


---
Website assists people working with children to address impacts of domestic violence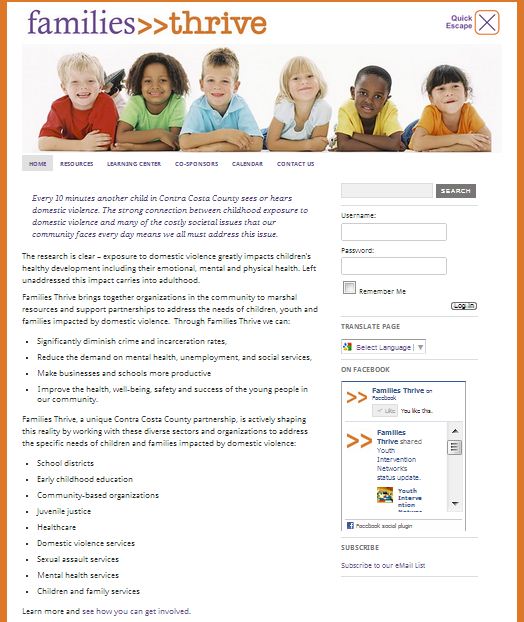 Families Thrive, a project of the Contra Costa County Board of Supervisor's Zero Tolerance for Domestic Violence Initiative launched a new resource-rich website helping people working with children better understand and address childhood exposure to domestic violence. Log on to www.FamiliesThrive.org for self-guided learning sections, presentations by experts in the field, links to research and articles, and a listing of resources in the county.
Every 10 minutes, another child in Contra Costa County sees or hears domestic violence. Children exposed to domestic violence often face significant social and behavioral challenges as well as adverse health outcomes, which if left unaddressed can carry forward into adulthood. Since there is a strong connection between childhood exposure to domestic violence and many of the costly social issues that our community faces every day, we all pay a high price for not addressing this issue.
What if we could significantly diminish crime and incarceration rates, reduce the demand on our mental health, unemployment and social services, and make businesses and schools more productive? And what if we could, at the same time, improve the health, well-being, safety and success of the young people in our community?
---
Advisory Council on Aging Update
President of the Advisory Council on Aging Shirley Krohn, had two legislative proposals chaptered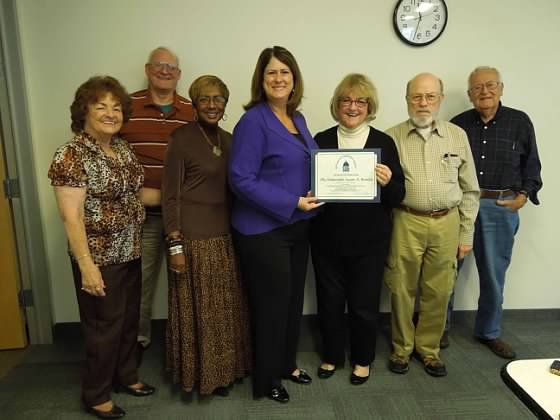 into law by the governor this year. One was a proposal regarding reverse mortgage counseling that was authored by Contra Costa County Assemblywoman Susan Bonilla. The California Senior Legislature presented a certificate of appreciation to Assemblywoman Bonilla at the Council's Executive Committee meeting on Wednesday, November 7th. At the meeting, Assemblywoman Bonilla participated in a discussion on issues impacting our county's aging population.
For additional information about the Advisory Council on Aging and issues facing Contra Costa County seniors, please visit our website.
---
East County's Enterprise Zone boosts local economy
In creating new opportunities for business to be successful and create jobs, the City of Pittsburg and the Workforce Development Board of Contra Costa County joined together with the State of California's Department of Housing and Community Development, to designate a portion of east Contra Costa County as an Enterprise Zone. This new enterprise zone is one of forty-two approved zones in the state.
"Contra Costa County and City of Pittsburg have been working together on establishing this Enterprise Zone for several years. Its establishment couldn't come at a better time curing this economic downturn to provide jobs for the residents of Bay Point and Pittsburg, two communities with some of the highest unemployment rates in the county; and businesses, which could benefit from the incentives to establish, expand or improve their operations in those communities," said Supervisor Federal Glover, whose district includes Pittsburg and Bay Point.
The Enterprise Zone program targets economically distressed areas throughout California, providing special incentives designed to encourage business investment and promote the creation of new jobs. The purpose of the program is to stimulate development by providing tax incentives including hiring credits to businesses, allowing private sector market forces to revive the local economy. Each Enterprise Zone is administered by its local jurisdiction working with local agencies and business groups to promote economic growth through business attraction, expansion and retention.
"Providing a tax credit to businesses operating within the Enterprise Zone that hire new employees offers them an incentive to increase their workforce and hire qualified employees. The five-year, $37,000 credit per employee per year will help to increase the pace of hiring in our local economy," said Stephen Baiter, Executive Director of the Workforce Development Board of Contra Costa County.
Interested businesses can get more information by reviewing our website, or contacting Ed Solomon at (925) 602-6821 or esolomon@ehsd.cccounty.us.
---
Lead Poisoning Prevention Project
The Employment and Human Services Community Services Bureau (CSB) recently participated in a Lead Poisoning Prevention Project at all their directly operated sites. Informational handouts were given to parents and they were encouraged to participate in a quick quiz to identify their knowledge on the subject of lead poisoning. Posters, questionnaires and answers to the questions were posted in both English and Spanish to promote learning and provide assistance as needed.
The CSB's Comprehensive Services team and teachers assisted in this successful collaboration with Contra Costa County's Lead Poisoning Prevention program. In an excellent demonstration of teamwork with parents, more than 900 Head Start family members participated in this project. The hope is that by families passing and spreading information regarding lead poison prevention, many will avoid illness and developmental delays associated with lead poisoning. In January, CSB plans to repeat this process with home based families and partner sites. For their participation, some lucky Head Start families will be picked to receive large containers of lead free Lego - Duplo Blocks.
---
Volunteers needed: Holiday Helpers Warehouse is coming!
Donations of new toys, warm clothing, and blankets are needed. Join the elves in Pleasant Hill on December 17th and 18th, and in Richmond at on December 20th to help make the holidays a time of JOY for all the families served by the Contra Costa County Employment and Human Services Department. Please contact Anne Struthers at (925) 521-5060 if you're interested in participating.