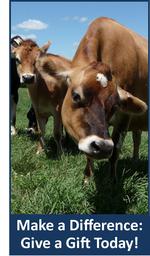 Dear Friend,
These days it can be so hard to figure out where to even start in making a difference in our food system. What food to buy, where to buy it, which label to choose, what the label means, and whether your dollars are contributing to the economic viability of your local community.

PASA works to keep farms viable, to support you to have access to locally-sourced foods, and to keep our environment healthy. Your contribution today will go a long way in providing your local region with expanded resources. Recent gifts from supporters like you have allowed PASA to reach a broad audience through our increased education programming, community outreach, policy initiatives on issues relevant to you and much more.
Please consider joining me in becoming a member or in giving PASA a financial gift that is personally meaningful to you!

Thank you for taking action to support PASA's work today!