Do you need support in the midst of change?

Join the Daring Group. We meet monthly to share our faith and support each other with the teaching of psychologist Brené Brown. Our next meeting is this Saturday, October 7 at 1 PM. Contact Kate at Kate@Jensons.com or 651-402-5927. In addition to checking in with each other, we will be discussing Brené Brown's response to the situation in Charlottesville.
CONCERNS OF GOD'S HEART


A Presbytery Mission Celebration – all are invited!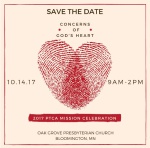 On Saturday October 14 at Oak Grove Presbyterian Church in Bloomington from 9 am to ~1:15 pm our Presbytery of the Twin Cities Area considers Concerns of God's Heart. Following opening worship, choose two of several workshops (topics: Homelessness, Creation Care, Immigration, Disabilities, Racism) followed by lunch and brief closing words. There is time between to visit booths related to the topics. Join in this opportunity to hear about a variety of mission activities taking place in our presbytery and share ideas about mission with other churches. No fee; free will lunch. Complete details and a link to register are at "Mission Celebration." (Register for adequate food and supplies.)
-Hosted by the Mission & Witness Committee of the presbytery (Jan Hubbell, member).
-Expected participants from New Life include Earth Care and Immigration Support teams.
Crop Hunger Walk on October 15th *NOTE: SAVE YOUR QUARTERS!*

The St. Paul Crop Hunger Walk raises funds to fight hunger in St. Paul through the Department of Indian Works food shelf and around the world through Church World Service programs. The walk starts at 1:00 PM at Interfaith Action of Greater Saint Paul's headquarters, 1671 Summit Avenue. Walkers, rollers, trotters, and stroller-riders can choose a 2.5 or 5-mile route. Sign up with Michael Wilson on Sundays prior to the walk, or just show up! We'll take donations during October to the Crop Walk fund at New Life rather than pledges to walkers (Checks to New Life, memo Crop Walk). Your CHANGE during October in the offering plate and Bowl of Abundance will go to the St. Paul Crop Hunger Walk. *AND…in celebration of the 500th anniversary of the Reformation on October 29th (which is also a food-focused Faith in Action Sunday), we aim to collect 500 QUARTERS from the congregation to donate to the Crop Hunger Walk this year!
*Please bring a handful of quarters on October 29th if you can to help us reach our goal!

Reformation Sunday & Food-focused Faith in Action October 29th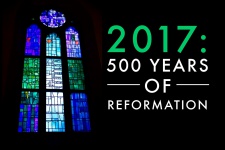 On fifth Sundays in the month we have been following worship with opportunity to participate in a variety of intergenerational mission activities during the education hour.

Our Oct. 29th Fifth Sunday Faith in Action is combined with a worship celebration of the 500th anniversary of the Reformation, an important part of our Presbyterian history. The Faith in Action focus that day is on Hunger. Combining these two thoughts, we're planning the 500-quarter collection for the Crop Hunger Walk (see Crop Walk article) as a part of worship.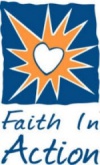 Following worship, you can join John Silliman and his Vulcan Crew on one of the Vulcan Fire Truck Neighborhood Food Drive runs (we'll flyer 500 houses in honor of the Reformation!). Please bring a bag of non-perishable food to add to our atrium pile. We'll offer some food and fun for our community with Trunk or Treat in our parking lot – come in costume if you'd like, and see Wendy Griffin or Patty Gould about "doing" a trunk. You can join in several indoor food-related activities such as decorating Meals on Wheels lunch bags and the popular Free Rice game! In the afternoon, help prepare and serve the Sunday evening meal at First Nations Kitchen, All Saints Episcopal Church, 3044 Longfellow Ave S, Mpls. – See Pastor Riz to sign up.
"…Do you love me?...Feed my sheep." John 21:17
The Opportunity Gap: A Critical Conversation
"It's not rocket science to love a child," says the Rev. Dr. Alika Galloway, co-pastor of Liberty Community Church (formerly Kwanzaa). "Loving children is what we do at Liberty. We put love into action."

Join Liberty church members and other Presbyterians for "The Opportunity Gap: A Critical Conversation" on Saturday, November 4, 9:00 a.m. to noon at Valley Presbyterian Church. New Life has been active (through Jan Hubbell's participation) on the sponsoring group, the Presbytery Liberty Church Ministry Team. (Nora Buckley will be glad to share information about this ministry and this conversation while Jan is taking a break).

We are all familiar with the differences in student achievement scores in Minnesota, but the achievement/opportunity gap is about more than statistics. It is about a kindergarten child whose parents could not afford a quality preschool program. It is about a middle school student whose parents work multiple jobs and cannot help with homework. It is about a high school student who lives with her parents in a homeless shelter. It is about racism, generational poverty, and community trauma. For New Life, it is about our shared ministry with Liberty, a partner church.

Dr. Ross Roholt, Associate Professor and specialist in youth development in the School of Social Work at the University of Minnesota, is the featured speaker. We shall share concerns and ideas as we prayerfully explore what we can do to help close the opportunity gap. Come, but be careful. What you learn may break your heart as it breaks the heart of God.

Valley Community Church is located at 3100 Lilac Dr. N.,Golden Valley, MN 55422. To register, sign up at a table in the Atrium, speak to Nora Buckley or send your name to Rev. Karen Kennerly at kkennerly@gmail.com.
Session
Highlights
Action Items
+ Jym Hubbell from Finance reported that 75 pledges have been received. The projected income is far short of what is needed. A deficit budget is unavoidable for fiscal 2017-18. Committees have been asked to reduce their budgets. Budget options were discussed. The budget was approved with a deficit of $39, 067. A special Session meeting will be called prior to the annual meeting to discuss a strategic plan to deal with the proposed deficit budget for fiscal 2017-18. APPROVED.

+ Pre-School Budget. APPROVED.

+ Elect John Bootier to a three-year term on the audit team. APPROVED

+ Building usage fees will remain the same for the next fiscal year and a subsidy will be added to Outreach Ministries. This subsidy will help better reflect the unpaid costs of outside groups use of the church building. APPROVED

+ The Faith Formation team requested approval to continue implementing the Feasting on the Word Curriculum (preK-6) for the 2017-2018 program year. APPROVED.

+ Celebration & Worship requested approval of communion on Reformation Sunday (October 29th) and cancel communion the following week (November 5th). APPROVED.

+ Presbytery requested that New Life host the Presbytery meeting on November 13th, 2018. This will require many volunteers for welcoming, catering, worship and communion. APPROVED.

Information Items
Personnel respectfully accepted Wendy Griffin's resignation. Her final day of employment will be no later than the end of December 2017.

A combined Thanksgiving service with Como Park Lutheran and Falcon Heights UCC will be held Tuesday, November 21st at 6:30 p.m.

Session goals that were compiled at the August Retreat were discussed.
Donations for Presbyterian Disaster Assistance (PDA)
We continue to collect donations for the many disasters in our world right now: aftermath of three major hurricanes, earthquake in Mexico, wildfires in the northwest, floods, famine, refugee emergencies – the list goes on. Money donated thus far for hurricane relief will be sent for that. Ongoing donations will go to PDA general disaster relief to use where PDA determines that funds are needed most as it provides both emergency response and long-term recovery work for communities affected by crisis and catastrophe. Donate by check or cash in an envelope to New Life Church, memo Presbyterian Disaster Assistance (PDA).
North Como Preschool Openings

If you or someone you know is looking for a Pre-K program for their child, North Como Preschool has a couple of openings available in our 2, 3 or 5 day Pre-K program. Contact Sher via email director@northcomopreschool.org to learn more about our program and to set up a tour! Thanks for considering North Como Preschool for your family!
Inspiring stories of Presbyterian Mission Agency activities are published online daily on the Presbyterian Mission Yearbook webpage. Many people find its stories, Bible lectionary links and prayer to be a helpful daily study/devotion guide.

This week's story comes from Read about what Find out what

Like millions of people around the world, Presbyterian elder Bill Campbell was moved by the heartbreaking image of a drowned Syrian boy whose body washed up on a Turkish beach in 2015. Three-year-old Aylan Kurdi was among thousands of Syrians who drowned while trying to escape the violence gripping their country.

"There must be a way I can do something," Campbell told himself. As chair of the mission committee at Old First Presbyterian Church in San Francisco, Campbell got his congregation involved by working with a local refugee resettlement agency to collect and assemble "welcome kits" that newly arrived refugee families find in their new homes when they first open the door. The kits include household goods such as flatware, dishes, cooking utensils, lamps, cleaning supplies, toiletries and linens. It took two cars to haul one kit, and the congregation assembled and delivered seven of them.

But Campbell hoped the wider church could multiply the efforts of congregations like his. He and like-minded members of other churches asked San Francisco Presbytery to match congregations' contributions to support resettlement of refugees in the San Francisco Bay Area. The presbytery agreed to match up to $10,000 from its peacemaking fund. The matching funds were available thanks to gifts to the Peace & Global Witness Offering, which most congregations started receiving October 1. The offering benefits the peace and reconciliation ministries of congregations, mid councils and the national church.

In just four months, the goal was surpassed. More than $20,000 was given to help impoverished, war-battered families in the Bay Area find safety, welcome and a new life. Across our country, compassionate Presbyterians have refused to stand by idly while the world faces the largest refugee crisis since World War II.

On October 1st, Presbyterians joined with other Christians around the globe in observance of World Communion Sunday. We gather to celebrate the common bond we have in Christ, the one who invites us to this sacred meal. In gratitude for the welcome Christ gives us, may we welcome the strangers in our midst.

Let us pray: Compassionate God, we pray for people who seek a safe place to call home. Help us to extend your hospitality to those who have fled danger and who are striving to begin a new life among us. Grant us the strength and wisdom to choose welcome. Amen.

If you have announcements for this e-newsletter, please send them to communications@NewLifeChurchRoseville.org