Upcoming Events
(View the online church calendar.)

November 22
Quilters 9 AM
Thanksgiving Worship (CPLC) 7 PM

November 23
Happy Thanksgiving!
Office Closed

November 24
Office Closed

November 26
Worship 10 AM
Fellowship 11 AM
Faith Circles 11:15 AM
Pageant Rehearsal 11:15 AM

November 28
Staff Meeting 11:45 AM
Session 6:30 PM

November 29
Handbells 5:45 PM
Commosso 6:45 PM
Sanctuary Choir 7:45 PM

November 30
Faith Dialogue (off site) 6:30 PM

December 2
Daring Group 1 PM
Christmas Decorating 1 PM

---

Pastoral Care Update
Please hold in your prayers:

Baby Alexandra and her family for health and well being.

Barb McCue as she works through her housing challenges.

Cameroon during this time of unrest.

Crystal as she recovers from surgery.

Dan Stout as he builds a new immune system after a successful bone marrow transplant. Dan would appreciate calls on his direct line at the hospital 612-273-8358.

Deb Griffin as she recovers at home from knee surgery.

Don Lebenstein as he continues his recovery from a successful heart surgery.

Jan Hubbell as she continues her chemo treatments.

Jeanne Hane as she recovers at Bethesda Care Center, room 581. Calls are welcome.

Ken Phipps as he is treated for skin cancer.

Larry, son of Chanell for health and well-being.

Mark Hare and Jenny Bent, Keila and Annika, our Mission co-worker partners.

Marti Cook for increased health and well-being.

Mary, Barb Nelson's mother as she recovers from a fall.

Midge as she recovers from an accident that has left her with a broken fibula.

One another as we work toward justice, healing and reconciliation of our communities and nation.

Staff at our church, the Presbytery of the Twin Cities Area and the church around the world.
Prayer Requests: Contact Pastor Riz in the office with a voicemail message.
Stephen Ministers
are also available, please contact
Barb Nelson
for more information.
---
Notes Newsletter
Our monthly New Life Notes are
online
! Please email the
office
if you need a printed version mailed to you.
Share Our Church
Quilt Sunday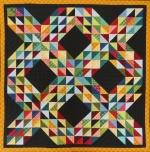 Join us this Sunday to
celebrate the work of the New Life Quilters
and hear Bev Lebenstein preach. Come and see all of the quilts that have been completed over the last year before they are blessed, dedicated and donated to their respective organizations.
Representatives from many of these organizations will be present to accept these beautiful works of love and art.
Recipients of these quilts include
: Crisis Residence, Gillette Children's Specialty Center, Hope House of St Croix Valley, Lamb School of Bangledesh, Maghakian Place, Naomi Center of Union Gospel Mission, Greater Minneapolis Crises Nursery, Tubman Family Alliance, Women's Advocates,Inc, Zoom House.
"...for I was hungry and you gave me food, I was thirsty and you gave me something to drink, I was a stranger and you welcomed me, I was naked and you gave me clothing, I was sick and you took care of me, I was in prison and you visited me..."
Thanksgiving Worship Tonight at 7 PM
Joint Thanksgiving Pie Social and Ecumenical Worship Service with Como Park Lutheran and Falcon Heights UCC at Como Park Lutheran Church, located at 1376 Hoyt Ave W, St Paul. Please sign up to bring a pie to share (sign up sheet is on the action wall).
Thanksgiving Week Schedule Changes
Music Ensembles will NOT meet tonight Wednesday, November 22 but will resume next Wednesday. In addition, the church office will be closed November 23-24.
Children's Christmas Pageant
It's not too late to be a part of this year's Christmas Pageant! Speaking and non-speaking parts still available. Meet in room E3 after worship. A Piece of Christmas will be shared with the congregation during worship on Sunday, December 17.
Faith Dialogue Next Thursday, Nov. 30 at 6:30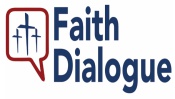 Seeking answers? Need direction? What does faith have to do with us in today's world? Come and explore the intersection of beliefs and actions.

We will not meet this week but will resume meeting Thursday, November 30.

Poinsettias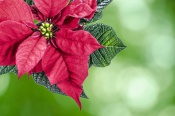 Poinsettia sales are underway! Order deadline for pick up after Christmas Eve Worship is Wednesday, December 6. Cost is $12/plant, with a choice of red, pink, or white. Orders will be accepted by youth on Sunday mornings, or can be dropped off in Wendy Griffin's box.

Advent Coloring Night
Friday, December 8, 6:30-8 PM
All are invited for an evening of coloring, fun, conversation, and music in the Great Room. Giant posters and individual coloring sheets will be provided. Bring a light snack to share.
Advent & Christmas Decorating
As we prepare our hearts for Advent and Christmas, we will also prepare our worship spaces with decorations for the season. Please join us next Saturday, December 2 from 1:00-5:00 for a fun afternoon as we bring out the trees, lights, garlands, and ornaments. All are welcome.
Holiday Boutique
Sunday, December 10, 11-1:30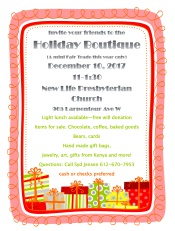 Christmas is coming! You have an opportunity to buy some fair trade gifts which give 3 times for each purchase – once to the fair trade vendor, once to your recipient and to you for the joy of giving! Due to a variety of reasons, we did not have our large sale this year but be sure to watch for it next year!!!!

There will be a soup lunch available (free will donation). We will have chocolate, our famous New Life brand of coffee, some items directly from Kenya, cards, bears, and some jewelry, bead baskets, art and many other things available for purchase. In addition there will be many hand-made gift bags with the money going to the Sheridan project. Please put this on your calendar – we look forward to seeing you.

Help spread the word! Since we are not advertising it as much as we have in the past, be sure to tell all your friends and family. There are flyers available on the Opportunities Table or you can download, view or print the flyer HERE.
WANTED: BAKED GOODS
Baked goods of your choice (cookies, candies, breads or whatever you would like to donate). When you are baking think of us! As part of the mini Holiday Boutique on December 10 from 11-1:30, we will be selling baked goods. All the proceeds from this bake sale will go towards supporting the Sheridan Story. Please bring the items on Saturday, Dec. 9 from 1-3pm. If you can separate them into ½ dozen (or smaller sizes so they can be mixed and matched) that would be appreciated. Thank you in advance and see you at the Holiday Boutique – bring your friends and let your Facebook friends know too! You can sign up in advance at the opportunity table or just bring your baked goodies. Questions? Contact Syd at 612-670-7953
Join the Meals on Wheels Team!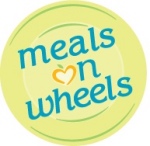 Would you like to drive for Meals on Wheels? Every third Wednesday from ~10:45 am to 12 noon, volunteers from our church deliver hot meals to our homebound neighbors. We are thankful for a great crew of faithful past and these current drivers: Scott Barraclough, Mary Beattie, Midge Beck, Barbara Conklin, John Bloomquist, Gerry Buhaug, Ann Bursch, Jan and Jym Hubbell, Nancy Irsfeld, Syd Jensen, Whitney Kerns, Dawn Miller, Harriet Moffat (friend of Syd's), Lois Morstad, Pastor Riz, Ardys Randall, Jan Silliman, Darroll and Marie Skilling, Michael Wilson and Tina and Ed Zoerb. Please be sure to thank them for their time.

There are a few openings now for YOU to be part of the team! You will be blessed by helping grateful meal recipients who may not be able to stay in their homes if it weren't for these and other shiny, happy faces. It is a joy and blessing for us to serve these people. Feel free to ask questions of any of the current drivers and sign up by calling Syd Jensen (612-670-7953) or emailing Dawn Miller (miller1567@msn.com). If you just want to "ride along" sometime to see what is involved, you are welcome any time – just let Syd know. This is also a great way to honor John Taylor who recently passed away as well. This wonderful 60-year member started our involvement in Meals on Wheels!!! Thank you John!
Job Posting - Administrative Assistant
We are looking for an upbeat person to join our ministry as an administrative assistant in a fantastic church.

The requirements of the position are;
•
Microsoft Office/365 proficient
•
Ability to multi-task and prioritize tasks
•
Pass a background check
Some of the duties include, but are not limited to;
•
Answering phones and other inquiries
•
Organizing and printing bulletins and reports
•
Aiding communication between staff, committees, and church body
If you think that you qualify we can offer;
•
A great work environment.
ISO: Room to Rent
There is a missionary from Brazil who is looking to rent a room. If anyone in the congregation has a room for rent please email misionerorual01@gmail.com.
Operating Fund
First 3 Months Results
Income exceeded expense by over $21,000 during the first three months of fiscal 2018. This is better than expected due primarily to expenses being significantly less than budget. We typically have an operating surplus early in the fiscal year. However, our fiscal 2018 budget projects expenses will exceed income by almost $40,000 by the end of the year due to reductions in member giving. If you are able, please consider increasing your pledge or make a one-time extra donation!
Change & Thanksgiving Offerings

November's Change-the-World and Thanksgiving Offerings both go to Interfaith Action of Greater St. Paul's Department of Indian Work Food Shelf to assist hungry indigenous families with culturally appropriate food including holiday food baskets. Add your change to the Offering Plate or the November 26th Bowl of Abundance, or donate to New Life in an envelope or with a check marked "Thanksgiving Offering" or through your electronic giving designation. Thank you for your generosity!
Support The Sheridan Story

Visit the table in the atrium to:
1) Sign up and join in a Fun Food Packing Event at The Sheridan Story warehouse, 2723 Patton Road in *Roseville next Thursday Nov. 30th, 6-8 pm. Anyone 8 years old and older is invited to participate. We will be packing the weekend food bags that are distributed each week at Como Park Elementary and other schools throughout our community.

2) Volunteer to distribute Sheridan Story weekend food bags at Como Park Elem. School at 1:30 pm on the last day of the school week.

3) Help fund the program with gift donations! Do you have someone on your Christmas list who has everything? This is the perfect gift to honor friends and loved ones for Christmas and other special occasions! How far can your donation go?
$3.71 supports one child for one week
$15 supports one child for a month
$120 supports one child for a school year
Donate the amount of your choosing to: New Life Presbyterian Church and add "Sheridan Story Fund" in the memo line.
North Como Preschool Pre-K Openings

If your child is still on the "wait" list for a Pre-K class for the 2017-2018 school year, please contact us. Let's set up a tour to see if our program would work for your family! Contact Sher via email director@northcomopreschool.org or call 651-488-7137. Thank you for considering North Como Preschool for your family!


Support the People of the Congo
Urge Full Funding for Relief Efforts
The humanitarian conditions in the conflict-ridden Kasai region of the Democratic Republic of Congo (DRC) are rapidly deteriorating. There is now a deepening hunger crisis with an estimated 3.2 million people without reliable access to enough nutritious food.
According to the World Food Program, "Global Acute Malnutrition rates in children under 5 have reached 14 percent, well above the 10 percent emergency threshold."
Almost 1.4 million people have been displaced within the Kasai region or have fled to neighboring Angola to escape the fighting, resulting in a very traumatized population.
In its most recent report on the situation in the DRC, the World Food Program stated that, "Most internally displaced families have now missed two consecutive planting seasons. Many of the most vulnerable now eat little more than a meal a day – typically just cassava root and leaves – that is lacking in protein, vitamins and minerals. Survival measures adopted by the displaced include begging, prostitution and the eating of seeds that should be planted."
The United Nations launched a special humanitarian appeal for the Kasai region this year but it remains less the 50 percent funded. United Nations Under-Secretary-General for Humanitarian Affairs and Emergency Relief Coordinator, Stephen O'Brien recently stated that, "The humanitarian community has been working with significantly insufficient financial resources to deliver at the scale required. This is not just insufficient – it is unacceptable for the global community to leave this very real suffering of the Congolese people unaddressed – just because of a shortage of money."
Our Presbyterian church partners in Congo are asking us to accompany them as they walk through this crisis.
Contact Secretary of State Tillerson and urge him to provide leadership in the international community and to press for the global community to fully fund the special humanitarian appeal for the Kasai region of the Democratic Republic of the Congo.
Contact your members of congress and urge them to press for US leadership to ensure full funding the United Nations special humanitarian appeal for the Kasai region of the Democratic Republic of the Congo.

Inspiring stories of Presbyterian Mission Agency activities are published online daily on the Presbyterian Mission Yearbook webpage. Many people find its stories, Bible lectionary links and prayer to be a helpful daily study/devotion guide.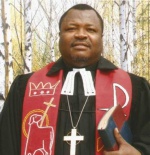 The Rt. Rev. Fonki Samuel Forba, moderator of the Presbyterian Church in Cameroon (PCC), recently issued a statement urging peace and dialogue in response to ongoing persecution and marginalization of the country's Anglophone population. The Presbyterian Church (U.S.A.) is an ecumenical partner of the PCC and has previously engaged in advocacy on the church's behalf.

Conflict has arisen in Cameroon as the French-speaking majority continues to exert power and authority over the English-speaking minority. Up to 17 protestors were killed by government forces Oct. 1 while celebrating the 56th anniversary of Cameroon's reunification in 1961, following colonial rule by France and England.

Forba said, "The deliberate deleting of the Anglophone culture, dignity and values amongst many other intentional political manipulations from the Plebiscite (Feb. y 11, 1961) to the Foumban Conference (May 20, 1972) are attempts to hide a historical fact that, once upon a time, two peoples mutually agreed to live together under international legal instruments."

Earlier this year, PC(USA) officials wrote a letter urging prayer as leaders of the Presbyterian Church in Cameroon and other Anglophone-majority denominations were summoned for court appearances. Penned the by the Rev. Denise Anderson, co-moderator of the PC(USA); the Rev. Jose Luis Casal, director, World Mission; the Rev. Debbie Braaksma, Africa coordinator, World Mission; and Jeff Boyd, regional liaison for Central Africa, the letter read, in part:

"Please pray that Cameroon's public officials and judicial officers will deal justly, wisely and compassionately with the concerns being raised by Anglophone Cameroonians, so that a spirit of unity and cooperation may be restored and all of the country's citizens may enjoy fully their civil and human rights."

Foba's resistance to the persecution of the English-speaking population speaks to the direct manner in which they are being suppressed, through the use of military force and other measures.

"The government of the Republic of Cameroon needs to be reminded that one cannot contain a social and political consciousness by military force," he said, adding, "The PCC calls for the demilitarization of the two Regions, the cessation of arbitrary arrests and breaking into private homes, the release of all those in detention and a special disbursement of funds for hospital bills to heal the wounded, the sick and the dying."

While falling short of calling the persecution a civil war or genocide, Foba called attention to the particularly brutal measures being taken that arise from a "family fight," asking for an independent commission to investigate.

"By common sense, the superiority of the weapons employed for a 'family fight' is different from the weapons employed when fighting a foreigner with equal strength. The PCC calls for an Independent Commission to investigate the atrocities committed by the military and hold those who are guilty accountable according to the law enforced," he said.

In an email relaying Foba's letter, Boyd asked PC(USA) congregations to "join in the minute of silence in their worship services as this letter calls for PCC congregations to do" as a "sign of solidarity with those seeking peace and reconciliation through honest conversations."

Let us pray: Gracious God, bless the Presbyterian Church in Cameroon. Use its members as instruments of your peace. May their witness and profound commitment help to grow your church deep and wide. Amen.
If you have announcements for this e-newsletter, please send them to communications@NewLifeChurchRoseville.org