Upcoming Events
(View the online church calendar.)

November 9
Faith Dialogue (off site) 6:30 PM
Building & Grounds 7 PM

November 10
Congregational Care 9:30 AM

November 12
Worship 10 AM
Fellowship 11 AM
Faith Circles 11:15 AM

November 13
Rebekah Circle 9:30 AM

November 14
Staff Meeting 11:45 AM
Faith Formation 6:30 PM
Church & Society 6:30 PM

November 15
Quilters 9 AM
Handbells 5:45 PM
Commosso 6:45 PM
Sanctuary Choir 7:45 PM

November 16
Celebration & Worship 5:30 PM
Faith Dialogue (off site) 6:30 PM

---

Pastoral Care Update
Please hold in your prayers:

Baby Alexandra and her family for health and well being.

Barb McCue as she works through her housing challenges.

Cameroon during this time of unrest.

Crystal as she recovers from surgery.

Dan Stout for a successful bone marrow transfusion at the University of Minnesota Hospital. Cards, calls and well wishes are welcome.

Deb Griffin as she recovers at home from knee surgery.

Don Lebenstein as he recovers from a successful heart surgery.

Jan Hubbell as she continues her chemo treatments.

Jeanne Hane as she recovers at Bethesda Care Center, room 581. Calls are welcome.

Ken Phipps as he is treated for skin cancer.

Larry, son of Chanell for health and well-being.

Mark Hare and Jenny Bent, Keila and Annika, our Mission co-worker partners.

Marti Cook for increased health and well-being.

One another as we work toward justice, healing and reconciliation of our communities and nation.

Staff at our church, the Presbytery of the Twin Cities Area and the church around the world.
Prayer Requests: Contact Pastor Riz in the office with a voicemail message.
Stephen Ministers
are also available, please contact
Barb Nelson
for more information.
---
Notes Newsletter
Our monthly New Life Notes are
online
! Please email the
office
if you need a printed version mailed to you.
Share Our Church
Veteran's Day Observance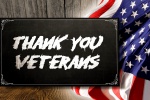 Join us this Sunday to hear John Silliman preach! Since we will be honoring our Veterans, you are also invited to

bring pictures

of you or loved ones who have served in the military.

"For everything there is a season, and a time for every matter under heaven"
Faith Dialogue TONIGHT
Thursday, Nov. 9 at 6:30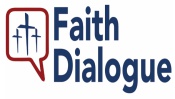 Seeking answers? Need direction? What does faith have to do with us in today's world? Join Pastor Riz in the Roseville Library Board Room tonight, Thursday, November 9 at 6:30 PM. Come and explore the intersection of beliefs and actions.

Poinsettias
NEW EARLY Delivery Option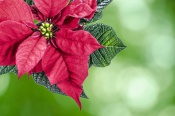 Poinsettia sales are underway! New this year is an early delivery option. Order deadline for early delivery is NEXT Wednesday, November 15, and flowers will be available to take home Sunday, December 3. Order deadline for Christmas Eve Worship is Wednesday, December 6. Cost is $12/plant, with a choice of red, pink, or white. Orders will be accepted by youth on Sunday mornings, or can be dropped off in Wendy Griffin's box.

Christmas Pageant Rehearsals Begin THIS Sunday
Children, preK-6th grade, are invited to help tell the story of Jesus' birth through the Christmas musical, A Piece of Christmas. Rehearsals will be Sunday mornings during the education hour, beginning Sunday, November 12. We will tell this story during worship on Sunday, December 17. See Wendy Griffin or Amy Lane if you have questions.
KEEP MINNESOTA'S WATER SUPPLY SAFE
COME TO OUR CHURCH ACTION TABLE SUNDAY NOVEMBER 12
What is all the buzz about Enbridge pipeline # 3 and why should we care as people of faith? Come to the church Action Table Nov. 12th to find out & register your comments. The MN Public Utilities Commission (PUC) needs to hear from you on whether or not to allow Enbridge to build its proposed oil pipeline #3 "re- placement" across our state. The PUC will receive your comments until 4:30 p.m., Nov. 22.


Anyone wishing to send in their own comments can do so by :
1.Email at: publicadvisor.puc@state.mn.us
2.On-line at: mn.gov/puc/line3/participate/comment
Please make sure you include:
PUC Docket #'s 14-916 (Cert. of Need) & #'s 15-137 (Route) AND OAH Docket #'s 65-2500-32764 (Cert. of Need) & 65-2500-33377 (Route)
The Issue: Enbridge ( a Canadian firm) wants to run a new, larger tar sands oil pipeline from N. Dakota to Superior, Wisconsin, change its route from Clearwater to Superior and leave the old pipe in the ground. The line would go through Kittson, Marshall, Pennington, Polk, Red Lake, Clearwater, Hubbard, Wadena, Cass, Crow Wing, Aitkin, & Carlton counties and affect a huge area. Enbridge must obtain 2 documents to continue with their plans : 1.a Routing Permit (where the line will go) & 2.a Certificate of Need (if the line should be built at all).

What are the Good Facts to Know before you submit public comments on Line 3? Click HERE to find out about Abandonment and the Climate, Water, and Treaty Impacts of this project.
WITHOUT PARTNERS, November 18
Without Partners will meet Saturday, Nov. 18th at LuAnn Hudson's home, 1614 Grotto, just south of Larpenteur. Call LuAnn at 651-698-2770 and let her know you are coming and what you will bring. LuAnn will fix a hot dish. If you need a ride, call Lois Nyman at 651-489 6965. Join us for good food, games and laughter.
LAST CALL FOR THANK YOU CARDS!

Chris Thompson, our Administrative Assistant has moved on to new life adventures! Her last day at New Life was Friday, October 13th. If you would still like to thank Chris for her 12 years of service to our church community, you can drop off your note or card in Maryfran's box. All cards will be sent to Chris this week so if you would still like to give Chris a card, please turn it in to the office by THIS SUNDAY. Thank you!!
Thanksgiving Worship Services
Next Sunday is Thanksgiving Sunday. In lieu of a sermon, we will be giving thanks for what God has done in our lives. You are invited to share your stories of Thanksgiving.

Wednesday, November 22, 7pm - Joint Thanksgiving Worship Service with Como Park Lutheran and Falcon Heights UCC at Como Park Lutheran Church, located at 1376 Hoyt Ave W, St Paul. Please sign up to bring a pie to share (sign up sheet is on the action wall).
Advent & Christmas Decorating
As we prepare our hearts for Advent and Christmas, we will also prepare our worship spaces with decorations for the season. Please join us Saturday, December 2 from 1:00-5:00 for a fun afternoon as we bring out the trees, lights, garlands, and ornaments. All are welcome.
Holiday Boutique
December 10, 11-1:30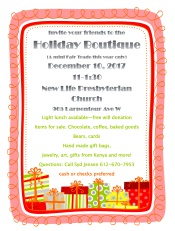 Visit the mini Fair Trade at New Life!

Light Lunch available - free will donation

Items for sale: Chocolate, coffee, baked goods, bears, cards, handmade gift bags, jewelry, art, gifts from Kenya and more!

Questions: Call 612-670-7953
cash or checks preferred

Help spread the word! You can download, view or print the flyer HERE.
Operating Fund
First 3 Months Results
Income exceeded expense by over $21,000 during the first three months of fiscal 2018. This is better than expected due primarily to expenses being significantly less than budget. We typically have an operating surplus early in the fiscal year. However, our fiscal 2018 budget projects expenses will exceed income by almost $40,000 by the end of the year due to reductions in member giving. If you are able, please consider increasing your pledge or make a one-time extra donation!
Car Needed
Responsible youth member in need of a car. If granted with a car it would be used for work and volunteer work. If you are so willing to give me a free car or have me buy the car at a reduced rate. You can e-mail me at margaretann5567@gmail.com or call me at 612-223-2828.
May God Bless You,
Margaret-Ann Grace Thompson
(Hand Bells & Choir Volunteer)
Change & Thanksgiving Offerings

November's Change-the-World and Thanksgiving Offerings both go to Interfaith Action of Greater St. Paul's Department of Indian Work Food Shelf to assist hungry indigenous families with culturally appropriate food including holiday food baskets. Add your change to the Offering Plate or the November 26th Bowl of Abundance, or donate to New Life in an envelope or with a check marked "Thanksgiving Offering" or through your electronic giving designation. Thank you for your generosity!
Support The Sheridan Story

Visit the table in the atrium to:
1) Sign up and join in a Fun Food Packing Event at The Sheridan Story warehouse, 2723 Patton Road in *Roseville on Thursday Nov. 30th, 6-8 pm. Anyone 8 years old and older is invited to participate. We will be packing the weekend food bags that are distributed each week at Como Park Elementary and other schools throughout our community.

2) Volunteer to distribute Sheridan Story weekend food bags at Como Park Elem. School at 1:30 pm on the last day of the school week.

3) Help fund the program with gift donations! Do you have someone on your Christmas list who has everything? This is the perfect gift to honor friends and loved ones for Christmas and other special occasions! How far can your donation go?
$3.71 supports one child for one week
$15 supports one child for a month
$120 supports one child for a school year
Donate the amount of your choosing to: New Life Presbyterian Church and add "Sheridan Story Fund" in the memo line.
North Como Preschool Pre-K Openings

If your child is still on the "wait" list for a Pre-K class for the 2017-2018 school year, please contact us. Let's set up a tour to see if our program would work for your family! Contact Sher via email director@northcomopreschool.org or call 651-488-7137. Thank you for considering North Como Preschool for your family!

Session
Highlights
ACTION ITEMS
Earth Care requested Session "to sign a letter and send it to the Public Utilities Commission opposing the Enbridge Line 3 tar sands oil pipeline and asking the PUC not to grant Enbridge a Certificate of Need." The motion to send the letter opposing the pipeline was APPROVED.
To accept the Terms of Call for Pastor Riz Prakasim for the 2018 year. APPROVED.
To change the deadline for committee information for monthly session packets to Thursday noon instead of Friday noon. APPROVED.
Christie Thorsen has requested to resign from Session. APPROVED.
INFORMATION ITEMS
Celebration & Worship hired two section leaders for the choir. Music Ministry will use dedicated accounts, not operating funds to cover this expense. It is hoped that it will encourage more people to join the choir as well as provide improved musical balance.
33,152 State Fair Park & Ride riders came to our church parking lot. The finance committee would like a coordinator be assigned for next year so we can continue earning the $6 – 7000 this brings in for the operating fund.
Personnel respectfully accepted Chris Thompson's resignation effective October 13th. Ann Bursch and Margie Johns will fill in, in a volunteer capacity, in the interim. A job position will be posted.
Personnel is researching the roles and responsibilities of the Faith Formation position following the resignation of Wendy Griffin.
Elder Smith reported he has obtained 2 members willing to serve on the Nominating Committee in addition to himself as chair (Adam Schultz and Jenni Mancha) and is working on a third.
Treasurer, Jym Hubbell, clarified the budget deficit and the reasons for it. The budget was approved before the stewardship campaign results were known. Personnel expenses increased due to increasing the church administrator's hours. There was a difference in contributions from February to August. Several donors decreased their pledges and few increased their pledges. Mortality and morbidity had a large impact. Jym will explain all this at the Annual Meeting. There will be a request for a special appeal. Elder Gould will present some ways the Session feels we can re-engage/re-energize the congregation.
SESSION GOALS
Discussion continued re: action plans to meet goals identified at the August Session retreat. These goals are meant to re-engage our own faith community, increase our quality of life together and engage the community around us.
- To have a quarterly all-church mission project. Riz recommends we host a Parents' Night Out for four hours on a Saturday before Christmas so parents can have free time to shop and have a dinner out. Parents in the pre-school and the neighborhood would be invited in addition to congregants. A tentative date of December 2nd was set with December 9th as a backup. Possible hours would be 3:00 – 7:00 p.m.
- To do a door-to-door outreach in the neighborhood. Pastor Riz is willing to do this with the help of at least two elders or church members. People would be asked, "What can we do for you?"
- To follow up with new visitors. Pastor Riz reported he has begun taking action on this goal.
- To start a fellowship/social group ministry. This goal will be discussed further with Congregational Care.

Inspiring stories of Presbyterian Mission Agency activities are published online daily on the Presbyterian Mission Yearbook webpage. Many people find its stories, Bible lectionary links and prayer to be a helpful daily study/devotion guide.

High incarceration rates, widespread unemployment and low educational attainment among African-American young men have led some observers to call them a "lost generation." However, the Rev. Mary Susan Pisano rejects this description.

"I don't believe anybody is lost," says Pisano, co-moderator of Western Reserve Presbytery's Race Action Network. "If they are lost, we have done it to them. They are not lost unless we leave them by the wayside."

Pisano and the network's other co-moderator, Ajah Hales, facilitate their presbytery's involvement in Freedom Rising, a Presbyterian Church (U.S.A.) initiative to "address and improve the worsening plight of the African-American male." The 222nd General Assembly (2016), which approved the effort, designated Baltimore, Charlotte, Cleveland, New York and Pittsburgh as pilot cities.

In Western Reserve Presbytery, which encompasses Cleveland, Freedom Rising leaders want to address the structural issues that surround employment and business opportunities for African-American men.

Hales explains there are many budding African-American entrepreneurs who could strengthen communities and create jobs, but they often lack networks and opportunities to sustain and grow their businesses. "One of the ways we would like to impact Cleveland is to connect Presbyterians to low-income business owners to help sustain and support these businesses," she says.

Pisano says she would like to see Freedom Rising help ex-offenders successfully reenter society. Lack of job opportunities often sends them to homeless shelters or back to a life of crime, she says.

The General Assembly set a $5 million fundraising goal for Freedom Rising. It invited congregations and mid councils to devote a portion of the Peace & Global Witness Offering they retain to Freedom Rising. Congregations keep 25 percent of the offering for local peacemaking ministries, 25 percent goes to their mid councils for similar efforts on the regional level, and 50 percent funds the PC(USA)'s national and international peacemaking ministries.

In Pittsburgh Presbytery, Freedom Rising is focusing on mentoring and leadership development programs for African-American boys and young men. "We will work with African-American males as early as the third grade in cohorts and stay with them through high school and beyond, helping them to focus on education and talking with them about leadership and talking with them about the church," says Freedom Rising leader the Rev. Johnnie Monroe, retired pastor of Grace Memorial Presbyterian Church in Pittsburgh. "We want to develop leaders for the community, for the country and for the church."

Monroe says the presbytery will implement congregationally based programs, but he also envisions the presbytery partnering with nonprofit groups. Various sectors of society need to work together to change attitudes, he stresses.

"Sometimes there is a belief that children who come from poor homes can't learn," Monroe says. "We are facing that in the church and in the schools. We are going to have to wrestle with that problem to turn that kind of thinking around."

In Charlotte, the presbytery is approaching Freedom Rising drawing on the groundwork it has laid through its Dismantling Racism training sessions, says the Rev. Betty Meadows, Charlotte Presbytery's transitional general presbyter.

Meadows calls the sessions, which include an equal number of black and white participants, "a profound two days" that emphasize the importance of working together to bridge the racial divide. The presbytery is still determining its precise focus for Freedom Rising, but she expects it will partner with black fraternities and/or nonprofits whose missions are consistent with the goals of Freedom Rising. She adds that the relatively large black Presbyterian presence in Charlotte will be a huge asset to its Freedom Rising work.

Like Charlotte, Baltimore Presbytery is also still considering its specific emphasis for Freedom Rising. Baltimore's racial divide, often referred to as the "Two Baltimores," was made all the more visible in the death of Freddie Gray Jr. in 2015 and the ensuing uprisings. Gray died of spinal cord injuries while in police custody, and none of the six police officers who were charged in connection with his death were convicted. Since then, the presbytery has formed the "Apostles of Reconciliation," which has begun identifying potential partnerships under the Freedom Rising initiative.

In New York, Freedom Rising is working to expand Project Connect, a ministry with incarcerated individuals started by the Church of Gethsemane two decades ago. Members of other congregations in New York City Presbytery join Gethsemane in this effort to build relationships with incarcerated people and help them transition back into the community after their release. The Church of Gethsemane was founded by formerly incarcerated men and women, and most of its members have spent time in prison.

Ending mass incarceration is another priority for Freedom Rising in New York. It has supported a campaign to close Rikers Island, one of the world's largest jail complexes. The goal is to reduce "the jail population from 9,500 to 5,000 and transferring to smaller jails within the borough communities," says Dave Ehlke, a member of the presbytery's Committee on Witness to Society and the World.

"Eighty-nine percent of those who are incarcerated are black or brown, and 80 percent are pretrial people who are too poor to post bail," he notes. Freedom Rising in New York advocates for the reform of bail procedures and for speedier trials. For those accused of nonviolent crimes, the group wants to see expanded use of pretrial diversions, where people complete a program of supervision rather than face prosecution.

Let us pray: Lord of freedom and promise, guide us to find the faith to move beyond passive lives that cry, "Lord Jesus" yet fail to speak truth in love to power. Give us courage to be bridge builders of hope. Amen.
If you have announcements for this e-newsletter, please send them to communications@NewLifeChurchRoseville.org