Upcoming Events
(View the online church calendar.)
Office Hours: Tues - Fri, 10 AM- 2 PM

April 5
Project Home 5:30 PM
Celebration & Worship 5:30 PM

April 6
Project Home 5:30 PM

April 7
Daring Group 1 PM
Project Home 5:30 PM

April 8
Worship 10 AM
Fellowship 11 AM
Faith Circles 11:15 AM
Project Home 5:30 PM

April 9
Rebekah Circle 9:30 AM
Project Home 5:30 PM
Finance 7 PM

April 10
Staff Meeting 11:45 AM
Project Home 5:30 PM
Church & Society 6:30 PM
Faith Formation 6:30 PM

April 11
Quilters 9 AM
Men's Breakfast 9 AM (Perkins)
Meals on Wheels 10:45 AM
Project Home 5:30 PM
Handbells 5:45 PM
Commosso 6:45 PM
Sanctuary Choir 7:45 PM

April 12
Project Home 5:30 PM
Building & Grounds 7 PM

April 13
Project Home 5:30 PM

April 14
Congregational Care 9:30 AM
Project Home 5:30 PM


---

Pastoral Care Update
Please hold in your prayers:

Art Steiner as he recovers from a fall.

Baby Alexandra and her family in accepting a medical diagnosis.

Billy Hane as he recovers from a broken arm. He and Jeanne would appreciate meals. Please call them to schedule at 651-646-9443.

Cameroon during this time of unrest.

Dan Stout as he recovers at home. Calls are appreciated.

Gloria Tymesen as she recovers at Capitol View Rehab Center from a fall which resulted in a crushed elbow. Calls are appreciated.

Florence Rood's son as he has open heart surgery.

Jan Hubbell as she continues her chemo treatments.

John Sargent as he receives cancer treatments.

Ken Phipps as he is treated for skin cancer.

Lorraine Bangle as she recovers at home from a procedure.

Lou Brager (Judi Klotz's sister-in-law) as she undergoes cancer treatment.

Mark, Judi Klotz's brother-in-law as he copes with dementia.

Mark Hare and Jenny Bent, Keila and Annika, our Mission co-worker partners.

Marti Cook during her recovery at Langton Place. Calls and cards are appreciated. No visits at this time, please.

One another as we work toward justice, healing and reconciliation of our communities and nation.

Raul as he recovers and heals from health related issues.

Staff at our church, the Presbytery of the Twin Cities Area and the church around the world.
Prayer Requests: Contact Pastor Riz in the office with a voicemail message.
Stephen Ministers
are also available, please contact
Barb Nelson
for more information.
---
Notes Newsletter
Our monthly New Life Notes are
online
! Please email the
office
if you need a printed version mailed to you.
Share Our Church
In Common

"Now the whole group of those who believed were of one heart and soul, and no one claimed private ownership of any possessions, but everything they owned was held in common. With great power the apostles gave their testimony to the resurrection of the Lord Jesus, and great grace was upon them all. There was not a needy person among them, for as many as owned lands or houses sold them and brought the proceeds of what was sold. They laid it at the apostles' feet, and it was distributed to each as any had need." John 20:19-31, Acts 4:32-35
Our April Project Home Family Shelter is Up and Running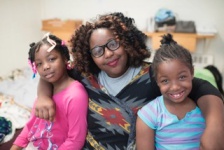 Our Project Home Guest Families arrived on Monday, April 2nd. Guest families are here after 5:30 PM each day, and staff from Project Home are in & out of the building during the day to stock the kitchen and deliver laundry. We can all help with: A smile and friendly greeting; prayers for our guest families as they deal with lack of housing; quiet time near the Great Room after 9 pm weekdays (10 pm Fri. & Sat.) so our guests can get a good night's sleep. If you would like, bring fresh fruit to the kitchen labelled "Project Home" during the month to offer for breakfast & snacks. Also, Project Home could use coloring & activity books (non-violent), new puzzles, & art supplies at this time. We have

three

remaining

Host openings

as of now:

Overnight (8 pm to 9 am) April 14 & 21

;

Evening (5:30-8:30 pm) April 21

. Contact Jan (651.489.4713; janhubbell2@gmail.com) or go to Sign Up Genius to sign up (or follow the link on the homepage of our church website). Thanks, everyone!
Holy Hammers 2018
Holy Hammers is starting construction of its 21st single family home with Habitat for Humanity on April 16th! This year's home will be built at 717 Geranium Ave in St. Paul.

This will be the 20th year that Holy Hammers has built homes for Twin Cities Habitat for Humanity. The financing for this home will be provided by the Holy Hammers churches and Habitat for Humanity.

Holy Hammers will provide all the volunteers to build this year's house. Will you volunteer? New Life has six days of

volunteer openings available in April and May

. Please see the schedule in the Atrium to sign up. This year you can also sign up HERE on the Twin Cities Habitat for Humanity web page. Please contact Larry Lane or Jerry Peterson for more information or instructions on how to sign up online.
Directory Pictures Now Due
Directory pictures are now due! If you didn't have your photo taken during one of the Lifetouch sessions, you may contact Ardys or Ann to submit a digital picture. You may also submit a picture 8 x 10 or smaller to the office or give it to Ardys Randall. You may also choose to use a picture from the 2014 directory. There is a $10 charge for each of these options. If you have any questions give Ardys a call at 651-245-2643. We would really like to have as many as possible in this new directory.

Pictures will be sent in to Lifetouch on April 10

so send in your photo today! Thank you!
Men's Breakfast Group
The Men's Breakfast Group meets the
second
and
fourth Wednesdays
of the month
9-10:30 a.m
. at
Perkins Restaurant
, County Road B near Snelling Av., to talk about issues of the day from a faith-based perspective. Our
next meeting is this coming Wednesday, April 11
. Join us! (For information, call Warren Wolfe, 612-791-5316).
Seeds of Hope Community Garden Kickoff
You are invited to the Planting Seeds of Hope Community Garden Kickoff on Sunday, April 22 from 2:30-4:30 PM! At 3 PM the Como Community Seed Library will be holding a short workshop on the benefits of local seed banks and locally adapted seeds and the stories surrounding them. Following this workshop, they will have a seed check out and lead a seed swap so remember to bring some of your seeds from last year! If you are interested in gardening with us this year, contact Darby at ericndarby@gmail.com.
Clothing Collection for Earth Day
Please bring clean, gently used clothing for donation to the collection site in the coatroom

THROUGH APRIL 22

. We will sort it on Earth Day, April 22, for women's career-wear to Martha's Closet, Central Presbyterian Church, and general clothing for all ages to the Clothing Center at the Department of Indian Work, Interfaith Action of Greater St. Paul. Thank you!
Change the World Offering in April
Your loose change in the offering this month helps offset the little extra we pay to provide Fair Trade Equal Exchange coffee for our fellowship time.
NEEDED - Building Coordinators
New Life's policies require that a building coordinator be on site whenever an outside group contracts to use our facilities for a wedding or funeral. This person is the contact point if the group has questions and ensures that New Life's interests are represented. Session has approved that this person be paid by the outside group. Please contact me if you have any questions or would like to be a part of this team! Contact Maryfran Moen at:
maryfranc@newlifechurchroseville.org
or 651-488-5581 ext.220.
North Como Preschool Registration NOW OPEN
North Como Preschool is now enrolling for the 2018-2019 school year. We have openings available in Pre-k and Preschool classes. To learn more please contact Sher at director@northcomopreschool.org or call 651-488-7137.
Leadership Opportunity
The Nominating Committee is continuing the search for two individuals who feel called to serve God, our church family, and the larger community as a Ruling Elder. This is a wonderful opportunity to use your God given gifts to serve the family of Christ. If you are interested, or have a suggestion for a candidate, please speak to one of the Nominating Committee members, Jeni Mancha, Irene Meinen, Bruce Nelson, Adam Schultz or call or text Steve Smith, Chair of the committee. 651-410-0988.
Operating Fund—first 7 months results
Year-to-date Income exceeds expense by about $10,000, which is better than originally projected for February. Results are better than budgeted even though contributions are below budget. That's because expenses are well below budget, especially Personnel expenses thanks to vacancies and reduced hours. A deficit is still expected for the year, but not as large as the $40,000 deficit anticipated in the budget.


Inspiring stories of Presbyterian Mission Agency activities are published online daily on the Presbyterian Mission Yearbook webpage. Many people find its stories, Bible lectionary links and prayer to be a helpful daily study/devotion guide.

Soul Fire Farm, in New York state has a goal to feed people living in "food apartheid" neighborhoods, a term used to describe areas with little or no access to fresh, healthy food. The Presbyterian Hunger Program was one of the first supporters of the farm, which was started in 2011.

"We grow our food and get it to those who need it most through a weekly doorstep delivery of vegetables and eggs. It goes to people who live in neighborhoods with no access to fresh, healthy food," said Leah Penniman, co-founder and co-director of the farm. "People pay for food on a sliding scale, depending on their income. We work with many refugee families who receive a fully subsidized food share."

The idea, according to Penniman, was to bring diverse communities together to share farming skills as well as promote spiritual activism, health and environmental justice. Penniman says the farm cares for the soil and uses sustainable growing methods that were taught by African and indigenous ancestors.

"We provide both young people and adults with opportunities to learn how to farm, run a business and organize for a more just food system," she said. "Over a thousand people come through our trainings each year. Many of them, including Latinx, Asian and other people of color, go on to farm, run community gardens or take leadership in the food system."

Penniman says racism and injustice are "baked into" the U.S. food system. A large percentage of U.S. food is grown by Hispanic and Latinx people, but they make up only 3 percent of farm management, she said. "On the consumer side," she added, "if you have dark skin, you are four times more likely to live in neighborhoods without a supermarket or a farmers market. You are more likely to have diabetes, obesity and other diet-related illnesses. That's not an accident; that's policy, a systemic lack of access to food, land, credit and training."

Between April and November, people come to the farm for trainings and workshops, whether it is for a few days or a week-long program. In the winter, Penniman finds herself on the speakers' circuit, appearing at universities around the country as well as conferences related to food and social justice. She's also writing a book, Farming While Black, which will be published by Chelsea Green this fall.

"We have three full-time year-round staff as well as five seasonal part-time employees. Our network of volunteers is large," she said. "Every month, we have a volunteer day that draws about 60 people, and there is at least a dozen more that will do things remotely like research and translation."

The farm is a nonprofit organization with a 15-member board of directors. Food production takes place on a portion of the 70 acres they steward. The farm grows vegetables and raises poultry for eggs to feed 250 individuals a week through its farm share program.

The farm's early support from the Presbyterian Hunger Program (PHP) has helped build the farm's credibility with other foundations and leverage additional support, Penniman says.

Andrew Kang Bartlett, PHP's associate for national hunger concerns, has visited the farm and has been impressed with what he's seen.

"We first heard about Soul Fire Farm through partners in the U.S. Food Sovereignty Alliance," said Kang Bartlett. "When I visited, along with the farmer from Stony Point Center and our hunger action advocate, I was amazed at the abundance of vegetables growing on this sloping and relatively small farm. The diversity was astounding."

"But beyond the skillful farming was the commitment to justice, building relationships and weaving a web of solidarity with communities struggling on the margins," he added.

The spring meeting of the PHP Advisory Committee was scheduled at Stony Point Center in part to enable participants to visit Soul Fire Farm and to learn about these initiatives.

In addition to providing fresh food and educational programs, Soul Fire Farm is also committed to reparations work. Alumni of their Black Latinx Farmers Immersion created a national reparations map to help return land and resources to communities of color.

"We are committed to a large-scale policy change and getting resources back to the people from whom it was stolen," said Penniman. "We are working with several national alliances to change the rules of the system to make them fair for everyone."

The work and grant partnerships of the Presbyterian Hunger Program are made possible by gifts to One Great Hour of Sharing.

Let us pray: Lord, help us to sow seeds of justice and benevolence as we seek to follow your will. Guide us as we seek to alleviate suffering in your world, through the love of Jesus Christ. Amen.

If you have announcements for this e-newsletter, please send them to communications@NewLifeChurchRoseville.org