The Art of the CEO Radio
Sponsor "The Art of the CEO" radio and provide your clients, prospective customers and employees with insights from the most respected and sought after CEOs in the world! You'll get all the credit and we'll do all the work! Learn More About the Show!
Learn About the Publisher,
Author & Host:
Bart Jackson describes himself
as a writer who gets out a lot.
Laced among 25 years of
business and outdoors
journalism, Bart has trekked,
paddled, and biked from Everest
to the Amazon valley, and
returned to write of his adventures. Currently CEO of Prometheus Publishing, he oversees creation of BartsBooks Ultimate Business Guides.
Have you considered becoming an author?
Read more.

BartsBooks Ultimate Business Guides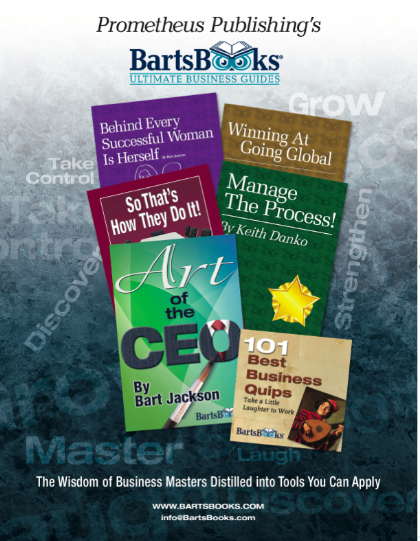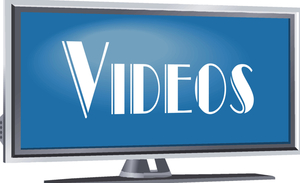 Watch BartsBooks Videos!
Featured Video
Click the Photo to Watch: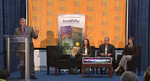 Book Expo America Proudly Presents Bart
Jackson, Moderating a Panel with Guest Publishers, Donya Dickerson of McGraw-Hill and Ellen Kadin of AMACOM. (6/14). Watch the Video!

Become an Advertiser or Sponsor!
Learn About Us!

BartsBooks Mission

About BartsBooks

View Video's

BartsBooks Blog

Testimonials

Public Relations Support

Sponsorships & Pricing

Shake Business Up a Bit with Humor!
Looking for something business savvy that will set your company apart and provide content, engagement and entertainment?

Click to watch the video! Be a little quirky and think like the greatest innovators and companies in the world by bringing value and humor to your key accounts and to prospective consumers!

Your employees, clients and colleagues will love Quips presented by the master Quipster of the business castle!
Contact Information:
Marriah Media
info@MarriahMedia.com
908-752-5179