~A Cinderella Story~

Mompreneur, Nadine Savino Goes From Kickstarter Campaign to Good Morning America with Lara Spencer and Joy Mangano,
Receiving a Check for $ 10,000!
Click to Watch The Good Morning America VIDEO!

FOR IMMEDIATE RELEASE
Date: December 21, 2015
Staten Island, NY:

Mompreneur, Nadine Savino, who recently announced the release of her product invention, the GCap™, aided by the success of her first Kickstarter campaign, appeared this morning on "Good Morning America" in a segment with Lara Spencer and Joy Mangano.
The product creator unexpectedly received Joy Mangano's support along with a check for
$ 10,000 to further her entrepreneurial spirit! Joy Mangano, known for inventions such as the self-wringing Miracle Mop and Huggable Hangers, is the inspiration of the movie opening in theaters this Christmas Day, "JOY".
"This has been a dream come true! Joy and her story have always been an inspiration to me. She is such a generous person and everyone at Good Morning America was so welcoming, as well. The support of the GCap has been overwhelming and I will always be grateful to everyone involved, including my Kickstarter Backers," says Nadine Savino.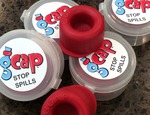 The GCap™ Solves a Common Problem Parents Have
With Kids Spilling their Bottle Drinks
The GCap is a stretchable bottle cap that fits any sized
beverage bottle to prevent a child's spills. Made of non toxic
Thermoplastics Elastomers and free of BPA PVC and
phthalates, parents simply stretch the cap over any size bottle
opening, insert a straw, and now there is no more mess in the car, on kids' clothes or just wasted drinks. The GCap is currently sold at Amazon, Etsy and at the company's website at www.thegcap.com.

About Nadine Savino
About GCap's™ Active Kickstarter Campaign
Order a GCap™
Retailer Inquiry

Media Contact: Jeanne Murphy
Jeanne Murphy Public Relations
Email: Jeanne@JeanneMurphyPR.com
###