Distance Education in China

Distance Education in China (website in Chinese) interviewed the Executive Director of UNITAR, Dr. Carlos Lopes. In his interview, he talked about UNITAR's current e-Learning course portfolio and future ambitions.
Distance Education in China is a monthly publication issued by the Chinese Ministry of Education. It is the most circulated periodical on e-Learning and distance learning in China.
---
"Getting more from e-Learning" by Bryan Hopkins

Mr. Bryan Hopkins gave a lecture on "Getting more from e-Learning" to UNITAR staff and here's a snapshot of his insightful presentation.
Bryan explained different models for training delivery: Information delivery, Tell and test, Explore and learn
According to him, the most effective model that contributes to learner's performance is "explore and learn" model.
---
Best Practice in e-Learning

The Governance in Urban Sanitation became the first UNITAR online course awarded with the Open ECBCheck certification.

The Open ECBCheck is an accreditation and quality improvement scheme for e-Learning programmes.
---
Condolences to the Victims of Japan Earthquake and Tsunami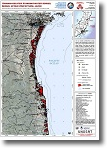 UNITAR expresses its condolences to the people of Japan following the devastating earthquake and subsequent tsunami which struck on 11 March 2011.
UNOSAT supports crowd sourcing community with satellite imagery over Japan to help rescue and rehabilitation operations.
---
Training Catalogue and Virtual Learning Environment

UNITAR offers more than 360 events per year. Check out our e-Learning courses and other UNITAR events in our online training catalogue.
Or consult the UNITAR Virtual Learning Environment and find the one that best addresses your needs.
---
Download a PDF version of this e-Newsletter

You can also download a PDF version (180KB) of this e-newsletter.
---