Greetings,
When it comes to "good news", we like to take the same outlook as Warren Buffet . . . "It's never as bad, or as good, as people think, it's usually somewhere in the middle." That said, as we approach the "middle" of 2011, we do have some decidedly "good news" to report.
SCM Group is offering discounted prices on a limited number of new edgebanders, sliding table saws and wide belt sanders.

These high quality, value-rich industrial woodworking machines are a great solution for growing shops looking to expand their potential for new business with a minimum investment (leasing info available here)

Visit our new woodworking machinery page for full details, or give us a call at 678.642.9722


Additionally, last month we posted a fair amount of good news in our
First Choice Industrial Blog
, regarding the economy and the woodworking industry. If you missed the "good" news, use our article links pasted below.
And if the increasing number of machinery inquiries and sales activity we are experiencing this month is any indication that we are in the middle of a long overdue economic recovery, for that we are grateful.
Randy Majerus & Stan Paszkowski
Owners/Partners
First Choice Industrial.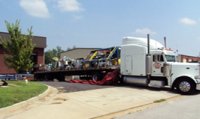 For more information on these nationwide listings,
email sales@firstchoiceind.net or call: 678-642-9722