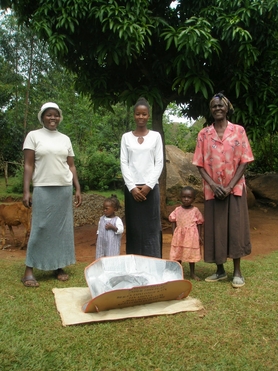 Choosing the right gift is a work of art. Show off your gift giving skills with a present that is perfect for everyone.
A gift to Solar Cookers International is…
A gift of time. By using solar cookers, women and children will no longer need to spend twenty hours a week collecting wood for fires.
A gift of nature. The number of trees cut down for fuel will be dramatically reduced. Our collective air will be cleaner without black carbon contamination.
A gift of life. The two million people a year that die from indoor smoke inhalation will be given the chance to survive.
To give a gift to SCI Click Here
then click on Make a Donation in the upper left corner
or mail your gift to
1919 21st Street Sacramento, CA 95811.
Solar Cookers International works alongside communities to reduce poverty and protect the environment. We begin two sustainable projects in Western Kenya in January 2012, and your donation will go towards helping the 50,000 people these projects include.