Table of Contents:



The mission of Community Music Center is to make high quality music accessible to all people, regardless of their financial status.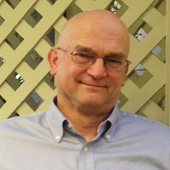 Student Spotlight: Joe Beckman
By Jonathan Harris
READ FULL ARTICLE


On Sundays in the early 1960's, around the time CMC voice student Joe Beckman turned ten, his mother would take him and his seven siblings to church. After church, she would take the children to the tavern where her husband tended bar. There she fronted a local band on stage for such standards as "Stormy Weather" and "Birth of the Blues."
Some forty years hence, while entertaining at parties as a caricature artist in the Bay Area, Joe would look on with admiration at the singers working at the same parties and wonder if he had the chops himself to perform as a vocalist. After some unsatisfying voice lessons at a local community college, a piano player suggested to Joe that he check out the Community Music Center. Joe's first voice lesson at CMC was in 1999 and he has been attending weekly, virtually uninterrupted, ever since.
Joe is a member of the Screen Actors Guild, having worked in Los Angeles as an extra in such films as "The Cat in the Hat" and "Seabiscuit," and the nature of this work makes it hard for him to predict his monthly income. However, Joe ensures the continuity of his weekly lessons at CMC by participating in our work-study program. He helps to maintain the grounds around our facility and checks daily, often seven days a week, on the condition of our new building next door, ensuring it is secure and safe. Joe is excited about CMC's recent acquisition of this new space and hopes it will provide more room for lessons and a venue for smaller, more intimate recitals of the kind in which he would like to take part.
The first letter in CMC stands for "community" and Joe believes this is an accurate descriptor and perhaps his favorite aspect of the Center. Says Joe, "CMC offers very good instruction if you aspire to be a professional, but it is also a supportive community for amateurs and hobbyists. A musician at any level will feel comfortable and welcome."
Now Accepting Applications for Camp CMC!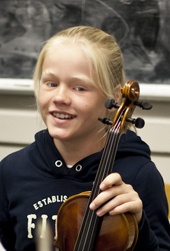 The first day after camp, my daughter told me she wished the camp could be longer than a week because she had so much fun with the teachers and the other campers. She had a fantastic time and is looking forward to coming back next year.
- Mother of a Camp CMC student



Learn more and apply for Camp CMC.
Donors Trumpted at Anchor Brewing Company!
On Tuesday, January 15 we gathered CMC supporters at Anchor Brewing Company to thank them for making music study possible for so many this past year. Trumpetuous trumpet ensemble set a festive tone that evening, led by CMC faculty member Dave Scott.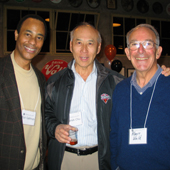 Pictured left to right: Board member Ron Gallman, donor Yanek Chiu and former Board President Albert Wald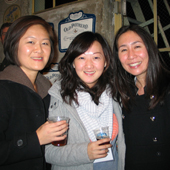 CMC piano faculty member Katy Luo with sister Muller Luo and friend Vivien Kim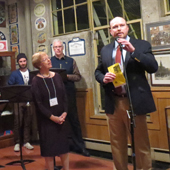 Board President Patricia Taylor Lee with CMC's Executive Director Christopher Borg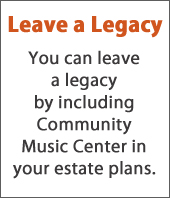 For more information contact John Robinson, Director of Development at 415-647-6015 x76 or
jrobinson@sfcmc.org
.
S P R I N G 2 0 1 3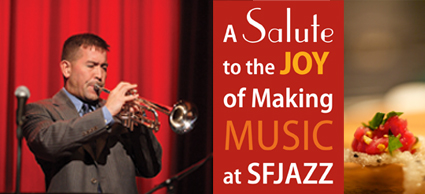 A Salute to the Joy of Making Music
Community Music Center's Spring Gala
Monday, May 13 at SFJAZZ
READ FULL ARTICLE
San Francisco's hottest new venue, SFJAZZ, will be the site of Community Music Center's grandest party of the year — A Salute to the Joy of Making Music, on Monday, May 13 from 6:30-9:30pm. Gala-goers will first delight in the sounds of CMC faculty member Dave Scott and his band, accompanied by appetizers by Charles Phan (of The Slanted Door) and fine wine. On the mainstage, Master of Ceremonies
John Santos, a five-time Grammy nominated percussionist
and former CMC faculty member, will introduce performances by the CMC Children's Chorus, students from Sin-Tung Chiu's violin studio and the Mission District Young Musicians Program (MDYMP) Ensemble. Headliner Mark Inouye, San Francisco Symphony's brilliant principal trumpet who moonlights as one of the Bay Area's most original jazz voices with his quartet The Unit, will make for an unforgettable evening.
The event will honor the Chiu Family, one of San Francisco's leading families of music and philanthropy. Yanek Chiu, a highly regarded surgeon and member of the SF Symphony board, and his wife Mary, a dedicated CMC board member, have been tremendous patrons of not only Community Music Center, but also San Francisco Performances, San Francisco Symphony, and many other Bay Area arts and education organizations. Yanek's brother Sin-Tung Chiu has taught violin at CMC for a quarter of a century, mentoring hundreds of young musicians.
Proceeds from A Salute to the Joy of Making Music will benefit youth scholarships for an organization that has been transforming the heart of our community since 1921. We hope to see you there.
For more information or to RSVP, please contact Ashley Coyle at (415) 647-6015 x78 or rsvp@sfcmc.org.

Community of Voices
CMC Partners with UCSF and SF Senior Centers to Launch 12 Choirs for Older Adults
Community Music Center in partnership with UCSF, the UCSF Institute for Health & Aging, and the San Francisco Department of Aging and Adult Services (DAAS) is launching an exciting project focused on the potential of choral singing to bring wide-ranging benefits to older adults. 12 choirs for older adults will be created at 12 San Francisco senior centers over the next five years. The project, funded by the National Institutes of Health (NIH), has become a focus of national attention and was featured in a recent
National Endowment for the Arts Webinar on Research in the Arts and Aging
.
Community of Voices / Comunidad de Voces is a research project will examine the effects of a community choir program in promoting health and independence of older adults.
The first two choirs will launch in 2013 in partnership with the Mission Neighborhood Center and Centro Latino de San Francisco in the Mission District. Over the following four years, 10 additional senior centers will start choirs for older adults including: Bayview Hunters Point/Bayview Opera House, Western Addition Senior Center, OMI Senior Center, Golden Gate Senior Services Richmond, 30th Street Senior Center, Armstrong Senior Housing, Bernal Heights Neighborhood Center, San Francisco Senior Center (Aquatic), Centro Latino de San Francisco Gene Friend SOMA Center, and the Castro Senior Center.
No prior singing experience is necessary. As a part of the NIH grant, CMC is providing professional music leadership and choir directors. The choir sessions will take place weekly for 90 minutes for one year. Participants will complete a comprehensive assessment of their health and well-being before they start the choir program, with additional assessments after 6 and 12 months.
This project builds on CMC's work over the past two years in partnership with the Mission Neighborhood Center and the 30th St. Senior Center to create community choirs for older adults at their sites, supported by the National Guild for Community Arts Education's MetLife Foundation Creative Aging Program. These choirs grew out of a long-standing commitment by CMC to older adults, offering discounts to seniors for ongoing classes along with its sliding scale fee policy.
Read more about this exciting project, a true partnership of community-based arts education and medical research.
Introducing Rachel Carlin, Community Choirs Coordinator
Rachel Carlin is an arts educator and violinist. She graduated from the Eastman School of Music with a Bachelor of Music degree and the University of Rochester with a Bachelor of Arts degree. Ms. Carlin was the Director of Education at the Berkeley Symphony and has worked with other local arts organizations including the Crowden School and the Berkeley Chamber Performances. She has taught stringed music in the public schools and performs with several local symphonies. Ms. Carlin will work with CMC, UCSF and twelve local senior centers to coordinate the choirs for the Community of Voices program.
Seeking Community of Voices
Choir Director and Accompanist
Please see job descriptions on our website and forward along to anyone you feel could be a good fit: Community Choir Director
Choir Accompanist
CMC NEWS
Arts Community
Partnerships Blossom This Spring
CMC loves the opportunity to partner with other arts organizations doing great things in the Bay Area. On Saturday, February 2, SF Opera brought their Carmen for Families film presentation to our Young Musicians Programs. On the evenings of February 3 and March 16, Earplay New Music Ensemble presented free open rehearsals in our Concert Hall. We thank both for bringing these wonderful music experiences to our communities.
CMC to Host a Meeting of the Northern California Chapter of the National Guild
for Community Arts Education
On Friday, April 26, CMC's Executive Director Christopher Borg will host a Guild chapter meeting in our Concert Hall. The National Guild for Community Arts Education supports and advances access to lifelong learning opportunities in the arts. Meeting participants will tour Community Music Center and participate in an in-depth discussion of curriculum development, certificate programs, and support systems for teaching artists. Welcome Guild members!
FACULTY NEWS
Welcome New Faculty Members!
Javier Cabanillas, Teacher Assistant for the Mission District Young Musicians Program; Amelia Romano, Music for Children at our Mission District Branch; and Alexei Wajchman, Family Music at our Mission District Branch recently joined CMC's faculty.
Announcing Faculty
Partnership Grant Recipients
Community Music Center's Faculty Partnership Grants Program supports faculty projects that directly involve a partnership with CMC or its programs. Awards are made annually up to $750 for individuals and $1,000 for collaborations among two or more CMC faculty members. Congratulations to this year's awardees!
Tregar Otton and Jesse Wolf will buy Latin percussion instruments to be used by students and teachers in the MDYMP.
Poppea Dorsam and Katy Luo will continue the Faculty Chamber Concert Series. The concert will highlight works by CMC faculty composers performed by CMC faculty.
Jennifer Peringer and Martha Rodriguez-Salazar will make an instructional CD for use in Latin Vocal Workshop, Coro Solera and 30th Street Choir. The CD will include 16 Latin American songs that will help students learn their music.
Sonja Riket will bring in Joseph Quoidbach and Bonnie Bainbridge Cohen to hold two seminars in injury prevention and body awareness for a safer and longer professional career. These seminars will take place in the spring and fall of 2013.
Mathylda Rotkiewicz and Grace Huenemann will continue the Annual Keyboard Marathon. The concert will be held on April 28, 2013 and the theme is Eastern European Masters.
Janis Mercer will commission Miami-based Matthew Evan Taylor to write new compositions for the CMP Level IV chamber music class. Matthew will fly out, rehearse with the students and attend their Spring Concert on June 1, 2013, where they will premiere the piece (see calendar page).
Juliet McComas invited Dr. William Wellborn to give a seminar
on Piano Pedagogy to piano faculty members on November 9, 2012.
10th Anniversary Keyboard Marathon: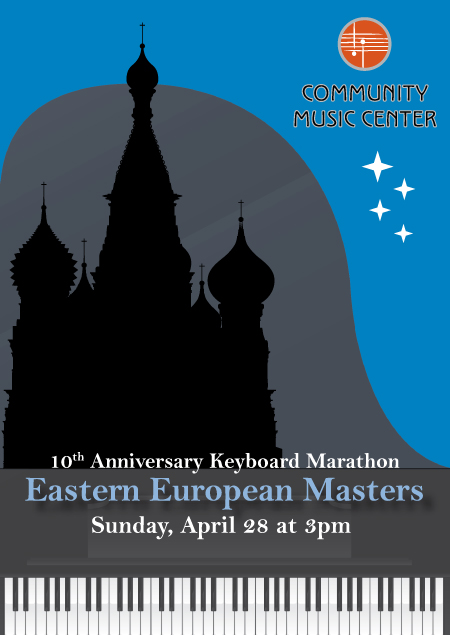 The CMC keyboard faculty invites you to travel on wings of sound with the exciting, moody, and colorful music of Eastern Europe. On April 28 at 3pm, CMC will present the Keyboard Marathon's 10th Anniversary performance in our Concert Hall. This year's theme, Eastern European Masters is dedicated to the music and legacy of that broad region's greatest composers. The program includes widely known and loved works as well as rarely performed pieces, from classic Chopin and Liszt to Prokofiev, Lutoslawski and
Nalezny.
Performing are faculty members Paula Dreyer, Grace Huenemann, Evgenia Leshchishina, Allison Lovejoy, Katy Luo, Hadley McCarroll, Juliet McComas, Janis Mercer, Jennifer Peringer, Matylda Rotkiewicz, Betty Wong, and Shirley Wong-Frentzel, and guest artists Esther Chan and Annie Nalezny.
The Keyboard Marathon is one of the biggest cultural events held at CMC. It was founded in 2004 by CMC piano faculty member Juliet McComas and attracts a large, diverse crowd every year.
Each concert explores a single theme, providing an inspiring and educational experience to the public, CMC supporters and students. Past themes have included:
2004:
Bach Preludes and Fugues, Well-Tempered Clavier Book One
2005:
Bach Preludes and Fugues, Well-Tempered Clavier Book Two
2006:
Mendelssohn Songs Without Words, Books I-IV
2007:
Mendelssohn Songs Without Words, Books V-VIII
2010:
Chopin and Schumann
2011:
The Four B's: Bach, Beethoven, Brahms, and Bartok
Admission is $15 for adults and $10 for students and seniors, with tickets available at the door.

A champagne reception in the CMC courtyard will follow the performance. Don't miss this afternoon of beautiful music showcasing the CMC keyboard faculty and the rich musical gifts that have come to us from Eastern Europe.
Event page on sfcmc.org
Facebook event page


STUDENT NEWS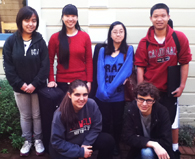 Last October, the CMP IV string quartet (Benton Liang, Tatyana Hall, Jennica Li, Josh Morris), heard the Takács String Quartet play Dvorák's American String Quartet at Herbst Theater thanks to free tickets from SF Performances. They had learned the first movement of the Dvorák last year and started the second movement in the fall. Their teacher, Janis Mercer, has commissioned Miami-based composer Matthew Evan Taylor to write a new work for the entire class through a Faculty Partnership Grant. The class, made up of string quartet and piano duo, began working on it in March and will premiere the work at the YMP Spring Concert on June 1.


Cypress String Quartet to Bring Call & Response Program to CMC's Young Musicians Now in its 13th year, The Cypress String Quartet's Call & Response program will focus on the influence of poetry in music. The concert will feature a new work for string quartet and voice from Pulitzer Prize-winning composer Jennifer Higdon, performed by the Cypress Quartet and soprano Christine Brandes. Higdon's new work, In the Shadow of Sirius, is a response to Dvorak's The Cypresses, and Schubert's 13th Quartet, known as the Rosamunde. In addition to the performance on Saturday morning, April 6 at CMC, student participants will be provided free tickets to attend the public performance at Herbst Theatre on April 19 at 8pm.

View upcoming events at CMC and beyond!