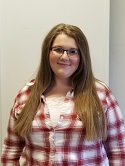 NENEDD welcomed Brittany O'Brien as the new Administrative Assistant on Friday, March 16, 2018. Brittany is originally from Bloomfield, NE, and has resided in Northeast Nebraska for 3 years. She is currently a full-time student, studying accounting through Northeast Community College. Brittany looks forward to learning about her new position and getting to know the NENEDD staff, board members, member communities and clients.


Monthly Meeting Highlights

The NENEDD and the NED, Inc. monthly meetings were held on March 28, 2018.
A new home will be purchased in Northeast Nebraska utilizing NED, Inc.'s down payment assistance program. NED, Inc. Board approved a loan for $26,300 to purchase a property in Columbus.

NED, Inc. held a public hearing related to Nebraska Affordable Housing Trust Fund Project 12-TFHP-5017 to provide updates to the public on the project. NED, Inc. was awarded $365,800 of Nebraska Affordable Housing Trust Funds in 2012 to be utilized for housing activites to serve low-to-moderate income individuals/families in the region. A requirement of receiving the funds is that at least two public hearings will be held; one at the time of application and a second during the project prior to closeout. This grant was made possible from the Nebraska Department of Economic Development and was available to eligible applicants for the purposes of further local affordable housing activities. The units are complete and have passed final lead inspection/clearance with one unit being occupied to an LMI individual. This grant benefited four LMI individuals/families and no persons were displaced because of the housing activites.

There will be two new businesses coming to the Northeast Nebraska area. NED, Inc. approved a loan of $50,000 to Bottom Line Holdings, LLC. Bottom Line Bookkeeping and Payroll is a small successful, two-person bookkeeping and payroll preparation service ownded and run by Kelsey Morrow in Norfolk. It is currently located in her home but plans to expand, purchase a building, and relocate. The firm offers bookkeeping services including accounts payable, accounts receivable, and payroll services for small business clients in the Northeast Nebraska area. Bottom Line Bookkeeping and Payroll started in January 2016 as a one employee shop in the basement of Kelsey's home. She started doing bookwork for three local businesses and has grown to over ten clients. BankFirst will be a lending partner on this project. NENEDD Business Loan Specialist Jeff Christensen said, "It's great to see a home based business expand to become a commercial business serving the Norfolk area from its new location on Norfolk Ave."

The second loan approved by the NED, Inc. Board will be going to Greta Smith, who is planning to start her own business, the Flower Cellar, located on Main St. in Wayne. The Flower Cellar will continue the tradition of offering unique and high quality fresh flowers, wine, gifts, and services that have been provided by Flowers & Wine for the last 13 years. The Flower Cellar will have flowers, wine and gifts displayed in an open but cozy and inviting building with 'industrial chic' elements - wood, metal and warm neutral colors. These items will include several local and other Nebraska products. This loan is being approved using Wayne's CDBG funds that will be sub-granted to NED, Inc. utilizing the NDO process (Non-Profit Development Organization) NED, Inc. will loan the funds to Greta Smith.

NENEDD and NED, Inc. held their quarterly loan reviews.

Both boards also appointed a budget commitee for the 2018-2019 budget, as well as appointing nominating committees.

The minutes from our monthly meetings are available on our website.






Albion business owners learn details on new downtown facade program

Read more on how the meeting went here.