| | |
| --- | --- |
| October 9, 2014 | |
111 South 1st Street | Norfolk, Nebraska 68701 | 402-379-1150 |
www.nenedd.org
|
Contact Us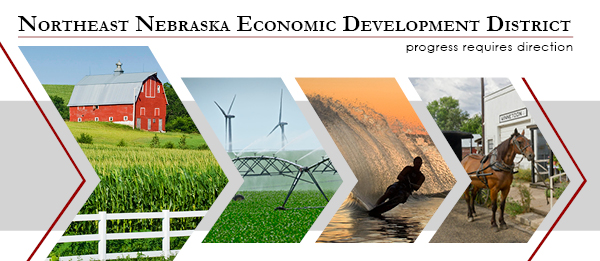 Our staff of professionals work together to assist communities and individuals with economic development, housing and business loan opportunities.

Owner-Occupied Rehabilitation Survey still open NENEDD has released an Owner-Occupied Rehabilitation survey to assess our region's housing needs. All residents within the NENEDD service area are encouraged to take the survey.

An English version of the survey can be accessed at the following location:

https://www.surveymonkey.com/s/OOR1

.

A Spanish version is also available and can be accessed here:

https://es.surveymonkey.com/s/OOR2

.

Questions about the survey may be directed to Alyssa Silhacek, NENEDD Community Planner, at (402) 379-1150 or at

alyssa@nenedd.org

.


NROC website gets facelift

The Nebraska Regional Officials Council website was revamped this week, with an all-new layout and some great information on what they do. From the site, you can read about what services are offered across the state, learn about each of the districts, and contact any of the board of directors.

Check it out today by visiting www.nrocne.com.
This site is also mobile device friendly.

If you wish to learn more about NROC, please contact Sharon Hueftle, NROC Chairman, South Central Economic Development District, by emailing SharonH@scedd.us.


Reminder: owner-occupied housing disaster funds available for qualified applicants Was your home affected by the May and June 2014 storms?
Do you still have repairs to be made that your insurance did not cover?

If you answered yes to these two questions, and your income qualifies, you could be eligible to receive up to $10,000 in disaster assistance.

Northeast Economic Development, Inc. has received funding from the Nebraska Department of Economic Development to assist qualified homeowners in Cedar, Cuming, Dakota, Dixon, Stanton, Thurston and Wayne counties. These are not reimbursement funds for repairs already made.

The first round of applications will be accepted at the NENEDD Office until 5:00 p.m. on November 14, 2014. If funds are unallocated after November 14th, a second round of applications will be taken.

For more information regarding disaster assistance, please contact:

Judy Joy | 402-379-1150 ext. 111 | judy@nenedd.org
Jamie Arens | 402-379-1150 ext. 107 | jamie@nenedd.org NED, Inc. is a supporter of Fair Housing Laws. To view more information, please refer to www.nenedd.org/fairhousing.html.

October NENEDD and NED, Inc. Board Meetings Date
Wednesday,

October 29, 2014

Time
7:00pm | NED, Inc.
7:15pm (approx) | NENEDD

Conference Call
Locations will be posted October 15th on our website.

Current locations include:
• NENEDD Offices | 111 S 1st St., Norfolk
• City of Hartington Office | 124 E Main St, Hartington
• Scribner Economic Development | 412 Main St., Scribner
• West Point Chamber of Commerce | 200 Anna Stalp Ave., West Point


Funded in part by the US Department of Commerce
Economic Development Administration