Kids Clay Camp
5 week sessions start June 20
Monday, Wednesday, Friday 10am–2pm
Ages: 8 years and up
Cost: $135 per session
Call 760-777-1444 for signup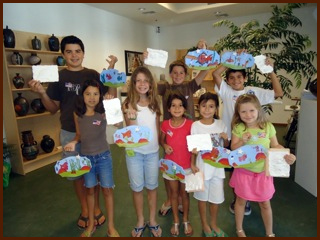 Details:
The Old Town Artisan Studio announced their schedule of summer camps today. Located in Old Town La Quinta, the studio provides programs to such agencies as the Boys & Girls Club of Coachella Valley, the Family Y, local Girl Scouts troops, and others during the school year. In addition to continuing to provide programs to their existing partners, the studio will offer five separate 3 day "Kids Clay Camps" focused on the magic of clay. Sessions start the week of June 20, run on Monday, Wednesday, and Friday from 10 AM to 2 PM each day and include lunch and refreshments. The cost is $135 per session and limited scholarships are available. Each camper will learn to work on the potter's wheel, will create a hand built project and complete two other projects during the camp. Instructors include master potter Sergio Naduville, local artist William Johnston, and "purveyor of creativity, Alana Marston. For camp schedules, please contact the studio at (760) 777-1444 or visit the award winning web site
www.oldtownartisanstudio.org
for more information.
Rod Puppet Workshop
June 27 – 30
Ages: 13 years and up
Cost: $175
Limited number of participants will be accepted
Call 760-777-1444 for signup
Details
: The week of June 27, the Studio will host a special "Rod Puppet Workshop", instructed by Scotty Shoemaker, a master creator of puppets for Walt Disney Company, Universal Studios, and Busch Gardens/Sea World. Mr. Shoemaker is an illustrator, puppet designer and builder extraordinaire. In addition, he has developed animation projects for Scholastic Books and Sesame Street. This camp is limited to 15 participants over the age of 13 and limited scholarships are available. The cost is $175 for the four day program running Monday through Thursday and lunch/refreshments are provided. Each participant will design and create their own puppet during the workshop. More information is available on the
studio website
or you can see Scotty's work on his Facebook page.