NORTH COUNTY FAMILIES EXPLORE
THE MAGIC HOUSE TOGETHER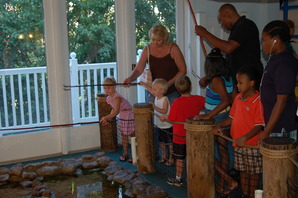 More than 75 families (over 300 parents and children!) from North County converged on The Magic House children's museum on Monday, June 18th for an evening of family fun. The first "Federation Family Field Trip" offered the opportunity for new friendships to form while families took advantage of a great deal on admission to this popular St. Louis attraction. Parents were pleased with the affordability of this family event (only $8 for the whole family, rather than the regular $9 per person admission charge).
"I loved the price, and the fact that my children could explore the Magic House without a huge crowd," said Megan Stevison from Blessed Teresa of Calcutta Parish and School.
View photos from the evening of fun at our online photo gallery.
More opportunities for Federation Family Field Trips are under consideration. If you have a suggestion for a possible local attraction for a family event sponsored by the Federation, please contact Cara Koen.

WELCOME Ms. ANNA DAVIS, NEW PRINCIPAL AT ST. FERDINAND SCHOOL
The Federation of Catholic Schools in the Northeast Deanery sends a warm welcome to Ms. Anna Davis, the new principal of St. Ferdinand School. We also bid a fond farewell to Miss Jeanne Gearon, who served as the principal representative for the Federation since it was founded in 2010. Ms. Lois Vollmer, principal at Sacred Heart School, will serve as the principal representative for the next two years. Our Deanery is abundantly blessed with eight principals who are excellent leaders committed to the mission of Catholic Education for our children.
---
HELP US SPREAD THE GOOD NEWS
Catholic elementary schools are a strong asset to the North County community. Spreading the good news that our schools are open to all who desire a quality, faith-based education for their children is important to the continued stability of enrollment in our Deanery schools. The Commission on Marketing and Advancement would like to uncover more local opportunities to promote Federation schools in the North County community. If you have a suggestion for a creative way to advertise our schools (maybe in a program for a local event, a neighborhood newsletter or a community fair, etc.), please contact us by e-mail or call Cara Koen at 314-537-3174.
---
VIEW FEDERATION
NEWS ONLINE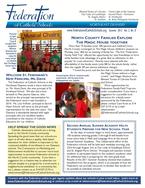 ---
---
Back-to-School Blessings
The 2012-13 School Year is fast approaching. We ask blessings on all of our principals, teachers, parents and students as they gear up for a new year. Please pray for all of our school and parish communities as we continue to nurture each child in their education, and help them to develop a personal relationship with Jesus Christ.
CATHOLIC MUSICIAN WOWS SACRED HEART STUDENTS
On Friday, May 18th the students of Sacred Heart Catholic School in Florissant were treated with an "end of the year" concert by Catholic contemporary musician John Angotti. For nearly two hours John presented a message of hope, joy, and reconciliation in an upbeat and active musical presentation.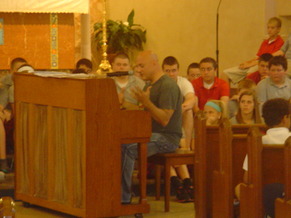 The students participated by joining John in song, dance, and role playing. Angotti's ministry focuses on bringing the living Eucharist and the celebration of the Mass to everyday life. Angotti noted, "if you don't meet the kids, and their parents, where they are you might miss them." Adding, "and if you miss them, someone else - or something else - will grab them." Read more and view photo gallery.
---
SECOND ANNUAL SUMMER ACADEMY HELPS STUDENTS PREPARE FOR SCHOOL YEAR
As the days of summer begin to wind down, approximately 100 students entering grades 3 through 8 will benefit from some extra help in Math and Language Arts at the second annual Summer Academy. This collaborative effort of the Federation schools will be held each weekday morning, July 23rd through August 3rd, at Our Lady of Guadalupe School and St. Angela Merici School. Principals and teachers invited students to participate based on the student's academic need for additional help in preparing for the next grade level. Results of the 2011 Summer Academy showed that students benefited from the program, which is an example of how the Federation can provide resources to families that would not be possible at individual schools.
---
NOW ONLINE!
RESOURCES FOR PARENTS

The Learning Consultant Professional Learning Team has put together a collection of online resources for parents in areas such as Kindergarten Readiness, Homework Helps, Learning Disabilities, ADHD, Special Education and more. Click here to view the Parent Resources page and be sure to bookmark for future reference.
---
Read the Good News about Catholic Education in the Archdiocese of St. Louis in
The e-Vangelizer archive.