GROUP ATTENDS NCEA CONFERENCE AND ACCEPTS AWARD ON BEHALF OF FEDERATION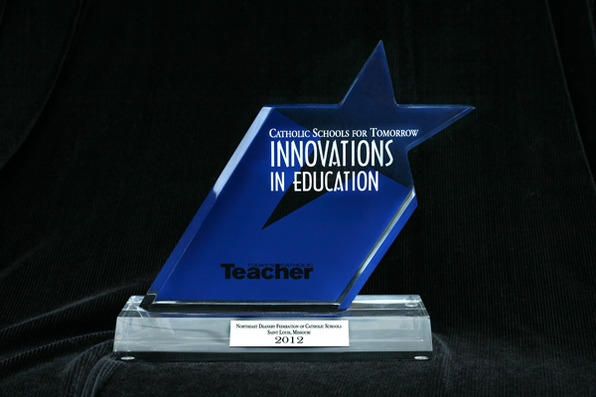 A group of principals, teachers and a pastor traveled to the National Catholic Education Association Conference in Boston last month to accept the Catholic Schools for Tomorrow Innovations in Education Award from Today's Catholic Teacher Magazine on behalf of the Federation of Catholic Schools' Professional Learning Team (PLT) program. The award luncheon was held on April 12 at the exclusive Harvard Club, with hundreds of Catholic educators and administrators in attendance.
"The entire week was a great experience," said Mr. Chris Masterson, Middle School Social Studies Teacher at Sacred Heart. "It was just another example as to why the Federation has been and will continue to be a great benefit to the Catholic schools and students of North County. The opportunity to spend a week with my colleagues allowed for a growth in collegial fellowship and professional growth. The awards dinner was an exciting experience from the setting inside the Harvard Club to all the great champions of Catholic Education represented."
"I found the award ceremony to be particularly moving not because it was in the Harvard Club nor because we received all kinds of 'goodies' from the sponsors nor because of the 9 pound trophy but because I thought of the hundreds of people who have contributed to the process of forming a Federation and the thousands of hours that were expended for our children," said Monsignor Jack Schuler, Pastor at St. Ferdinand Parish.
Learn more about the trip and "extra" awards received from corporate sponsors by visiting www.FederationofCatholicSchools.org/award.