Staff News
Orthodontic Assistant Laura married her longtime boyfriend Brendon on September 22nd at a beautiful ceremony at Bay Pointe Country Club in Onset. They were surrounded by family and friends. They honeymooned in Aruba. Congratulations Laura and Brendon!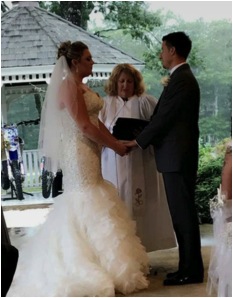 ---
Celebrity Smiles Contest Winners!
Our Celebrity Smiles contest was a huge hit at the office. How well did you know these famous smiles?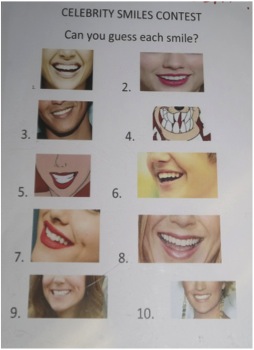 The winners of the celebrity smiles contest are:
Jason M., Amaya M. and Mercedes O.!
They guessed each smile exactly! This was not an easy contest.
The answer sheet is in the office. Great job everyone!
---
Patient of the Quarter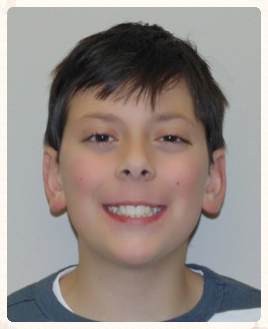 Graham R. is the latest Patient of the Quarter. We really wanted to highlight Graham in this newsletter because he is always very polite and always comes to his appointments with a smile. He has a terrific positive attitude. He is an avid tennis player and runs cross country at his school. He has been in braces since last June and he is finishing the last part of his treatment. Hopefully, he will get his braces off soon. Thanks Graham for being YOU!
---
Smile Transformation
Kristina P., age 17, is our recent transformation. She started Invisalign in May 2016 for a quick 10 month treatment. After a recent Invisalign refinement to "tweek" minor tooth movement, she has completed her treatment. Maintenance for Kristina will be nightly retainer wear to assure the space doesn't return. She is very happy that the "gap" between her front teeth is closed. She is a cheerleader in Bridgewater and loves working with special needs kids.
Congratulations Kristina!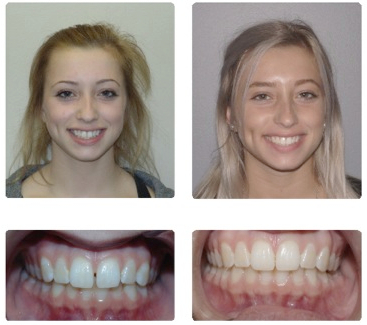 ---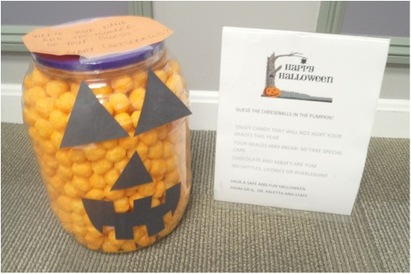 Fall Contest:
Count the Halloween Cheese Balls!
Your Braces May Break - So Take Special Care
Chocolate and M&M's are Yum
No Skittles, Licorice and Bubblegum!
---
National Orthodontic Health Month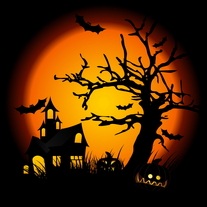 October is National Orthodontic Health Month and we think it's no coincidence - for Southeast Orthodontics it's the perfect time to remind patients with braces to put some thought into the treats you enjoy this Halloween. We want you to enjoy the holiday and not feel like you are missing out.

Oral Hygiene is especially important while wearing braces as your wires and brackets can make it a bit more difficult to brush and floss properly.
To ensure that you keep up with healthy oral care habits, follow these tips:
Brush and floss at least twice a day, and after every meal if possible.
To allow you to thoroughly clean plaque and food particles out of your teeth and braces, use special "flossers" that weave dental floss under your wires.
As a final step in your brushing and flossing routine, use mouthwash to remove any lingering plaque or food particles.
---
Halloween Spooky Spider Braces-Friendly Deviled Eggs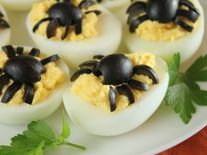 These spider eggs are so cute and perfect for a Halloween party. Strictly speaking, spiders have eight legs, so that's what we gave these little cuties.
Ingredients:
6 hard-boiled eggs, halved
3 tablespoons mayonnaise
1⁄2 teaspoon ground mustard
1⁄8 teaspoon salt
1⁄8 teaspoon pepper
black olives
Directions:
Cut eggs in half lengthwise. Slip out yolks and mash.

Stir in mayonnaise, mustard, salt, and pepper.

Cut whole olive in half.

Put one half on mashed yolk for the spiders body.

Thinly slice the other half for the spiders legs. Put four legs on each side.
Enjoy!
---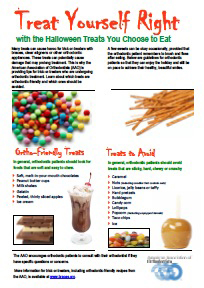 What Not to Eat (and drink) with Braces
With Halloween right around the corner, we ask that you take extra special care of your teeth and braces by not indulging in too much candy and other sweets. Try to avoid foods that are sticky, chewy, crunchy, or are high in sugar, to reduce the risk of cavities and damaging your braces.
Visit our website to learn more here>
Soft Drinks and Orthodontic Treatment
A recipe for disaster
Soft drinks, including regular and diet soda pop, fruit drinks, sports drinks and energy drinks, weaken tooth enamel. They are even harder on teeth with orthodontic "appliances," such as braces or aligners. It is recommended that you avoid soft drinks during your orthodontic treatment so that your teeth stay healthy and strong, and you finish your treatment with a good bite and a healthy, beautiful smile. Download info sheet here>
---
Earn Rewards Points by Reviewing us Online!

T
hat's right!
We are asking our loyal patients and/or parents to write a review on our Yelp page and as a special thanks, we will add 50 points to use towards great prizes on your Rewards card.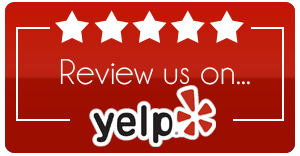 ---
Keep Smiling!
The Team at Southeast Orthodontics