Have Dreams Golf Classic -
Chasing the Dream!
Join Us for a Day on the Links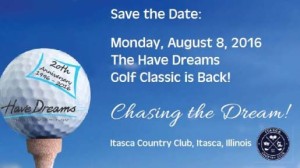 You are invited to a fun-filled day at the beautiful Itasca Country Club, where golfers can chase the dream of a great round of golf while supporting Have Dreams!
Monday, August 8, 2016
Itasca Country Club, 400 E. Orchard St., Itasca, IL
Golf Classic (Scramble Format) & Silent Auction

Registration: 10:30 a.m.

Lunch: 11:00 a.m.

Shotgun Start: Noon

Cocktails, Buffet Dinner and Program to Follow
We would love to have you join us for a great day on the links - for registration and sponsorship opportunities,

click here

!
---
Our Garden of Goodness is
Ready for Planting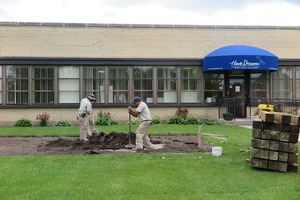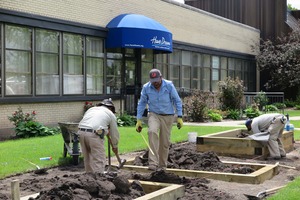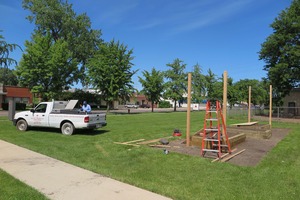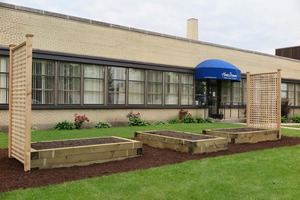 Nature's Perspective in Evanston installed the garden beds and trellises for the Garden of Goodness.
Thanks to a $20,000 grant from Astellas USA Foundation, Have Dreams participants at our Evanston location will have the opportunity to cultivate an outdoor vegetable and herb garden. A year-round autism-specific curriculum will help participants increase their healthy eating habits by learning how to plant, maintain and harvest the garden, prepare vegetables and herbs they grow themselves and incorporate these and other healthy foods into their daily diet. In early June, Nature's Perspective Landscaping in Evanston installed the garden beds and trellises for the garden. Thank you to Astellas USA Foundation and Nature's Perspective for helping Have Dreams improve the health and well-being of our participants with this Garden of Goodness!
---

​Gil Fergus & Peggy Gilger Become
Board Life Trustees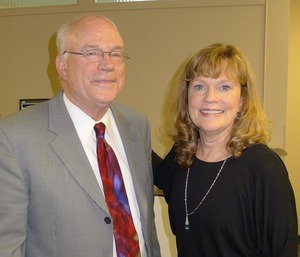 On June 8th, Gil Fergus and Peggy Gilger became Have Dreams Life Trustees at a small celebration at Have Dreams' Park Ridge location. Both Gil and Peggy have children that participated in Have Dreams programs from the very beginning and both are founding board members. Gil served on the Have Dreams Board of Directors continuously from 1996 to 2003. Peggy started as a board member in 1996 and has remained on the board for two decades. Gil and Peggy join Dick Malone as Have Dreams Life Trustees.

A lot has changed in the 20 years since Gil and Peggy began their service with Have Dreams, but the board's focus remains the same as it continues to find services to best fit the needs of individuals with autism. Thank you to Gil and Peggy for their enduring commitment to the mission of Have Dreams!
---

Congratulations Graduates of Project SEARCH Collaborates for Autism at Northwestern University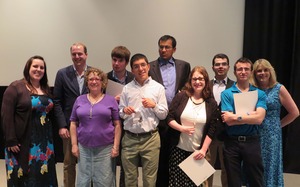 Project SEARCH 2016 graduates and staff at the graduation ceremony on June 10, 2016.
On June 10th, eight students from New Trier High School, Glenbrook High Schools, and Deerfield/Highland Park High Schools, graduated from the Project SEARCH Collaborates for Autism program at Northwestern University (PSCA@NU), a one-year transition to employment program for students with autism in their last year of high school. At the conclusion of its third year, PSCA@NU has an 89% placement rate for program graduates at businesses such as Hart Schaffner Marx, Mariano's, and Wilmette Tennis Club.

Family members, PSCA@NU staff, NU faculty and staff, and representatives from Have Dreams, local high schools and service agencies, attended the celebration at the Block Museum of Art on NU's campus. NU President Morton Schapiro gave congratulatory remarks and spoke about the values of Northwestern University and PSCA@NU: "...those are the values of Northwestern University...being humble, being thankful and working hard with your head up and not thinking about what might have been but embracing what is, and that's exactly what this program does so brilliantly." For more information on Project SEARCH and our other young adult programs,

click here

.
---

Chicago Tribune Puts Spotlight on Autism in the Workplace


Project SEARCH Collaborates for Autism graduates Jordan Allison (pictured above) and Marice Aiston were featured in a recent Chicago Tribune article on autism in the workplace.


The Chicago Tribune ran a front page story on Sunday, June 12th entitled, 'It's changed his view of life': Companies Find Hiring Autistic Employees Has Vast Benefits. The story features two Project SEARCH Collaborates for Autism at Northwestern University (PSCA@NU) graduates: Jordan Allison and Marice Aiston, who are employed at suit-maker Hart Schaffner Marx. Jordan and Marice were referred to Hart Schaffner Marx by Have Dreams, which collectively funds and operates PSCA@NU along with Northwestern University, New York Collaborates for Autism/Project SEARCH, the Department of Commerce and Economic Opportunity, and local school districts.

Have Dreams founder and executive director Kris Johnsen is quoted in the article as saying, "A large gap in adult autism services leaves many people struggling to adapt to the social climate of a workplace." The article goes on to say, "Despite the challenges, Have Dreams, which operates several job training programs that help place people with autism into jobs, has more employers lined up to hire than they have ready applicants." To read the full article,

click here

.
---
Team Have Dreams:
Chicago 5K & Half-Marathon
Run for Team Have Dreams at the
Chicago Half Marathon or 5K
on
September 25, 2016
.
Fundraise $500 for Have Dreams by running the Half Marathon or $250 by running or walking the 5K. Y
ou will r
eceive
10% off your registration fee by signing up with Team Have Dreams
(just complete the
Team Have Dreams Commitment Form
FIRST to receive your charity code then register for the Half Marathon or 5K).
See why so many of our runners join us year after year by visiting our
Team Have Dreams website
to sign up
or contact David Murray at
dmurray@havedreams.org
.
---
Teachers and professionals: Have Dreams is pleased to offer three Structured Teaching trainings in August before the school year starts!
August 2 and 3 and August 9 and 10:
Basic Elements of Structured Teaching (BEST)


August 16 and 17:




Reading/Social Leisure/Ready2Learn
Visit our
website
to download a flyer and registration materials.
Questions? Contact Lydia Wissing at
lydiawissing@aol.com
or 847-685-0250, ext. 111.
---
Someone You Should Know:


Meet Members of Our Have Dreams Community
Andrea Franckowiak:
Program Director​, Have Dreams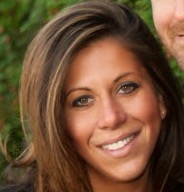 Q: How did you begin your involvement with Have Dreams?



A:

I started as a Social Buddy during its inaugural year (1996)

and in the years following became a member of the program staff. I then moved into the Site Supervisor position for Evanston in 2010 and now serve as Program Director for the organization.

Q: What are your responsibilities as Program Director?



A:

I am responsible for curriculum and program development, and I also serve as an instructor for programs. I conduct intakes for all SCILS (Social, Communication & Independent Living Skills) after-school and weekend programs and for our full-day Life SCILS program for adults.



Q: Tell us about your background and what is special about working at Have Dreams?



A: I have a Masters in Special Education and I am a Certified TEACCH Trainer, which is the professional certification from the TEACCH Autism Program, a best-practice autism intervention approach developed by the University of North Carolina at Chapel Hill. TEACCH is the methodology applied in all Have Dreams programs.

I enjoy going to work every day because each day is different. I'm fortunate to work with such a great staff and have the opportunity to help new families and new students every day. We're always growing here at Have Dreams, and while providing important programming, we're always making sure that it's a fun and accepting environment for our participants.

Q:

Tell us a little more about yourself.



A: I grew up in Park Ridge and lived in Chicago until recently, when I moved to the suburbs with my husband after our daughter was born, who is now 15 months old. I love to travel and my goal is to travel to one international destination each year.

I feel like I grew up with Have Dreams and it is so much a part of who I am today!
Make a Donation:

Have Dreams is a 501(c)(3) organization. Your donation is tax deductible.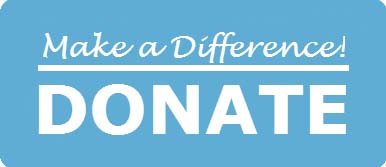 ---

>> Forward This Email to a Friend

>> Sign Up for Our Newsletters

Get social with us!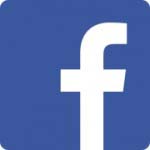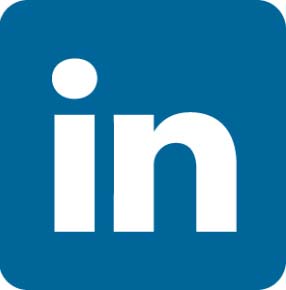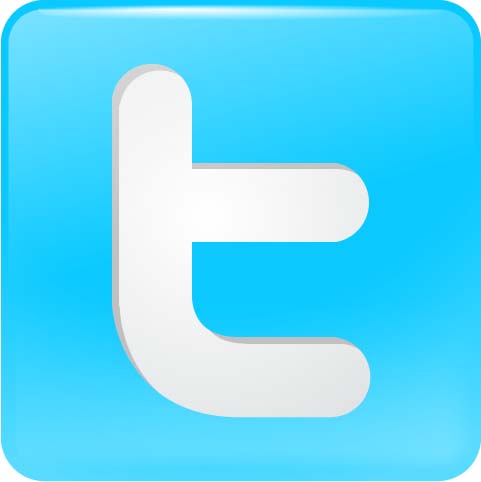 ---
In This Issue:

Have Dreams Golf Classic:
August 8, 2016

Garden of Goodness

Board Life Trustees:
Gil Fergus & Peggy Gilger

Project SEARCH 2016 Graduates

Chicago Tribune Puts Spotlight on Autism in the Workplace
Team Have Dreams:
Chicago 5K or
Half-Marathon

Structured Teaching Trainings in August

Someone You Should Know:
Andrea Franckowiak
---
Mission
Have Dreams aspires to help children, teens and young adults with autism improve their abilities to learn, function independently and socialize so that they may realize their full potential and develop into contributing members of their communities.
---
Have Dreams
515 Busse Hwy
Suite 150
Park Ridge, Illinois 60068
Phone: 847.685.0250
Fax: 847.685.0257

2020 Dempster
Evanston, IL 60202
Phone: 847.905.0702
Fax: 847.905.0684
---
Have Dreams Marketplace:

Select Have Dreams as your AmazonSmile preferred charity and a portion of your purchases will go to Have Dreams!
Shop Nice Laundry for socks by clicking on the link below and Have Dreams will receive 35% of your purchase!