HAPPY NEW YEAR!
2016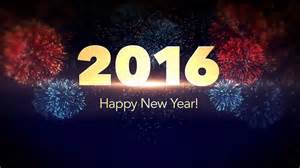 Happy New Year to everyone from CASA of Philadelphia! Wishing you a happy and healthy 2016.
Please remember that the holiday season is often a particularly difficult time for children in care, so even if your schedules become extra busy, please take the time to reach out to the children in your cases this month.
CONGRATULATIONS CASA VOLUNTEER MONICA JONES
Thank You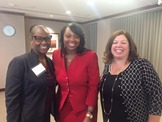 Congratulations to CASA Volunteer Monica Jones (
pictured, center
) who won the 2015 William R. Klaus Community Service Award from her employer Pepper Hamilton LLP for her outstanding commitment to the Court Appointed Special Advocate (CASA) program, Philadelphia Reads and the outreach project of Chosen 300 Ministries. Not only was she honored with a reception on December 3rd, but she also received a $1,000.00 check for her charity of choice and she decided to donate her check to CASA of Philadelphia.
During the holiday season, everyone seems to be more focused on giving back to the community. But, for Ms. Jones, service to others is a way of life all year long. It is difficult to imagine how she finds time to do all that she does. As well as volunteering with CASA, she also reads to children each week as part of the PhiladelphiaReads Program. Ms. Jones serves on the tribune board at the Enon Tabernacle Baptist Church in the capacity of a Deaconess. And her longest ongoing service project is her work with Chosen 300 Ministries, which distributes meals and services to the homeless and hungry throughout the Philadelphia region and around the world.
At CASA, Ms. Jones has been a strong advocate on her case. She is a volunteer for several young children who have experienced serious trauma. She has developed a great relationship with the children and has built a strong rapport with their foster parents. She demonstrated her commitment to this case even more when one of the children was placed at a residential treatment facility located over an hour away from Philadelphia. She continues to visit him in this new location, and she is a strong advocate in court for the children's educational and emotional needs.
Ms. Jones is married to Michael Jones and is the proud parent of one son, Alan, who is serving in the United States Army.
HIGHLIGHTS IN ACHIEVING PERMANENCY
Congratulations to CASA Volunteer Robert Angevine for helping to achieve permanency for the children in his case who were adopted by their grandmother.

Congratulations to CASA Volunteer Hao-Li for helping to achieve permanency for the children in her case who were reunified with their mother after five years in care, countless setbacks, and even a previous CASA Volunteer who, sadly, passed away during her service.

Congratulations to CASA Volunteer Anne Lovatt for helping to achieve permanency for the young man in her case who is living with his mother and has worked hard on his truancy issues.
Congratulations to CASA Volunteer Esther Cheung for helping to achieve permanency for the children in her case when the judge awarded permanent legal custody to their grandmother.
WELCOME NEW CASA BOARD MEMBERS
Eileen Horgan, Esq. (Elected 11/15/15) Attorney, Women Against Abuse.
Danielle Petaja, Esq. (Elected 11/15/15) Attorney, Saul Ewing, LLP.

Caroline Rosch (Elected 11/15/15) Risk Analytics Manager, Lending & Investments, The Reinvestment Fund.
THANK YOU VOLUNTEERS FOR YOUR GENEROUS DONATIONS
A special thanks to CASA Volunteers Nancy Lanham, Judy Seibert, Detta Tate, and Lisa Dissinger for their generous donations during the holiday season. Also, special thanks to CASA Volunteer Elizabeth Young for her generous donation, plus a matching donation from her employer. If your company has a matching gift program, please contact Allison Modica at: allison.modica@casaphiladelphia.or today for information on how you can get involved.
HAPPY BIRTHDAY CASA VOLUNTEERS!
Happy Birthday from everyone at CASA of Philadelphia to our CASA Volunteers who are celebrating birthdays this month:
Joseph Cartagena
Ellen Schmitt
Shakia Livingston
THANK YOU SUPPORT CENTER FOR CHILD ADVOCATES
Thank you to the Support Center for Child Advocates for sharing an overflow donation from their annual toy drive with us when there was a child in CASA Supervisor Carletta Chandler and CASA Volunteer Beth Vogel's case who was living in a residential treatment facility without any family. When they discovered that he would go without a Christmas present this year, Associate Director Allison Modica communicated our need with the Support Center and was able to pick up their generous donation of toys for the ten-year-old boy in our case.
THANK YOU PHILADELPHIA BAR FOUNDATION
Thank you to the Philadelphia Bar Foundation for their generous grant to support CASA's operating costs. We are so grateful for their continued support to ensure quality advocacy for Philadelphia's abused neglected children.
BULLYING 101 Training Highlights
Jennifer Bradley, Esq.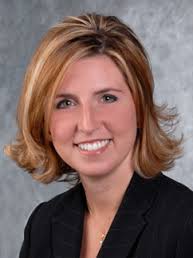 Thank you to everyone who attended the McAndrews Law Firm's "Bullying 101" training on December 9th, led by Jennifer M. Lukach Bradley's Esq.
Children with disabilities are often subject to bullying and abuse, and what many are unaware of is that the Pennsylvania Legislature has adopted legislation requiring school districts to address bullying. This informative presentation reviewed current statistics, specific laws pertaining to children's educational rights that parents should be aware of, and ways to address the issue with the school district. Ms. Bradley shared her extensive experience representing parents of children with disabilities in a variety of special education matters involving the public schools, including due process, manifestation and expulsion hearings pursuant to the Individuals with Disabilities Education Act (IDEA), Section 504 of the Rehabilitation Act and the Public School Code.
Be on the lookout for more CASA-sponsored trainings by the McAndrews Law Firm regarding educational matters in the future.
REMINDER: PHOTOS FOR NEW CASA PHOTO ID BADGES
You told us and we listened! After hearing from many of you about the need for a way to identify yourselves as a CASA, we are instituting a new policy where we will begin issuing photo ID badges to all active CASA Volunteers. In order for you to receive your new ID, please email a jpeg photo headshot to us as soon as possible.
We are in the process of finishing up our first batch of badges now, so if you have already sent us your photo, we will be in touch soon!
Please email your jpeg photo to Volunteer Coordinator Cindy Blum at: cindy.blum@casaphiladelphia.org
OLDER YOUTH VIDEO
For those of you who are working with older youth who are getting closer to the date when they could potentially age out of the dependency system, there are so many issues to discuss, including exploring all of the ways the youth could remain in care. The following brief video (5 minutes) from the Juvenile Law Center (JLC) explains Pennsylvania's Act 91 with clear details about extending and re-entering foster care. Please view it yourself and then show it to your older youth so they can start thinking about their options:
https://www.youtube.com/watch?v=m8lHWpPy7L8
TRAUMA-INFORMED CARE ONLINE IN-SERVICE TRAINING