Hi Valued Customer,

Happy Holidays to all and may your New Year been funwith family and friends.

2011 was another growing year for Informix.
New products - IBM Warehouse Accelerator and Genero
Continued innovation in the existing products - 11.70.xC4 is the latest release
New partnerships
Awards received from customers and partners
New customers
Even a benchmark that shows Informix vs Oracle
and a continued committment to the oldest of customers with the 'Continued Support Pilot' so anyone going all the way back to 7.31 can gain access to support and upgrades.
A special thanks for the board of the International Informix User Group in their passionate support and, personally, for moving the annual IIUG event to San Diego this coming spring.
<Learn more>
Expect to see more in 2012. More enhancements. More partners. More of everything.
You can always reach me at
tomrieger@us.ibm.com
or 952-221-6514.
Tom Rieger
SWAT TEAM leader - Informix
www.ibm.com/informix

IBM Warehouse Accelerator kickoff
hands-on-lab
This ground-breaking technology that takes advantage of columnar database technology, all in memory, changes how you look at those 'ugly queries'

First one is coming to Chicago - and will be scheduled in a city near you soon in 2012

When: Thursday, January 12th from 9:00am to 4:30pm
Where: IBM Offices, 71 South Wacker Drive, 6th Floor, Chicago, IL

How to RSVP: Please email Rob Beal at rbeal@us.ibm.com

If you would like to see this come to your area, please let me know.

Lab Chats


The worldwide director of Informix engineering, Jerry Keesee, and his team continue their monthly set of lab chats - bringing you closer to the people who make the product.



January 19th at 10:30am Central time

Century Financials Software - the Advantage for Informix customers
February 16th at 10:30am Central time

Making your Informix database access more efficient and bulletproof
March 22nd at 10:30am Central time


Informix Flexible Grid Technology

You can always check out all the recorded lab chat as well. Over 50 to choose from. <click here>

IIUG - Early bird is open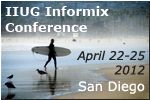 Registration is now open and the early bird rate is available to attend the 2012 IIUG Informix Conference.
Where: San Diego, California
When: April 22 - 25

The early bird rate is a very reasonable $595/perso
n. This is the best use of any education budget anyone could ever hope for.

You can learn more by <clicking here>
Continued Support
If you are still using Informix versions all the way back to 7.31, you can continue to receive support. And if you are off maintenance and want to get back on, it is now that much easier. <Learn More>
Don't miss these new announcements in this newsletter

First Warehouse Accelerator Hands-on-lab in Chicago

Informix Lab Chat

-




The next three months are already lined up



IIUG Informix Conference - Come and take advantage of the early bird special

Continue Support - If you have Informix 7.31, 9.x or 10.x, you can still receive support.

Historical Newsletter links

April
<click here>
May
<click here>
July
<click here>
August
<click here>
November
<click here>