Talking Wildfire Mitigation
Forest Health Task Force meets Wednesday, May 20 at Noon
Buffalo Mountain Room, County Commons, Frisco
In partnership with FDRD, The Forest Health Task Force will bediscussing wildfire. We will be joined by
Doug Cupp, Summit County Wildfire Mitigation Specialist
. Doug has been in the Fire Service for 22 years with 19 of those assisting with managing Wildfire Prevention and Suppression. Doug holds a Master's degree in Emergency Management as well as Fire and Emergency Services Management. Having worked as a Wildfire Coordinator for Poudre Fire Authority in Fort Collins gave Doug the opportunity to experience some of the nation's largest wildfires including Colorado's Haymen Fire, Four Mile Fire, High Park fire, and Hewlet Gulch fire. This provides a unique perspective of prevention efforts that occur before a fire and the long term effects after a fire.
Doug will discuss some of the missing pieces of wildfire preparedness to provide a cohesive strategy with forest health, community planning, home protection and life safety. He will be talking about fire science and how we (as a community) can apply fire models and Colorado wildfire history to help make good forest management policy decisions.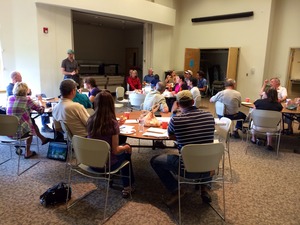 REMINDER! Upcoming Meetings:
June 16, 12-1:30

Meetings are at:
County Commons, 83 Nancy's Place, Frisco, CO in the Buffalo Mountain Room from 12-1:30.
Everybody is welcome. Please join us to hear what's new with the forest and express your opinions. We will provide lunch.
VOLUNTEERS!!!
May 20: Volunteer Training, DETAILS BELOW
May 23: Volunteer Training, DETAILS BELOW