The Forest Health Task Force meets Wednesday, October 19, noon - 1:30 p.m
County Commons, Mount Royal Room
This month, Joe Newhart will be presenting at our meeting. Joe will be discussing the geological history of the Summit County area by using photos, maps and diagrams that depict local geological history. The geological history encompasses the last 1.8 billion years. The core of the Gore and Ten Mile Ranges consist of 1.8-billion-year-old metamorphic rocks. Rocks of the 300-million-year-old Ancestral Rocky Mountains are present in the county. The Western Interior Seaway split the North American continent, and the marine rocks deposited in the seaway are present in the county. The uplift of the Rocky Mountains occurred 60-45 million years ago, and was followed by the formation of the Colorado Mineral Belt. The formation of the Blue River Valley and the glacial deposits and landforms will be discussed.
Joe has a B.S and M.S. in geology. He has worked as a professional geologist for over 30 years in a variety of professional and managerial assignments in the petroleum industry. He had the opportunity to spend over 6 years directly involved in Rocky Mountain geology. Since retiring in 2006, he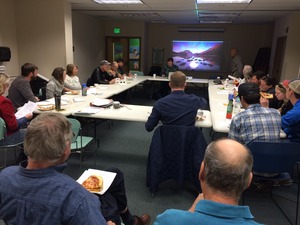 has continued to be a student of Rocky Mountain geology, and specifically, the Summit County area.
In addition, we have time set aside for Shelby Limberis to talk about the Lower Snake River Catagorical Exclusion. We will also have updates from the Summit County Wildfire Council, Friends of the Dillon Ranger District and Summit County Government. Join us Wednesday, October 19 at noon. Lunch will be served.
REMINDER! Future Meetings:
Wed, Nov 16, Noon, County Commons, Mt. Royal Rm
Wed, Dec 14, Noon, County Commons, Mt. Royal Rm
Wed, Jan 18, Noon, County Commons, Mt. Royal Rm
Wed, Feb 15, Noon, County Commons, Mt. Royal Rm
Wed, March 15, Noon, County Commons, Mt. Royal Rm