The Forest Health Task Force meets this Wednesday, March 15, Noon - 1:30 p.m
County Commons, Buffalo Mountain Room
(NOTE Room Change)
In the second segment of Brad Piehl's Historical Forest Conditions presentation, Brad will impress on us the importance of understanding historical forest conditions and the practical aspect of actually understanding those conditions. Highlights include:

• Researching previous forest history studies
• Gathering historical information
• Mapping historical event locations
• Collecting current/additional data
• Mapping current forest vegetation
• Analyzing forest types
Hope to see you this

Wednesday, March 15 at noon. Lunch will be served.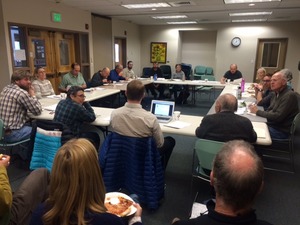 REMINDER! Future FHTF Meetings, 12-1:30:
Wed, April 19, County Commons, Mt. Royal Rm
Wed, May 17, County Commons, Buffalo Mt. Rm
Wed, June 21, County Commons, Buffalo Mt. Rm
Wed, July 19, County Commons, Mt. Royal Rm
Wed, August 19, County Commons, Mt. Royal Rm