Mark your calendars
The Forest Health Task Force will hold monthly luncheons this year. We plan to hear from a variety of experts, engage in meaningful discussions, and get better acquainted with each other. Topics will include the latest in forest research, citizen monitoring, changing forest conditions, wildfire, best management practices, wood utilization, and much more. Our first get together is on February 18 from Noon until 1:30 in Frisco. We will be discussing USFS scoping for the Keystone project.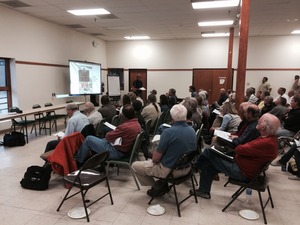 The following dates are scheduled at the County Commons in the Buffalo Mountain Room from 12-1:30:
February 18, 12-1:30
March 18, 12-1:30
April 15, 12-1:30
May 20, 12-1:30
June 16, 12-1:30
Everybody is welcome. Please join us to hear what's new with the forest and express your opinions. We will provide lunch.
Forest News
Around the World






Forest Management in England

While scale and conditions in England are different from those in the western United States researchers in the United Kingdom are faced with many of the same challenges. Under changing climate and social conditions how do we best create a resilient, more diverse forest ecosystem? "Modeling mixed-age and mixed species stands" -

Existing growth and yield models in Great Britain were explicitly developed for use in even-aged stands of a single species and cannot be used to accurately predict the growth and development of a wide range of silvicultural options that may be used as part of the 'Changing Silviculture' agenda in Britain...

Read more






For public lands, massive protections in defense bill (High Country News, Dec 11, 2014)

The must-pass, $585-billion defense

spending bill

now before the Senate also includes about 70 public-lands measures. That's the biggest package of public-lands bills since the huge

omnibus act of 2009

(which designated 2 million acres of wilderness, among other things). The Senate is expected to pass the defense bill this week.

But it's decidedly a mixed bag – with one hand, it adds about 250,000 acres of designated wilderness, while with the other hand, it transfers 110,000 acres into private ownership. It creates half a dozen new national parks, but appropriates no extra money to run them. It gives one Indian tribe more control over land, while taking sacred sites away from another tribe. It protects hundreds of thousands of acres from mining and drilling, but tells the Bureau of Land Management to fast-track...

READ MORE

Ranger Bill Jackson




Dillon Ranger District names new district ranger to replace retiring Jan Cutts (SDN, Nov 7, 2014)

The head of the Dillon Ranger District is arguably one of the most powerful people in Summit County, as the Forest Service manages nearly 80 percent of the county's land. This January, district ranger Jan Cutts will retire after six years on the Dillon Ranger District and 25 years in the federal agency. She will be replaced within a week or two, an unheard of turnaround time in the agency, by William Jackson, now a district ranger in the Green Mountain National Forest in Vermont.

.... READ MORE
Climate
Watch



This year has been unseasonably warm in Summit County. The average temperature for December, 2014 was 8 degrees warmer than in December, 2013. What will be the impact on our forests?

Bet-hedging dry forest resilience to climate-change threats

(Phys.org, Jan 14, 2015)

New research shows that the most significant current threat to western dry forests is from insect outbreaks and droughts, not wildfires; and historically abundant small trees offer the greatest hope for forest survival and recovery after these events. Dry forests are low-elevation western forests with tall pines. The study used government records of insect and wildfire damage to.... READ MORE
Featured
Forest Researchers

Tony Cheng

Kristen Pelz

TONY CHENG is an Associate Professor in the Department of Forest & Rangeland Stewardship and Director of the Colorado Forest Restoration Institute at Colorado State University. Tony's primary research interest is in forest governance, policy and administration, with a focus on collaborative approaches to promote resilient social-ecological systems linked to forest landscapes. In his capacity as director of CFRI, Tony oversees programs to develop, compile, and apply current knowledge through collaborative, adaptive management approaches to achieve forest restoration and wildfire hazard reduction goals. Born and raised in eastern Washington's Palouse country, Tony has a PhD in Forestry from Oregon State University, an MS in Forestry from the University of Minnesota, and a BA in Political Science from Whitman College in Walla Walla, WA.

Tony Cheng is no stranger to the Colorado High Country and is an active member of the Colorado Bark Beetle Collaborative. We appreciate Tony's guidance in the creation of our Summit County Volunteer Forest Monitoring Program and look forward to working with him in the future.

KRISTEN PELZ is a Research Associate with the Colorado Forest Restoration Institute. Her interests lie in understanding how natural disturbances affect forest ecosystems of the Rocky Mountains, and how management can be used to emulate these disturbances and mitigate their effects on communities. Kristen holds a B.A. in Geography and Environmental Studies from Middlebury College (2006), and two degrees from Colorado State University: a M.S. in Forest Science (2011) and Ph.D. in Ecology (2014).

Kristen is an important resource as we continue improving our Volunteer Monitoring Program. Thanks Kristen, we will have many more forest research questions for you.
Opinions



Fitzwilliams: White River National Forest faces difficult decisions This Summit Daily News editorial was published in December. We wanted to share it with our readers who may not have seen it.

By now, most folks in and around Breckenridge have noticed the tree cutting and slash-pile burning along Highway 9, near the Tiger Run RV park, out Tiger Run Road. Over the past several months, I have heard from many local residents; some are angry over the work we have done, others are happy with it.

I expected as much and I completely understand the responses. I admit the clear-cuts are ugly and the smoke from pile burning is an annoyance. But let me assure you that we are doing this with the community as our No. 1 consideration.

The purpose of these treatments is to create a "community protection zone," an area where firefighters can safely conduct operations in the event of a wildfire. (

Continue reading this editorial.

)