On May 18th, we will welcome Marcus Selig, National Forest Foundation (NFF) Colorado Programs Director, as our speaker. Mr. Selig will speak about NFF initiatives and forest grants currently underway in Summit County. Given his impressive background, Selig should be able to give some good insight on volunteer citizen monitoring programs in the western U.S.
Selig joined the National Forest Foundation staff in January 2013 as the Colorado Program Director. He has over 10 years of experience working with government agencies, the private sector, and non-profit organizations on forestry and environmental issues. Prior to joining NFF, Marcus managed Arizona forest programs for the Grand Canyon Trust, where he helped lead the Stakeholder Group of the Four Forest Restoration Initiative – a 2.4 million acre forest restoration project on northern Arizona's National Forest – and helped develop various funding mechanisms to support forest restoration activities. Marcus also spent 3 years practicing environmental law in Washington, DC, where he primarily focused on climate change-related issues and the use of financial incentives for developing renewable energy and energy efficiency projects. Before attending law school, Marcus was a research scientist at Purdue University, where he studied natural forest regeneration, forest plantation establishment, and the effects of forest management on carbon sequestration. Marcus earned a Master's Degree in Forest Biology and Bachelor's Degree in Forest Resources Management from Virginia Tech, and a Juris Doctor from Indiana University School of Law.

Current forest monitoring volunteers: Please attend, if at all possible.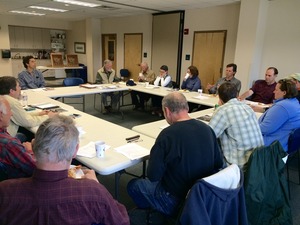 Join us next Wednesday at noon. Lunch will be served.
REMINDER! Future Meetings:

Tues, June 14, Noon, County Commons, Mt. Royal Rm
Tues, July 19, Noon, County Commons, Mt. Royal Rm
Tues, Aug 16, Noon, County Commons, Mt. Royal Rm
Wed, Sept 21, Noon, County Commons, Mt. Royal Rm
Wed, Oct 19, Noon, County Commons, Mt. Royal Rm
Wed, Nov 16, Noon, County Commons, Mt. Royal Rm