The Forest Health Task Force meets this Wednesday, July 19, Noon - 1:30 p.m
County Commons, Mount Royal Room
The U.S. Forest Service has provided us with final plot locations for this season's monitoring. We will be assigning plots to each monitoring team. There are a total of 68 plots slated for one-time monitoring. We have plenty of work.

The good news is that Shelby has further streamlined the process. Less time will be required per plot. She will be explaining what data will be collected and how to record.

We also expect updates from the U.S. Forest Service and Summit County representatives on recent wildfires and other relevant forest issues.
See you

Wednesday, July 19 at Noon. Lunch will be served.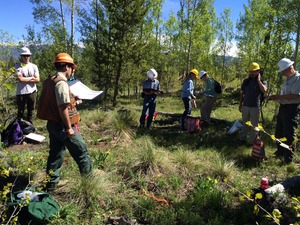 REMINDER! Future FHTF
Meetings
, 12-1:30:
Wed, August 16, County Commons, Mt. Royal Room
Wed, September 20, County Commons, Mt. Royal Room
Wed, October 18, County Commons, Mt. Royal Room
Wed, November 15, County Commons, Mt. Royal Room
Wed, December 13, County Commons, Mt. Royal Room