The Forest Health Task Force meets this Wednesday, June 21, 12 - 1:30 p.m
County Commons, Buffalo Mountain Room
(NOTE Room Change)

The focus of this month's meeting is forest management in Colorado's High Country.
What's different about our forests?
Are lower elevation/warmer climate best forest management practices also right for us?
What does active management mean?
Is increasing clear-cut acres the only way to more actively manage our forests?
Alternative forest management techniques such as thinning and planting - Are they viable?
Does increased use of alternative techniques require more forest monitoring?
More thinning, planting and monitoring - where will that money come from?
What active forest management approaches will be applied in the Lower Snake Project?
What management approaches are being used in the Lower Snake?
On Point - Dillon Ranger District forest restoration specialist Sarah Pearson will give a presentation on planting, thinning, and other restoration programs currently underway in Summit County. Adam Bianchi will be available to answer questions about the Lower Snake Project. He will provide a formal Lower Snake presentation at a future FHTF meeting.
See you

this Wednesday, June 21 at Noon. Lunch will be served.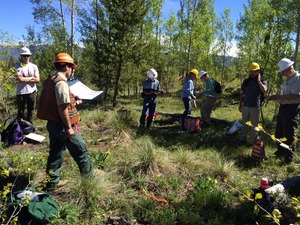 REMINDER! Future FHTF
Meetings
, 12-1:30:
Wed, July 19, County Commons, Mt. Royal Room
Wed, August 16, County Commons, Mt. Royal Room
Wed, September 20, County Commons, Mt. Royal Room
Wed, October 18, County Commons, Mt. Royal Room
Wed, November 15, County Commons, Mt. Royal Room
Wed, December 13, County Commons, Mt. Royal Room