Forest Health Task Force Meets this Wednesday at Noon
We will discuss 2015 new projects and hear from our stakeholders. Come talk about what you and your organization are doing and what you would like to see from the Forest Health Task Force. Join us from 12-1:30 in Frisco.
Keystone Project Scoping has been rescheduled for our March 18 meeting.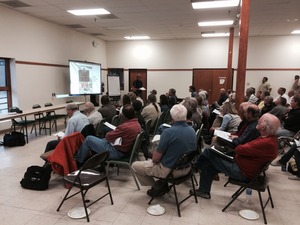 REMINDER! Upcoming Meetings:
February 18, 12-1:30
March 18, 12-1:30
April 15, 12-1:30
May 20, 12-1:30
June 16, 12-1:30
Meetings will be at the County Commons in the Buffalo Mountain Room from 12-1:30
Everybody is welcome. Please join us to hear what's new with the forest and express your opinions. We will provide lunch.





Farming Now Worse for Climates than Clear Cutting

Scientific American (Feb 3, 2015)

The federal raids in Alta Floresta, Brazil surprised s in 2005. The year before, nearly 60,000 acres of rainforest had been torn out of the municipality. Now farmers and loggers were being arrested by armed police, accused of environmental crimes. "It was a radical operation," the newly elected mayor

later recalled

during an interview with a Princeton University researcher. "All our economic activity...

READ MORE



"Private property blocks access to public lands"

(HCN, Feb 2, 2015) Glimpsed through the windshield of Kyle Newmiller's pickup, the peaks of the Crazy Mountains razor through the parting clouds. We're bumping along a dirt road in southwest Montana, cruising through miles of tan foothills, occasionally dropping down along Sweet Grass Creek amid stands of blazing yellow cottonwoods. Earlier today, it was raining, but now the clearing sky reveals a crisp snow line at 7,000 feet....

Read more Management Practices for Different Forest Types

Colorado's forest types evolved throughout our

six ecoregions

with varying sunlight, nutrient, water and elevational adaptations.

READ MORE Forest officials change tactics as beetle epidemic wanes

(Fox21News.com, Feb 10, 2015)

National forest managers are reopening campgrounds and changing tactics as an outbreak of mountain pine beetles continues to wane in Wyoming and Colorado. Now that beetle-killed trees are being.... READ MORE
Climate
Watch





Bet-hedging dry forest resilience to climate-change threats

(Austin Daily Herald, Feb 3, 2015)



Minnesota's iconic northern forests are undergoing a gradual shift as the climate warms. Aspen, birch, balsam fir and black spruce, for example, are projected largely to vanish from the state by the end of the century.But some foresters are suggesting.... READ MORE

Dry January compromises Colorado's water supply outlook
(Greeley Tribune, Feb 5, 2015)

A dry spell starting in late December and carrying through January has compromised Colorado's snowpack and diminished a once promising water supply outlook, according to the Natural Resources Conservation Service. SNOTEL data indicates... READ MORE

Did January mean more drought across the west? (HCN, Feb 6, 2015)

In the Westlands Water District, a 600,000-acre agricultural district near Fresno, California, February is usually planting season, when workers and tractors crowd fields intended for garbanzo beans and tomatoes and where seedlings may already be working their way through soil. But this year...READ MORE
Protect Your Neighborhood from Wildfire! Apply for a GRANT to help you do it. Offset the cost of creating defensible space with Summit County's Hazardous Fuel Reduction Grant Program.

Homes and communities that exist on forested lands are exposed to the risk of wildland fires. There are a number of actions that can be taken to reduce the risk of your house burning. The Summit County Board of County Commissioners, through Wildfire Council recommendation, provides grants to remove forest fuel as well as other wildfire protection strategies identified in the CWPP, to communities in Summit County. Funds for this program came in 2008 when voters passed Resolution 1A to help support the Grant Program.

To obtain the pre-application grant, please click here You may also contact Dan Schroder by email or at 970-668-4140 for more information.
Opinions



Ask Eartha: Has climate change arrived in the high country?

(SDN, Feb 13, 2015)

Dear Eartha,

I've been noticing lately drastic changes in the temperature and weather. Does this mean that climate change is here, and what can we begin to expect as a result?

— Mary S., Heeney

It has been a rather warm and dry winter here in the High Country, and I can't help but feel that climate change is upon us. According to the EPA, climate change refers to any significant change in the measures of climate lasting for an extended period of time. This includes major changes in temperature, precipitation or wind patterns, among other effects, that occur over several decades or longer. The difference between the terms "global warming" and "climate change" is....

READ MORE