Public Forum, Thursday Evening, November 20, 6-8 PM, Frisco
Resiliency and Diversity through Active and Passive

Forest Management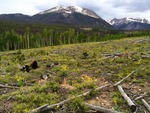 Advantages (and disadvantages) of active and passive forest management to create a more resilient and diverse forest ecosystem with increased wildfire tolerance.
The Forest Health Task Force is proud to host a distinquished panel that includes Scott Fitzwilliams (White River National Forest Supervisor), Mike Lester (Colorado State Forester), Cary Green (US Forest Service Forester), Chuck Rhoades (US Forest Service Biogeochemist), Kristen Pelz (Colorado State University Forest and Ranchland Stewardship Research Associate), and Brad Piehl (Forest Health Task Force). Panelists will discuss regeneration and diversity in logged and untreated forests; logging and wildfire; clear cutting as a wildfire reduction tool; controlled fire as a forest management tool; forest treatment for watershed enhancement; and more. There will be time for questions.

Don't miss this event! November 20th, 6-8 PM, Summit County Community & Senior Center, County Commons, 83 Nancy's Pl, CR 1014, Frisco. Light refreshments will be serviced.
What else is NEW?
Like us on FACEBOOK
FHTF Membership
FHTF Newsletters





Fewer aspens in Colorado's future (The Coloradoan, Oct 15, 2014)

The aspen tree, a beloved symbol of fall in the Rocky Mountains, is fading from Colorado's forests. As it battles heat and drought in the coming decades the trees' numbers could drastically decrease across the West. If climate change continues to attack aspens — which are vulnerable to heat and drought — acres suitable for aspen trees could decrease in the millions by 2060.... READ MORE

Rocky Mountain sawmills rebound (HIgh Country News, Nov 10, 2014)

When the afternoon work break ends at Saratoga Forest Management, an earsplitting ruckus resumes as dozens of sawmill workers return to their posts. Inside the two-story facility, timber is debarked, sawed, sorted and sent to dry in a kiln. By day's end, the mill will crank out 300,000 board feet of premium studs — enough framing lumber for about 20 average-sized American houses. Not bad for a business that was sitting idle 18 months ago....READ MORE
Other Citizen

Monitoring






FAO sets standards to improve national forest monitoring systems (Thomas Reuters Foundation, Oct 9, 2014)

FAO has launched free software tools that it hopes will improve the way many developing nations monitor the state of their forests to tackle deforestation and climate change. The tools are designed to assist countries through the entire lifecycle of a forest inventory - from assessment, design and field data collection to analysis and reporting.

...

READ MORE

Brian Cox's guide to becoming a citizen scientist (The Guardian, Oct 14, 2014)

Imagine discovering a new planet. You probably think you'd need to be a scientist with a sophisticated telescope, but that's not true.... We live in the age of big data. It presents a new problem – we now have the ability to collect data (often photos) on everything, from deep space to the remotest parts of the Serengeti. What we don't have, however, are enough scientists to study it. And that's where you come in.... READ MORE
Consequences of Salvage Logging on Post-Beetle Outbreak Lodgepole Pine Forests - Science Briefing (USDA/USFS website, Feb, 2014)

--Salvage logging in bettle-infested forests is expected to affect future fires by favoring regeneration of pine and aspen over subalpine fir, a species with a dense crown and branches that extend to the ground.

--Salvage logging increased woody surface fuels 2.7 times compared to untreated stands immediately after treatments; however, coarse fuels is expected to increase substantially above preinfes-tation levels as dead trees topple in untreated stands and persist for more than a century.... READ MORE!
Spotlight



New global wildfire analysis indicates humans need to coexist and adapt (CU-Boulder News, Nov 5, 2014)

A new study led by the University of California, Berkeley and involving the University of Colorado Boulder indicates the current response to wildfires around the world—aggressively fighting them—is not making society less vulnerable to such events.... "We don't try to 'fight' earthquakes—we anticipate them in the way we plan communities, build buildings and prepare for emergencies. We don't think that way about fire, but our review indicates....

Read the whole article now!