The Forest Health Task Force meets Wednesday, January 18, Noon - 1:30 p.m
County Commons, Mount Royal Room
The Dillon Ranger District of the White River National Forest is currently proposing to implement approximately 856 acres of vegetation management activities on National Forest System lands located in Summit County. This project is known as the Lower Snake Wildland-Urban Interface (WUI) Project. Potential treatment areas have been identified in the vicinity of Keystone, Keystone Gulch, Frey Gulch, Tenderfoot Mountain, and along Swan Mountain Road. Vegetation management activities include clearcuts, salvage, pre-commercial thinning, and pile burning in a variety of forest cover-types such as lodgepole pine, subalpine fire, Engelmann spruce, Douglas-Fir, quaking aspen, and blue spruce. Lodgepole pine makes up approximately 75% of the forested area within the Lower Snake WUI project area. The majority of the lodgepole pine can be defined as small diameter trees with moderate to dense canopies. There are many insects and diseases that can affect lodgepole pine, two of the most damaging and common agents are mountain pine beetle and dwarf mistletoe; both have affected the project area to varying degrees. As a result, the purpose of this project is to:
* Improve forest resistance and resilience to potential future disturbances by maintaining or increasing age class and structural diversity and where feasible increase species diversity.
*Reduce the extent of dwarf mistletoe infection in regenerating lodgepole pine stands that have been affected by the recent mountain pine beetle epidemic.
*Reduce the residual impacts of the mountain pine beetle epidemic within the wildland urban interface by breaking up the continuity and reducing the accumulation of future heavy fuel loading over the long term.
*Reduce flammable vegetation along important primary ingress/egress routes in the project area including Montezuma Road, Swan Mountain Road and Keystone Gulch.
*Manage young stands of lodgepole pine to improve growth and individual tree vigor.
*Reduce impacts of potential future wildfire to the local community and existing infrastructure located on Forest including utility lines, roads, ski area infrastructure, and trails by reducing adjacent fuel loading.
Join us January 18 to learn more about this proposed project. All interested parties or organizations are invited to attend the public meeting and will have the opportunity to submit written and/or oral comments. Your feedback will assist in refining design features and identifying potential issues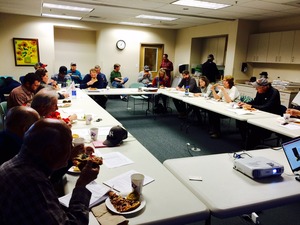 that may not have been raised during the collaborative process. Further project information can be found here: http://www.fs.fed.us/nepa/fs-usda-pop.html?project=46192
Hope to see you
Wednesday, January 18 at noon. Lunch will be served.
REMINDER! Future Meetings:
Wed, Feb 15, Noon, County Commons, Mt. Royal Rm
Wed, March 15, Noon, County Commons, Mt. Royal Rm
Wed, April 19, Noon, County Commons, Mt. Royal Rm
Wed, May 17, Noon, TBA
Wed, June 21, Noon, TBA