Forest Health Task Force Happenings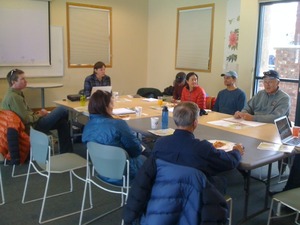 Upcoming Stakeholder Meeting
6:30-8:30, Thursday, May 29
Frisco Community Center, AKA SOS Center
3rd and Granite
Frisco, CO
What Does the US Forest Service Have Planned for Summit County?
Our local US Forest Service decision makers will be responding to forest management questions raised at the last meeting. More public comments will be heard. We will summarize what we've learned and discuss the future forest management strategy for Summit County.
Come join us on May 29th. Comments will be heard. Questions will be answered.
Refreshments will be served.
FHTF
Backyard Monitoring

BE A FOREST MONITOR

The 2014 Volunteer Forest Monitoring Program has been expanded to include all of Summit County. We already have more than 50 volunteers, but we still need YOU. Our focus is simple, convenient, meaningful and FUN. The monitoring plots are close to home on US Forest Service public land. YOU CHOOSE WHERE, hence the term, "backyard monitoring". Experience first-hand how our forests are changing, take pictures, take measurements, and report back to US Forest Service managers on the health of our forests.

First training date is Saturday, May 24th, Wildernest, 1 - 3 p.m.
Second training date (if you can't make the first) is May 28th, Medical Center parking lot in Frisco near St. Anthony's Hospital, 6 - 8 p.m. Sign up if now you haven't already.
Colorado State Forest CSFS Mission

The Colorado State Forest Service (CSFS) mission on the Colorado State Forest includes demonstrating sound forest management practices, researching and innovating forest practices to improve forest health, and providing the state trusts with direct financial and educational benefits. The goal of the forest management program specifically is to maintain a healthy forest capable of sustaining a flow of values and products in perpetuity.... READ MORE about CSFS Monitoring

National Forest Foundation: Multi-Party Monitoring

Multiparty monitoring efforts often rely upon citizen scientists gathering data to help answer a collaborative group's questions. The challenge can be gathering that data in ways that are consistent, unbiased and repeatable. Restoration scientists involved in the Southwestern Crown of the Continent and Four Forest Restoration Initiative CFLR (Collaborative Forest Landscape Restoration) projects have worked together to develop a.... READ MORE

Next Big Idea in Forest Conservation? Crowdsourced Forest Monitoring (Epoch times, April 25, 2014)

In the Brazilian Amazon, deforestation alerts are being submitted via smartphones. On the ground technicians send alerts to a database stored in "the cloud." This information is added to maps, which, along with satellite imagery, are used to inform law enforcement. And the speed of this process is getting real results.....READ MORE

Out of the Classroom and Into the Woods

This science-based restoration project is a joint effort between the USDA Forest Service, Uncompahgre Partnership, CSU's Colorado Forest Restoration Institute, conservation groups and forest product industry which seeks to enhance the resiliency, diversity and productivity of native ecosystems on the Uncompahgre Plateau.... READ MORE

National Institute for Space Research

Mission Fostering science and technology in earth and space context and be able to offer products and regular services in benefit of the country. Vision Become a National and international reference in both space and earth environment fostering knowledge and attending and anticipating demands on Brazilian society life quality progress. READ MORE about INPE.
Colorado State Forest Service accepting proposals to protect private forestlands (Chaffee County Times, 4/12/14) The Colorado State Forest Service is now accepting Forest Legacy Program proposals from Colorado landowners. The program authorizes the USDA Forest Service or the CSFS to purchase permanent conservation easements on private forestlands to protect environmentally important areas and prevent those lands from being converted to non-forest uses. The program provides an opportunity for private landowners to retain ownership and management of their land, while receiving compensation for unrealized development rights. Forestlands that contain important....READ MORE Planting event to celebrate CSU as a Tree Campus USA
(Denver Post, 3/28/14) For the third year, Colorado State University is being honored by the Arbor Day Foundation and Toyota Motor North America as a Tree Campus USA, for promoting healthy trees and engaging students and communities in conversations about urban tree care. To celebrate the recognition and in observance of Arbor Day 2014, CSU Facilities Management and the Colorado State Forest Service will.... READ MORE Forest service will exceed firefighting budget

The U.S. Forest Service is on track to spend $470 million more on firefighting than its 2014 budget allows, according to an annual forecastreleased this week. The agency currently has no way to make up for the $470 million deficit as it faces what could be the most expensive firefighting year since 1985, according to National Interagency Fire Center data.

READ MORE Wildland Fire News
Ten-part video series explores pine beetle epidemic (Laramie Boomerang, May 5, 2014)

The mountain pine beetle epidemic has affected many people, from scientists asking new questions to campers watching favorite spots succumb to clear-cuts. A new video series produced through a partnership between two local institutions examines the range of people interacting with the epidemic and looking forward as the forests recover. "Our Future Forests: Beyond Bark Beetles," is a 10-part series created by the U.S. Forest Service and the University of Wyoming Ruckelshaus Institute. The series premiered in Laramie earlier this week and is scheduled to be available online at the end of the month.... READ MORE
| | |
| --- | --- |
| Events | |