The Forest Health Task Force meets this Wednesday, May 17, Noon - 1:30 p.m
County Commons, Buffalo Mountain Room
(NOTE Room Change)
The focus of this month's meeting is once again our Volunteer Forest Monitoring Program. Deputy District Ranger Adam Bianchi is our featured presenter. We are also hoping Cary Green and Shelby Limberis are available to participate. We will discuss specific program changes that will make our work more relevant to U.S. Forest Service needs. Adam will explain what data the Forest Service hopes will be collected, where and why. He will suggest revisions to our data collection and recording protocols that can make our job easier and our data more valuable.
We will then organize into monitoring teams and assign plots. Time permitting, Forest Service staff will provide training on topics such as how to measure slope and ground cover.
Please attend if at all possible. The meeting counts toward volunteer training requirements.
See you

Wednesday, May 17 at noon. Lunch will be served.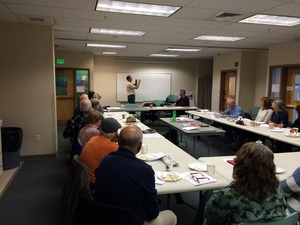 REMINDER! Future FHTF
Meetings
, 12-1:30:
Wed, June 21, County Commons, Buffalo Mt. Rm
Wed, July 19, County Commons, Mt. Royal Rm
Wed, August 16, County Commons, Mt. Royal Rm
Wed, September 20, County Commons, Mt. Royal Rm
Wed, October 18, County Commons, Mt. Royal Rm