Forest Health Task Force Happenings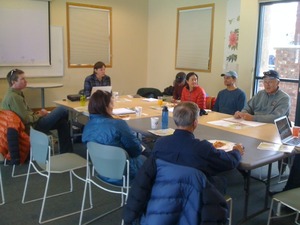 Upcoming Stakeholder Meeting
12-1:30, Thursday, March 20
Summit County Library, North Branch, Silverthorne
Blue River Room
651 Center Circle
Silverthorne, CO

Don't miss this meeting! We will be discussing future forest planning in Summit County, and how citizens can effectively participate in the decision making process. We're hoping to see new faces, and hear new voices. All opinions count.

Later in the meeting we will continue our planning for the 2014 volunteer forest monitoring program. Volunteers will be able to pick a region of the County, and a location within that region to monitor. Scott Fussell, Program Manager for the Friends of the Dillon Ranger District is creating a video to help promote the volunteer monitoring program at the Annual FDRD meeting.
We are very thankful to have received a fellowship from the Center for Collaborative Conservation at Colorado State University to assist with this season's citizen monitoring work. This support will help out with much needed funds for this summer's work and also with high quality expertise.

Come join us on March 20th. Comments will be heard. Questions will be answered.
Refreshments will be served.
Turning Pine-Beetle Ravaged Trees Into Art (Care2MakeaDifference, 2-25)

Mountain pine beetles (known to less casual acquaintances as Dendroctonus ponderosae) are infamous across many stretches of North America with pine forests. These insect pests come and go, but when they come, they leave a swath of devastation in their wake, as seen in the photo at left. If you're glancing at it, you might think you're seeing a forest in transition from summer to fall, a beautiful sight as leaves start turning color under the pressure of changing seasons. Look again, though, and you'll see a different story: those are dead nmtrees in the middle of what should be a healthy forest....

READ MORE

Survey shows spruce beetle outbreak is hitting Colorado hard (TriValleyCentral.com Feb 17, 2014)

CHEYENNE, Wyo. — An outbreak of spruce beetles continues to accelerate across hundreds of square miles of new forest in Colorado, although a much larger outbreak of the similar mountain pine beetle continues to slow across Wyoming, Colorado and the Black Hills, according to a new survey by the U.S. Forest Service. Every year, the Forest Service conducts an aerial survey of forests in Colorado, Wyoming and South Dakota. The 2013 survey shows spruce beetles spreading to ever-larger expanses of new forest in Colorado for a fifth consecutive year.... READ MORE

NIST and Forest Service Create World's First Hazard Scale for Wildland Fires

This article outlines a proposed fire hazard scale for the WUI from the U.S. Department of Commerce's National Institute of Standards and Technology (NIST) and the USDA Forest Service. They created a 3-dimensional scale that incorporates topography, local weather, and wildland fuels to identify areas of greatest to least susceptibility from a wildland fire...."If homes and other buildings in the most susceptible zones can be built or retrofitted to high-risk standards, they could potentially serve as a 'frontline defensive wall' for the structures in the lower-risk zones they surround," Maranghides explains. "In effect, we may be able to mitigate the entire dynamic of a WUI fire event if the frontline structures don't ignite."

READ MORE
Western lawmakers push legislation to prevent wildfires (USA Today, Feb 18, 2014)

WASHINGTON — With record droughts fueling fears of devastating wildfires in the West, members of Congress from the region are trying to boost chronically underfunded federal fire prevention efforts. Sen. Ron Wyden, D-Ore., has teamed up with Sen. Mike Crapo, R-Idaho, to offer a bill that would stop the vicious cycle of federal agencies raiding fire prevention funds to pay for emergency firefighting efforts. READ MORE

Summit County officials discuss wildfire preparedness with Sen. Udall (SDN, Feb 11, 2014)

Summit County's preparedness to respond to a large-scale wildfire and how the federal government might help with that burden were among the topics of conversation Sunday, Feb. 9 when U.S. Sen. Mark Udall, D-Colo., met with local firefighting officials in Frisco....READ MORE

Read CSU's 2013 Report on the Health of Colorado Forests

Wildland Fire News
Cacace: The changing facts of Ophir Mountain clear-cutting

Thank you for publishing Summit County historian Mary Ellen Gilliland's thoughtful article on the need for change to the planned Ophir Mountain clear-cuts. John Maynard Keynes famously replied to criticism that he had changed his views on monetary policy by saying, "When the facts change, I change my mind. What do you do?" For the planned Ophir Mountain clear-cut, the facts have happily changed. The sudden end of mountain pine beetle epidemic left far more of this cherished forest unexpectedly alive. Now, we are asking the U.S. Forest Service to change its plans....READ MORE