Forest Health Task Force Meets Wednesday, March 18 at Noon (County Commons)
Mark your calendar for next Wednesday, March 18th at Noon. Come talk about what's planned for the Dillon Ranger District for 2015 and beyond.
Bill Jackson
, our new District Ranger will join us. We look forward to hearing more about his forest management approach and his vision for the Dillon Ranger District.
From what we've heard, Bill is busy learning the lay of the Summit County landscape, and is anxious to hear more about what the Forest Health Task Force is doing.
Bill Jackson is no stranger to Colorado. After completing a Peace Corps assignment in Honduras, he returned to complete his Masters in Natural Resource Management at Colorado State University.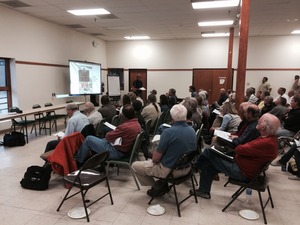 REMINDER! Upcoming Meetings:
April 15, 12-1:30
May 20, 12-1:30
June 16, 12-1:30
Meetings are at the
County Commons in the Buffalo Mountain Room from 12-1:30.
Everybody is welcome. Please join us to hear what's new with the forest and express your opinions. We will provide lunch.





When is a Forest a Forest?

(The Epoch Times, Feb 1, 2015)

"We live in a world of constant beta," explains James Anderson, communications officer for the World Resources Institute's (WRI) Forests program. Nearly every week features are tweaked on the Global Forest Watch (GFW) platform, an innovative mapping system that allows users to track changes in global forest extent, among other features. Constant innovation in technological capability as well as broad social engagement, allowing for more on the ground verification, keep GFW on the cutting edge of forest monitoring.

However, one fundamental thing remains elusive: what exactly

is

a forest?...

READ MORE






Forest Management Plans Led By Community

(Two Rivers Tribune, Feb 27, 2015)

A series of meetings called the Western Klamath Restoration Partnership (WKRP) began in 2013 to build bridges between the antagonists of the so-called Timber Wars. Last week the group moved beyond flow charts and the theoretical. Nearly 50 participants went to the woods to talk about how they would treat forest fuels given the set of six shared values the group had agreed to the year prior. They did their work in several....

Read more

Conservation groups unite to oppose takeover of land
(The Tribune, Feb 28, 2015)

A coalition representing more than 30 sportsmen's conservation groups and outdoor industry leaders gathered Wednesday on the west steps of the state Capitol to protest attempts by some Western states to take over federally managed public lands. The rally addressed...

READ MORE Colorado State University's Annual Forest Report
Urban and Community Forests: "An Investment in Colorado" Access the whole report

here.
Climate
Watch





MacArthur award validates climate strategy
(The Huffington Post, Feb 5, 2015)

A $1 million award from the MacArthur Foundation confirms a highly effective, sustainable, and groundbreaking climate change strategy. Nine organizations around the world are to receive 2015's MacArthur Award for Creative and Effective Institutions, including Forest Trends, a D.C.-based nonprofit being honored for its work around forest conservation. The award "recognizes exceptional nonprofit organizations who have demonstrated creativity and impact, and invests in their long-term sustainability with sizable one-time grants." The award confirms... READ MORE

A common-sense solution to problem

(The Pueblo Chieftain, March 2, 2015)

We in Colorado are on the front lines of climate change. More than most states, we are already seeing the impacts of changing climate every day. Warmer winters are threatening our ski industry, which could face up to $150 million a year in lost tourism revenue. Warming is also causing the devastation from the mountain pine and piñon beetles that are wreaking havoc on many of our forests. A hotter, dryer climate will... READ MORE
Chainsaw diplomacy: In southern Utah's Escalante watershed, a river restoration group tries to cut through old cultural barriers.
(High Country News, Feb 16, 2015)

The Escalante River is like a tree with its trunk in the Colorado River at Lake Powell and its branches reaching up to the top of the Aquarius Plateau. There's an elevation gain of 7,000 vertical feet, and it's all sandstone, a waterslide.There are two small towns in the watershed, with a combined... READ MORE.
Solutions?



Environment Colorado hosts climate change panel at CSU

During the

High Park Fire

of 2012, employees of

Mountain Whitewater Descent

gave up their roles as whitewater rafting guides. Instead of directing tourists, the seasonal employees transported firefighters up and down the Poudre river.

According to the company's "director of fun"

Ben Costello

, a swiftwater rescue technician and a wilderness first responder, the guides were put in danger to help prevent the flames from spreading. The fire caused economic hardship for the company and Colorado's tourism industry in general. "When tourism is affected, when recreation is affected, it affects every single person in Colorado"...

READ MORE Hickenlooper talks water, trade at governor's ag forum

(The Greeley Tribune, Feb 26, 2015)

Gov. John Hickenlooper addressed Colorado's agricultural community Thursday in full Western style, donning a black Stetson cowboy hat for the annual Governor's Forum on Colorado Agriculture at the Renaissance Hotel. While the variation from the governor's typical...

READ MORE