How To Protect Our Neighborhoods Against Wildfire
The Forest Health Task Force meets Wednesday, August 19th at Noon
Mount Royal Room, County Commons, 0037 Peak One Drive, Frisco
As our climate gets hotter and drier wildfires across the West are bigger and more destructive with each record setting year. According to many experts the current approach to wildfire management will not work in the future. There is now a concerted effort to be proactive to make our homes and communities more resisient against wildfire hazards.
We are expanding our defensible space conversation to now talk about what friends and neighbors can do to make their neighborhoods and communities more resilient against wildfire.
Everyone is welcome. Please join us to hear what's new with our forests and community. Come share your information and ideas. Lunch is provided.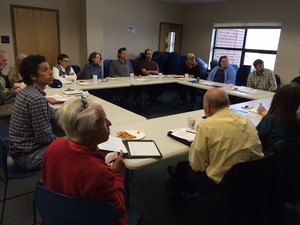 REMINDER! Future Meetings:

Wed, Sept 16, Noon, County Commons, Mt. Royal Room
Wed, Oct 21, Noon, County Commons, Mt. Royal Room
Wed, Nov 18, Noon, County Commons, Mt. Royal Room
Wed, Dec 16, Noon, Blue River Room, in Silverthorne
Record Setting Wildfire


July, 2014 -- Pateros, Washington stunned by wildfire's intensity

Pateros volunteer firefighters were used to wildfires and the town's residents had in recent years contended with some of Washington State's most damaging wildfires, but when the Carlton Complex Wildfire came roaring through it was beyond anything seen before. There was no warning. 131 homes were destroyed.

Follow

this link

to learn more about the Fire, its social and economic impacts, how the town has changed, and what local folks is doing to restore the community.
U.S. Forest Service Report
Wildland Fire Management Futures: Insights

"As

climate and social

conditions change, the traditional fire prevention and suppression approach to wildfire management will prove unsustainable...a new fire resilience approach is emerging as an alternative."

According to study rapidly changing conditions will soon render conventional forest management techniques ineffective. The need for innovative and forward-looking management practices are imperative. Read the full report here.
Unintended logging consequences






Spark from logging equipment started Dodge Fire

(The Sacramento Bee, August 5, 2015)

Recently, a spark from logging equipment being used by personnel working to reduce forest fuels by cutting trees down, ignited the serious Dodge Fire in Lassen County, Northern California. As of right now, the fire is only 25% contained and has burned upwards of 12,000 acres.

Across drought stricken California, there are currently over 20 large active wildfires. Thousands of people have been driven from their homes and containing the fires is proving costly and difficult.

READ MORE
Dry Grasses Ignite Easy and Burn Fast




2015 Weather has been optimal for increasing wildfire occurrences

Washington state wildland fire
(August 5, 2015, CBSNews.com)

Klickitat County authorities have evacuated the entire town of Roosevelt, Washington, because of a fast moving grass fire.

Several structures, including barns, have been burned by the fire, which started around 1 p.m. No homes had been lost by Wednesday morning, CBS affiliate KOIN-TV in Portland, Oregon, reports.

The county sheriff's office said early Wednesday that the evacuation order was still in effect



What more severe wildfires could mean for Colorado

This Year the Northwest is Hotter and Drier, Fires are Raging, Forcing Homeowners to Evacuate

Colorado is sending troops to the West Coast to fight fires in Oregon and California. Interstate aid is great, but hopefully federal aid comes through down the road. Right now, the US Forest Service says it's spending 50% of its current budget on fighting wildifres, compared to 16% it spent fighting wildfires in 1995; by 2025, the Forest Service estimates it will spend more than 2/3 of its budget on fighting the destructive forces. Obviously, as the incidence of wildfire increases, more funding is needed to protect us, our homes, our economies and our ecosystems.

In Colorado, more than 2 million people live in homes that present serious wildfire hazards. And development in those areas is expected to increase dramatically over the next 15 years. If you're living in a wildfire hazard zone, you need to be prepared. The Colorado Project Wildfire is raising awareness about how to protect yourself and your home from wildfire hazard.

Why the Drastic Rise in Fire Fighting Costs?
Read this recently released USFS report to find out what goes in to fighting fires.
World Climate News





"Is Anywhere on Earth Safe from Climate Change?"
(August 5, 2015, The Atlantic)

If you thought you could get away from it or just ignore it, consider this.

Camilo More, the author of

a 2013 paper

published in

Nature

, predicts that startlingly high temperatures by today's standards—the hottest on record for any given place—will be normal by 2047. Monthly temperature averages will be hotter than anything on the books. (Read the

complete Atlantic article.

)
Policy



Lyndsey Graham Takes a Stand on Climate Issues

(Ecowatch.com, Aug 7, 2015)

"You can trust me to do the following: ...when I get on the stage... we won't be debating about the science," Graham replied. "We will be debating about the solutions. In [their] world, cap-and-trade would dominate. That will destroy the economy in the name of helping the environment. In my world, we would focus on energy independence and a clean environment."

READ MORE
Local Forest Monitoring




Why are we monitoring?

Involve community members in the management of our natural landscape
Provide credible forest condition data to forest managers and researchers
Foster more resilient future forest conditions through scientific research

You can help!

All you need is an interest in promoting forest health in Summit County. Contact

Howard Hallman at future1946@yahoo.com, or by phone at (719) 491-1807.