Forest Health Task Force Happenings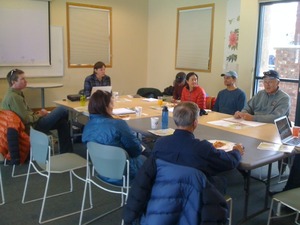 Upcoming Stakeholder Meeting
12-1:30, Thursday, April 17
Summit County Library, North Branch, Silverthorne
Blue River Room
651 Center Circle
Silverthorne, CO
What Does the US Forest Service Have Planned for Summit County?
Where will trees be cut and why? Is there a community-wide vision? How can citizens be part of the decision making process? We're hoping to see new faces, and hear new voices. All opinions count.
Come join us on April 17th. Comments will be heard. Questions will be answered.
Refreshments will be served.
What else is NEW?
Like us on
FACEBOOK
FHTF Membership
Forest Health Monitoring

Forest Health Monitoring (FHM) is a national program designed to determine the status, changes, and trends in indicators of forest condition on an annual basis. The FHM program uses data from ground plots and surveys, aerial surveys, and other biotic and abiotic data sources and develops....READ MORE

National Forest Foundation: Collaboration Resources

Through Conservation Connect , the National Forest Foundation documents tools, best practices and structural examples of collaborative processes in short, readable formats to create this Collaborative Resources "Toolbox" of shared knowledge. The best practices and tools generally provide a brief summary to give context to the issue, with the actual tool or model document attached.... READ MORE

Blast off for satellite to help monitor crops (Agriland, 4/3/14)

Could Copernicus help with our Future Rocky Mountain Forest Monitoring as well? Farmers can expect extraterrestrial help with crop growth analysis as a new EU satellite to monitor the earth is launched tonight. Copernicus – the programme for earth monitoring by the EU – will launch its first satellite tonight. Monitoring climate change and land use will be two of the main uses of the satellites and the data will be made available free to the public. The European Earth observation programme Copernicus, previously known as GMES (Global Monitoring for Environment and Security), is behind the satellite....READ MORE

Colorado State University Center for Collorative Conservation

The Center for Collaborative Conservation advances the art and science of understanding and achieving conservation through collaboration to sustain people and the natural communities they depend upon. Many of the Center's projects relate directly or indirectly to ustainability of forest ecosystems.

LEARN MOVE

National Forest Foundation

Chartered by Congress, the National Forest Foundation was created in 1993 to work with the U.S. Forest Service. The National Forest Foundation brings people together to restore and enhance our National Forests and Grasslands. As the nonprofit partner of the U.S. Forest Service, the National Forest Foundation engages in community-based and national programs that promote the health and public enjoyment of the National Forest System.....READ MORE
Pine Beetle Problem Waning, But May Be Moving To Lower Elevations (CBS Denver, 3/24/14) FORT COLLINS, Colo. (CBS4) – The U.S. Forest Service plans to spray nearly 8,000 trees in Northern Colorado to protect them from pine beetles. The pine beetle epidemic has killed thousands of trees across the state, but now the problem is waning. The Forest Service is now concerned that the pine beetles are moving to lower elevations because they've run out of food at higher elevations. The spraying starts once the snow melts. (Go to article)

Report recommends $33 million to fight Colorado wildfires




(Denver Post, 3/28/14)

A much-anticipated report from Gov. John Hickenlooper's administration on whether Colorado should have its own air fleet to combat deadly wildfires recommends far more ambitious strategies than a measure being proposed in the state legislature. The report from Paul L. Cooke, head of Colorado's Division of Fire Prevention and Control, says that while the state should not own its own air fleet, money should be spent to contract for use of four helicopters, four single-engine air tankers and two large fixed-winged air tankers, among other suggestions. READ MORE Wildland Fire News
Helping hand from local volunteers (The Borneo Post 4/2/14)

KUCHING: Communities living in the vicinity of forests have been called to be the 'eyes and ears' of the State Forest Department to help monitor and report any exploitation of forest resources. To achieve this objective, State Forest Department director Sapuan Ahmad said the services of local community leaders throughout the state have been roped in through the Honorary Wildlife Rangers programme.... READ MORE

Points of View

If they were saying this in 1975, where are we now?
Approaching forests' limits (Archived from 10/10/75)

We are rapidly approaching the ecological limits of resources on our national forests, say two officials of The Wilderness Society. (READ FULL ARTICLE)


| | |
| --- | --- |
| Events | |