Our April 20th meeting will be an organizational event for the upcoming monitoring season. We expect most of last year's monitors to return to monitor their plots this year.

What's new?
The Buddy System: Whenever possible, we will group into teams of two. We are pairing citizen monitors with new volunteers. Or where volunteers have nearby plots, such as in Wildernest, we will ask volunteers to help each other.
Have More Fun: Our new approach should make the work more fun, improve accuracy and efficiency, and increase motivation.
Find Some Weeds: But there is a catch…We will be asking volunteer teams to locate outbreaks of noxious weeds and invasive species in their monitoring areas and report these findings.
Solve A Mystery: We will create a new historical forest conditions group. Initially, the group will locate specific points representative of current forest conditions, then perform historical and on-site comparative research ranging 30, 50 and 100 years ago. This activity is perfect for those who enjoy solving a good mystery.
Forester Shelby Limberis will talk about options for incorporating our data with the U.S. Forest Service database, which should allow us to supplement ongoing USFS forest monitoring in Summit County. Our work is all about gathering quality, citizen-generated monitoring data which is useful to the U.S. Forest Service.
Current forest monitoring volunteers: Please attend, if at all possible.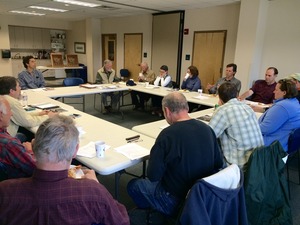 Join us next Wednesday at noon. Lunch will be served.
REMINDER! Future Meetings:

Wed, May 18, Noon, County Commons, Mt. Royal Rm
Tues, June 14, Noon, County Commons, Mt. Royal Rm
Tues, July 19, Noon, County Commons, Mt. Royal Rm
Tues, Aug 16, Noon, County Commons, Mt. Royal Rm