Shoutbacks to the U.S. Forest Service

Our July 23rd meeting was focused on constructive feedback to the Forest Service.

Keystone Project Scoping - Brett Crary (East Zone Forester) presented preliminary concepts for forest treatment projects in the Keystone vicinity. Peech Keller (Deputy District Ranger) and Cary Green (East Zone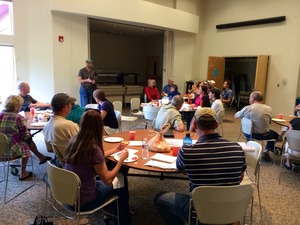 TMA) came to participate and listen. Brett provided maps and explained possible treatment types, locations, and purposes. Many of our members joined in the conversation and provided immediate feedback. Others completed and returned survey forms to Brett. Stay tuned. Let's see if our feedback makes a difference.

Backyard Monitoring - Greg Newman, PhD, Natural Resource Ecology Laboratory, Colorado State University joined us. Dr. Newman is the creator of Cit.Sci.org, a website dedicated to collecting and disseminating citizen science data. Newman explained how volunteer forest monitors can use the site to directly upload field data. Volunteers were keen to learn more and had lots of practical questions. Dr. Newman was joined by Ch'aska Huayhuaca (Center for Collaborative Conservation), Jim Collins of Colorado State University Extension Service and our summer monitoring intern Brenna Hassing.
Join us this Sunday, August 3rd, 9-3:00!
Get wet, shock fish and hang with the cool people!
The Greenlands Reserve Land Trust and Friends of the Dillon Ranger District have an exceptional volunteer opportunity in the 4th annual fish shocking event at Straight Creek Trail this Sunday. Get your hands wet and learn more about water and fish ecology!

Volunteers will meet at the Straight Creek trailhead in Dillon at the end of County Road 51 at 9 a.m. and should dress for a day outdoors. Volunteers should bring lunch, water, work gloves, sturdy boots, layered clothing, sunglasses, sun hats, insect repellent, and enthusiasm. If you have rubber boots or waders, please bring them as well.The project will end by 3.

Interested parties should RSVP to partici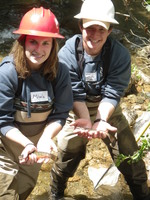 pate in the Greenlands Reserve/FDRD Straight Creek fish project as soon as possible at this link.
Time: 9-3

Location : Straight Creek Trailhead in Dillon

Save field time by bringing a completed waiver with you!

RSVP to FDRD or to The Greenlands Reserve

Questions: Please call (970) 262-3449
More details available here.
What else is NEW?
Like us on FACEBOOK
FHTF Membership
FHTF Newsletters