This month we welcome Adam Bianchi, U.S. Forest Service Deputy Dillon District Ranger as our featured presenter. Adam will speak about what the Dillon Ranger District hopes to achieve through the Summit County Forest Health Task Force and how we can contribute to greater collaboration in the future management of our local forests. Adam will share ideas about how we can help the Forest Service through a variety of activities including volunteer forest monitoring and other citizen science efforts.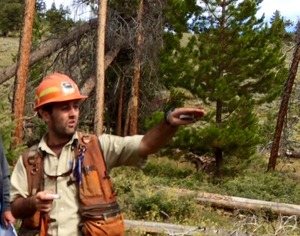 Adam is originally from Iowa. He attended Iowa State University, and received his Bachelor of Science degree in Forestry. Following his education, he began his career with the Forest Service at the Black Hills National Forest in South Dakota. Since then, he has worked for the Lassen National Forest in California and the Ottawa National Forest in Michigan. He has worked predominately as a Forester throughout his career. He is a certified Timber Sale Administrator and Silviculturist for the US Forest Service. Last June, Adam moved to Colorado with his wife and feels truly fortunate to be the new Deputy District Ranger for the Dillon Ranger District.
We will also have updates from the Summit County Wildfire Council, Friends of the Dillon Ranger District and Summit County Government. Join us Wednesday, September 21 at noon. Lunch will be served.
REMINDER! Future Meetings:
Wed, Oct 19, Noon, County Commons, Mt. Royal Rm
Wed, Nov 16, Noon, County Commons, Mt. Royal Rm