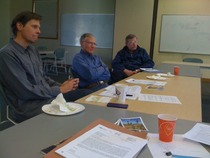 Happy New Year to all!

Forest Health Task Force Happenings
Monthly Stakeholder Series Meetings, continuing
12-1:30, Thursday, January 16
Forest Health Stakeholder's Meeting
Summit County Library, North Branch, Silverthorne
Blue River Room
651 Center Circle
Silverthorne, CO

In our December meeting we rolled up our sleeves and started work on the 2014 forest monitoring protocol which will include new Summit County locations.Volunteers will have the opportunity to monitor areas closer to their homes ("backyard monitoring"). More detailed regeneration data from the Straight Creek Watershed will be collected to compare climate, growth, and other variables. We will be researching historical forest conditions prior to influx of miners. We are also introducing a noxious weed/invasive species program wherein volunteers will locate and characterize outbreaks. This data will be electonically transferred to the USFS. Brad Phiel, assisted by Doug, will take the lead on county-wide backyard monitoring protocol. John Taylor, also assisted by Doug will lead the noxious weed/invasive species group. Howard Hallman, assisted by Jim will lead the forest forensics group. We are working with Cary Green of the USFS and other stakeholders to finalize a protocol monitoring protocol that is credible and relevant.

At our January meeting we will hear reports from each working group and will be making decisions on where, when, and how to monitor. Citizen participation is critical to making the monitoring program a success. We are planning on robust volunteer participation in crafting the protocols. Please come join us and volunteer for one of the working groups.
Refreshments will be served. The public is encouraged to attend.
Can logging industry rebound in aftermath of beetle epidemic?(VailDaily, December 26, 2013)


MONTROSE — The rolling farmland, adobe hills and arroyos of Colorado's Uncompahgre Valley are largely devoid of trees, and might seem like an unusual site for a sawmill, especially one of the largest in a five-state area. Still, even after a tumultuous recent past, the Montrose-based sawmill manages to process trees at a greater rate that any other in the immediate area. It currently employs about 90 people, but on a Wednesday afternoon at 3:30 p.m., the facility was quiet. Its saws and planers sat idle and only a handful of upper management employees were on site. The mill's supervisors would like to change that, adding another shift, a second set of local jobs, and doubling the amount of lumber it moves through the economy. To do that, they need more supply.... READ MORE

Wildfires drop, but don't stop in 2013 (NFPA.org, Nov, 2013)
Reporting on the numbers game of wildfire strikes me as very similar to reporting on the swells and ebbs of the stock market. How many, how big, how caused - what does it all mean? A year-to-year analysis of the number of reported wildfires and their size doesn't give us a good sense of trending, but in a year like 2013, it might provide some needed perspective....
READ MORE

Sales Tax Exemption on Beetle Wood Products
Read More about it!

Firewise Communities/USA renewal process now live online

Are you a state Firewise Liaison? Are you the main contact for a Firewise Communities/USA site? NFPA is pleased to announce an enhanced feature on its website just for you. Now when you log in, you'll be able to review detailed information about your recognized Firewise community, make edits and updates, and renew your status for the coming year. Get started today!

READ MORE
Sen. Ron Wyden pitches catastrophic wildfire legislation to increase fuel reduction and ease financial pinch

(The Oregonian, Dec 23, 2013)





With catastrophic wildfires becoming more common and costly, Sens. Ron Wyden, D-Ore., and Mike Crapo, R-Idaho, have introduced legislation that would treat big blazes like natural disasters that shouldn't be funded by federal agencies' regular budgets. When major fires happen today and costs soar, federal agencies often have to draw money from other programs such as fire prevention. Legislation from Wyden and Crapo would cap U.S. Forest Service and Interior Department annual firefighting spending and require excess costs to come from elsewhere....

READ MORE

Protect Your Neighborhood from Wildfire! Apply for a GRANT to help you do it.
Summit County's Hazardous Fuel Reduction Grant Program is a way you and your neighboring property owners can offset the cost of creating defensible space! Homes and communities that exist on forested lands are exposed to the risk of wildland fires. There are a number of actions that can be taken to reduce the risk of your house burning. The Summit County Board of County Commissioners, through Wildfire Council recommendation, provides grants to remove forest fuel as well as other wildfire protection strategies identified in the CWPP, to communities in Summit County. Funds for this program came in 2008 when voters passed Resolution 1A to help support the Grant Program. Click here to obtain the pre-application. Interested parties may also email Dan Schroder or call him at 970-668-4140 for more information.

Read the Wildfire Insurance and Forest Health T.F. Report to Governor

Read the Colorado Forestry Best Management Practices
Innovators use beetle-killed wood in unique ways

GLENWOOD SPRINGS — Early in 2008, Matt Cudmore's neighbor introduced him to a website with instructions on building skis. For fun, Cudmore figured he'd give it a shot. After five months working out of the garage in his Glenwood Springs home, Cudmore took his first pair of homemade sticks out for a spin. "They were dimpled and warped, definitely not retail quality," Cudmore said. "But they were the funnest skis I'd ever been on." (Vail Daily, Dec 27, 2013) READ MORE
Climate change and ski resorts, Part 3: The 'terrified' versus the 'sanguine' (SDN, Dec 29, 2013)

This is the final part in a three-part series about climate change as it relates to the ski industry. Barbara Coddington is terrified of climate change. The Glenwood Springs woman applauds the ski resorts in the region for anything and everything they're doing to help the environment, but she's worried that global environmental damage is so bad that it will be impossible to reverse the consequences. Coddington believes 100 percent in the science that proves climate change is human-caused. She points to the fact that more than 97 percent of the scientists in the field agree that it's happening and doesn't think the other 3 or so percent who argue different viewpoints are credible.... READ MORE
| | |
| --- | --- |
| Future Events | |