This month, we welcome FDRD's Jill Bryant. Bryant is a graduate student studying Natural Resource Management at the University of Denver. She is currently a seasonal project coordinator for FDRD. Prior to her move to Colorado, she spent eight seasons working in Alaska for various conservation and environmental education groups. She is excited to talk a bit about her experience working alongside former UAF Research Forester, Tom Malone, on permanent sample plots in Southcentral Alaska.
We will also have updates from the U.S. Forest Service, Summit County Wildfire Council, Friends of the Dillon Ranger District and Summit County Government.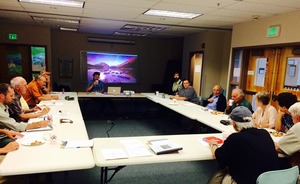 Join us Tuesday, August 16 at noon. Lunch will be served.
REMINDER! Future Meetings:
Wed, Sept 21, Noon, County Commons, Mt. Royal Rm
Wed, Oct 19, Noon, County Commons, Mt. Royal Rm
Wed, Nov 16, Noon, County Commons, Mt. Royal Rm