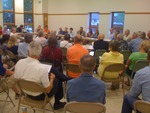 Forest Health Task Force Happenings
Monthly Stakeholder Series Meetings, continuing


12-1:30, Thursday, November 14
Forest Health Stakeholder's Meeting
Buffalo Mountain Room, County Commons Building
37 Peak One Drive, Frisco

At our November meeting we begin the transition from concept to action. Our first step is to create practical activities we can undertake to increase citizen and stakeholder relevance with land managers and policy makers. To that end we will address the following topics:
How to promote greater communication and understanding between forest groups both within and outside of Summit County

Planning our 2014 expanded forest monitoring projects

Building consensus for long-term forest management to achieve a more diverse and resilient forest ecosystem

Proposed approach to researching and documenting historical forest conditions
"To understand current forest dynamics...we have to understand their past. Older forests contain surprises for climate science and ecosystem biology. We need to distinguish past disturbances from today's conditions." (Article on Tree Carbon Sequestration Study)
Refreshments will be served. The public is encouraged to attend.

Western Colorado Landscape Collaborative Wins Award


(August, 2013)

The Western Colorado Landscape Collaborative is a partnership of federal and state agencies, including environmental agencies and local utilities, working to strengthen ecosystems, improve wildlife habitats, and reduce fire danger in Western Colorado's natural spaces. They recently won special recognition. "This collaboration is an outstanding example of how diverse groups with different interests can join together and work toward their common goals," said Renny Fagan, President & CEO of the Colorado Nonprofit Association. READ MORE



"Citizen Scientist" (Upartnership.org)

The Uncompahgre Partnership has established a multi-party ecological monitoring program... that encourages participation from members of the community. The workgroup members and volunteers began to collect data in August 2009. With the help of CFRI (Colorado Forest Restoration Institute), historical forest composition and structure data (pre 1880) were collected by workgroup members in areas representative of the major vegetation types within the project area. This data provided a starting point for designing forest management and restoration treatments that encourage healthy forested landscapes that are resilient to change while contributing to the human communities that benefit from the forests' production of water, timber, forage, wildlife, recreation, and beauty.

READ MORE Delta Seed Warehouse saving Native Species for replanting

Another important Western Slope project. READ MORE
Climate Change Has Complicated Effects on Forests

(Nature World News Oct 15, 2013)

The most comprehensive review to-date of scientific papers on climate change effects on forests reveals a diverse set of consequences for forests across North America, according to researchers from Dartmouth University. Writing in the journal Ecological Monographs, the authors say their analysis of 500 scientific papers reveals that climate change is the source of insect outbreaks in forests, plant diseases, wildfires and other problems in forests, but also that warmer temperatures are making forests grow faster and become less susceptible to pests, traits with expanded benefits such as boosting forest health and size, increased carbon storage and more timber to harvest.

.

.READ MORE

Udall and Tipton introduce companion legislation for wildfire mitigation (SDN, Oct 2013)

READ MORE Read the Wildfire Insurance and Forest Health T.F. Report to Governor Read the Colorado Forestry Best Management Practices
Economic Assessment of Mountain Pine Beetle Timber Salvage (Science news, Oct 21,2013)
A recently published study by U.S. Forest Service researchers evaluates potential revenues from harvesting standing timber killed by mountain pine beetle in the western United States. The study shows that while positive net revenues could be produced in West Coast and Northern Rockies states with active timber markets, the central Rocky Mountain states of Colorado, Utah, and Wyoming -- which have the largest volume of standing dead timber -- would not generate positive net revenues by salvaging beetle-killed timber.

| | |
| --- | --- |
| Future Events | |