Forest Health Task Force Happenings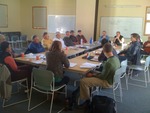 Upcoming Stakeholder Meeting
12-1:30, Thursday, February 20
Summit County Library, North Branch, Silverthorne
Blue River Room
651 Center Circle
Silverthorne, CO



Excitement is building around our expanded 2014 volunteer forest monitoring program. The concept of "backyard monitoring" is appealing to volunteers who may not have the time or energy to venture long distances into the back country, but want to learn more about forest lands surrounding their neighborhoods. At our January meeting we were joined by researchers from Colorado State University, U.S. Forest Service experts, and a number of Summit County citizens. We reviewed draft monitoring protocols and focused on the questions we hope to answer.
What did Summit County forests look like before the miners came?
What are current forest conditions, and how are they changing?
Where are noxious weed and invasive species outbreaks occurring?
And what is the impact of climate and geography on forest regeneration?

Check out the Summit Daily News report on our January meeting!

February 20th is the date of our next stakeholder meeting!
Please come join us and volunteer for one of the working groups. We're seeking 30 or more additional volunteers to join our current team of 20 volunteers.
It's a great opportunity to team up with your wife, son, or significant other to help make a difference in our understanding of past and future forests. Refreshments will be served.

IMPORTANT
February 13!!! For those who were planning on attending on the 13th and cannot make it on the 20th, please contact Howard directly, by phone (719-491-1807) or email to establish a place where we can hold a smaller group meeting.
Emotional documentary from The Weather Channel details the devastating Yarnell Hill Fire and America's wildfire problem (NFPA.org, 12/30/13)

This week marks the six-month anniversary of Arizona's Yarnell Hill Fire, the deadliest day for firefighters since the September 11 terrorist attacks. Nineteen members of the Granite Mountain Hotshots died during the incident. Commemorating the June 30 event is The Weather Channel, which has developed the documentary and long-form article, "America Burning: The Yarnell Hill Tragedy and the Nation's Wildfire Crisis." The video recaps... READ MORE
Senator Udall's official statement on the passage of the Omnibus Appropriations Act to fully fund the federal government through the end of FY14

"

The good news is that the Good Neighbor Authority (GNA) is now finally reauthorized for five years and expanded to other states. GNA was a successful pilot program in Colorado and allows..

." Watch the video yourself, here:

The Omnibus Appropriations Bill Bill Includes Bennet-Introduced Measures to Streamline Forest Insect and Disease Treatments, Reauthorize Stewardship Contracting, Expand Good Neighbor Forestry Agreements (Bennett.senate.gov) READ THE FULL REPORT The Farm Bill conference report unveiled this week includes ... Bennet's National Forest Insect and Disease Treatment Act, which is cosponsored by Senators Mark Udall (D-CO), Ron Wyden (D-OR), and Max Baucus (D-MT), would create a program to designate new national forest acreage suffering from....
Community Agriculture Alliance: Falling trees have far-reaching effects on the Routt National Forest (Steamboat Today, Jan 16)

Now that a decade-plus has passed since the Routt National Forest began experiencing its heaviest bark beetle impacts, Routt County residents and visitors can expect to see increased numbers of falling trees. According to Medicine Bow-Routt National Forests Timber Program Manager Mark Westfahl, the expectation has been that most beetle-killed trees would begin falling in large numbers within eight years of succumbing to beetles. READ MORE
Pine beetle epidemic declining, spruce beetle on the rise, according to survey (SDN, Jan 31, 2014)

Survey: Pine beetle epidemic declining, spruce beetle on the rise. U.S. and Colorado Forest Service agencies this week released the results of the state's annual aerial forest health survey, which indicates that the spread of the mountain pine beetle epidemic has slowed dramatically, while the spruce beetle outbreak continues to expand. Each summer the agencies work together to aerially monitor insect and disease-caused tree mortality or damage across Colorado forestland..... READ MORE