Forest Health Task Force Happenings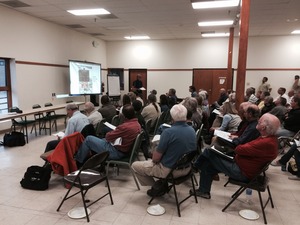 Creating a shared forest vision

Great turnout!!
Around 75 citizen-stakeholders showed up for our May 29th public forum. We took a look at past and present US Forest Service treatment projects. USFS representatives explained the intended purposes for timber cutting projects at Orphir Mountain and Gold Hill, and answered questions. A number of citizens had concerns about clear-cutting as an effective forest management strategy when forest restoration seems to be occuring naturally as a result of the beetle-kill. Other citizens had questions about impacts on the Peaks Trail and recreation quality.

Our next meeting in late June will focus on desired forest conditions, and how to acheive those conditions; where to or not cut trees, and the most effective ways to reduce wildfire hazard and foster a more resilient forest.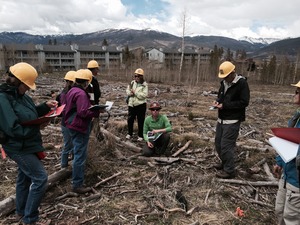 Volunteer forest monitoring
Twenty-five "backyard" forest monitors trained so far. New volunteers keep signing up. We expect to reach our goal of 100 plots county-wide by the end of the summer. What's great about this project is that it's fun and easy. What's even better is that you get to chose your own plot. Pick a plot that has been logged and document what grows back. Pick a plot where the beetle has come and gone then track for natural regeneration or forest decline. The answer will be in the science.
What else is NEW?
Like us on
FACEBOOK
FHTF Membership
FHTF Newsletters
Forest Health Monitoring

Forest Health Monitoring (FHM) is a national program designed to determine the status, changes, and trends in indicators of forest condition on an annual basis. The FHM program uses data from ground plots and surveys, aerial surveys, and other biotic and abiotic data sources and develops....
READ MORE

Nerds for Nature harnesses citizen scientists to monitor environmental change (Southern Fried Science, May 26, 2014)

In September 2013, a large wildfire, ignited by careless target shooters, blazed across Mt. Diablo, leaving 3,100 acres of state park scorched. Wildfires are an important component of chaparral ecosystems, clearing the way for younger growth to take hold, but monitoring recovery after wildfires is an intensive prospect for over-committed park staff. Enter the Nerds for Nature and their change monitoring brackets. Inspired by monitorchange.org (created by Sam Droege of the U.S. Geological Survey), Nerds for Nature combined low-tech angle brackets with high-tech smart phones to allow.. READ MORE Utah Water Watch seeks citizen scientists

(The Park Record 5/20/14)

With limited resources on hand, the Utah Division of Water Quality often has difficulty monitoring the roughly 2,000 lakes and hundreds of miles of streams in Utah. That's where programs like the Utah Water Watch step in, employing volunteers to examine waterways throughout the state. Brian Greene, program coordinator for Utah Water Watch, said the program is the perfect activity for those who want to be in the outdoors and have an interest in science. Managed by... READ MORE

Colorado State University Center for Collorative Conservation

The Center for Collaborative Conservation advances the art and science of understanding and achieving conservation through collaboration to sustain people and the natural communities they depend upon. Many of the Center's projects relate directly or indirectly to sustainability of forest ecosystems.


LEARN MORE ON CCC's MOST RECENT NEWSLETTER
Think twice before moving firewood, forest service says (The Coloradoan 5/23/14) The Colorado State Forest Service wants people to be aware of the risks associated with moving firewood. The transportation of firewood can accidentally introduce harmful tree insects and diseases to new areas. Insects, fungi and diseases can hitch a ride on cut wood — from both living and dead trees — and are often hidden away under the bark. "It has never been a good practice to transport firewood; but with the recent discovery of emerald ash borer in Boulder, it's critical that... (Go to article)

Forest Service seeking applications for conservation, restoration funding

(Independent Record, 5/28/14)

The U.S. Forest Service is seeking applications for conservation and restoration projects to fund for the coming year.The Forest Service has approximately $177,000 in available funding for on-the-ground improvement projects in Lewis and Clark, Broadwater and Teton counties. The Missouri River Resource Advisory Committee will recommend projects for approval to the Forest Service at a June 25 meeting at the Helena National Forest office. The deadline to apply is... READ MORE
Points of View

Wildfire and Forest Health: Myths And Reality (George Wuerthner)

There are widely held assumptions that logging will reduce or preclude large wildfires and beetle outbreaks. The recent adoption of the Farm Bill categorical exclusion that will permit logging up to 45 million acres of national forests is based on flawed assumptions about forest health and wildfire....
READ THE WHOLE ARTICLE
| | |
| --- | --- |
| Events | |