Celebrating Solidarity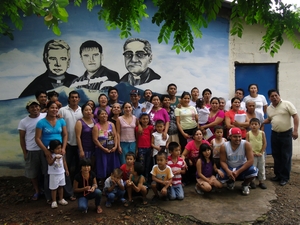 Over the past two and a half months, four delegations visited El Salvador, comprised mainly of youth encountering this country with its poignant mixture of sorrow, joy, rage, divisions, and indomitable hope for the first time. I had the blessing of accompanying them as they met Salvadorans like Madre Guadalupe, a member of the Committee of the Family Members of the Disappeared, whose husband was brutally killed, and who continually accompanied others in the search for their disappeared and imprisoned loved ones during the war, and like Joscelyn, a seventeen-year-old who helps prevent teen pregnancy in her community by educating young women about their sexual and reproductive health rights – a topic usually closed to discussion. Read more about this incredible summer of building and deepening solidarity.
---
In Today's Issue:
Delegate Reflection: Remembering Romero's Legacy
Snapshots of Communities Welcoming Delegations

Interested in Organizing a Delegation?

Delegates Grapple with Life Questions

Join our 30th Anniversary Commemoration Delegation of the El Mozote Massacre
Sign St Patrick's Change.Org Petition Against Mining!
---
Delegate Reflection: Remembering Romero's Legacy
"Reading and hearing about Archbishop Oscar Romero is one thing. Standing where he stood and imagining his last minutes is quite another. The Good Shepherd delegation's visit to Divina Providencia gave us an opportunity to do just that, and it had a powerful impact on us all."
Read the rest of
Kathy's reflection
!
Kathy Werly participated in a SHARE delegation from Good Shepherd Parish in Shawnee, Kansas
this July.
---
Snapshots of Communities Welcoming Delegations
Towards the end of each delegation, we spent two to three nights in a rural community in the group's sistering region – a time to interact directly with community members and host families, join into peoples´ daily lives, and learn about the community. This summer, communities offered delegates some of the most incredible welcomes I have ever seen.

Nueva Trinidad
:
As the group from St. Patrick and I arrived at the entrance of Nueva Trinidad, rain hammered in torrents, yet dozens of men, women, children and youth stood gathered in a long clump along the roadside. The community's youth drumline began rhythmically whacking their drums, full-force, arms pounding, as the rain glued their shirts to their bodies. The giddy beat of the drums rang out over the constant shushing of the rain, making my feet long to dance. Awed by the people's presence in spite of the downpour, we jumped off the bus and into the rain with them. Immediately women, young and old rushed over with their umbrellas to take us under their wings with them. One young woman on the delegation, Theresa, said that an old woman had beckoned to her affectionately to join her under her umbrella. While Theresa didn't necessarily understand what the woman said, her warmth shone clearly through her actions. One of the young men on the delegation commented that he was partway under a woman's umbrella, but a stream of water was running off the side of the umbrella and right down his back, and yet it just didn't matter because of the sheer joy of the moment.
Read more
!
---
Reserve your 2012 Delegation Dates!
If your church, school, community group or solidarity committee is interested in coming to El Salvador on a delegation or hosting Salvadorans from your sistering region on tour in 2012,
please send your requests to Bethany Loberg at
delegations@share-elsalvador.org
by September 15th.
We hope to accommodate all groups that are interested in sending a delegation to El Salvador through SHARE in 2012 and we thank you in advance for your flexibility. We hope to publish a finalized calendar in October 2011.
These life-changing experiences provide a unique opportunity to build friendships with Salvadorans, meet with communities and organizations involved in bringing about social change, and expand our understanding of the realities of poverty and the struggle for justice and human rights. We hope you will consider joining us on a delegation or inviting Salvadorans on tour! Read more about delegations and tours.



---
Delegates Grapple with Life Questions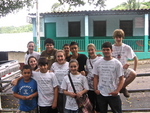 For many members of the delegations, seeing the incredible joy, grace, and hospitality families and communities welcomed them with, visiting places like El Mozote and standing in the garden where hundreds of children were killed, learning that many of the soldiers who carried out the massacre were trained at the U.S. Army School of the Americas and the U.S. sent the Salvadoran military an average of a million dollars a day during the war, seeing a community of tin shacks across the road from a mega shopping mall and wealthier areas with stores like Tony Roma's and Victorias Secret, and meeting members of a community radio station who continue to work to keep communities informed and speak out against mining even though they receive little pay and are getting death threats stirred profound questions for them. Questions like how do I want to live my life? What impact do I have on the environment? What does it mean to be a U.S. citizen and have a voice and a vote? How can I bring this reality back to my life? How can we share this story with others in the U.S. and change the way we treat other people and other countries?
During the final reflection with the delegation from St. Patrick in Seattle, in grappling with these questions and more, one of the youth remarked: "We're talking about what touches our souls, what defines us." I believe these are the most important kinds of questions to be asking. I love that through my job, I am able to accompany people as they encounter both the incomprehensible injustices here and the deep love, and hope of many Salvadorans and the many incredible steps they are taking to make their communities more informed, loving, organized, and in this way transform their reality. Experiencing this reality provokes delegates to ask questions about what defines them and envision the realities we can construct together through solidarity.

Blessings,
Bethany Loberg, SHARE Sistering Accompaniment Coordinator
---
"The world became a smaller place. Instead of 'the people' in El Salvador, I now have my brothers and sisters in El Salvador. I am part of a family I was unaware of previously."
- Delegate from Cretin Derham Hall
---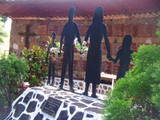 On December 11th, 1981, the Salvadoran military attacked the small village of El Mozote and murdered over 800 civilian men, women, and children. It was one of the most brutal massacres of the twelve year Salvadoran civil war. Thirty years later as victims still fight for justice in the El Mozote case, we remember those who lost their lives and walk with those who continue to demand justice.
---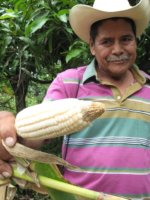 Donate to SHARE today and make our Advocacy and Sustainable Development Work possible.



---
"Being on a delegation like this isn't just 10 days away from home. It's being completely surrounded by things you don't know and learning to open your ears, eyes, and hearts to everything around you. I've learned that forgivenss is a blessing for both sides. I've learned that being humble and welcoming doesn't mean your guest bed at home, but the absolute best bed and all you can give to a person to truly make them feel at home."
- Youth Delegate from Cretin Derham Hall
---
"I learned to listen with not only the intention of responding with a witty or "deep" remark, but more importantly, the intention of understanding."
- Youth Delegate from St. Patrick's Church
---
"This trip has showed me that young people can make a huge difference."
- Youth Delegate from Good Shepard Parish

---
"I have learned a lot about love, courage, and persistence. The people of El Salvador never stop/give up fighting for their rights."
- Delegate from Good Shepard Parish
---
"I have realized that the U.S. has a huge impact on the rest of the world. Who I vote for and what resources I use impact what goes on in other countries. I feel compelled to do soemthing to let other people in my community know how much of an effect we have."
- Youth Delegate from Cretin Derham Hall


---
Youth from St. Patrick's, Seattle who came to El Salvador have created a change.org petition against mining. They have 209 signatures so far--join the cause here!